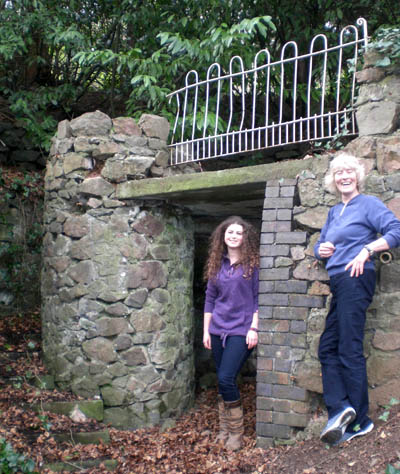 Friends Newsletter No. 64
March 2015
Friends are the recognised guardians of Malvern's water heritage (Malvern Gazette 1 March 2013 p.14).
We are an independent voluntary group who relentlessly promote research, conservation and celebration of the Springs, Spouts, Fountains and Holy Wells of the Malvern Hills and of Great Malvern as a Spa Town.
Joanna's Well to be restored.
Ellerslie School between the Wells Road and Abbey Road was a private girls school. Later it was taken over by Malvern College and used as a prep school but for many years now the historic building and grounds have been disused. Looking to the future of this near town centre large site, developers Audley secured planning permission for a retirement village in 2012. About the same time Joanna Gibb, a former pupil, drew our attention to the strange structure in the grounds that appeared to be an ornamental well. (see site number 90:2 on our web site).
The latest news is that work has started on the site with demolition of the newer unwanted buildings. This will be followed by the extensive programme of building, renovation and landscaping. Some of the historic buildings on site are listed and once comprised a Victorian water cure establishment. In fact Florence Nightingale stayed here in 1856, recovering from her experiences in the Crimea. Audley Ellerslie as it will be known is due to open at the end of 2016.
After discovery of Joanna's Well in 2012 we approached Audley and recommended that the feature should be retained and not lost with the redevelopment. We are now delighted to learn that the grounds of Audley Ellerslie will be retained as parkland to be enjoyed by the residents of the community and that Joanna's Well will be restored as an historic water feature.
In the picture Joanna left and Cora celebrate the rediscovery of the well at Ellerslie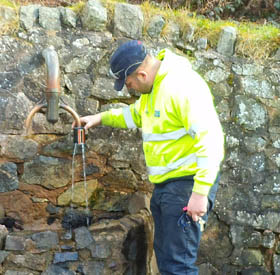 Hay Slad Flow Problems and the Bifurcating Spout continued....
Since June 2014 the flow at Hay Slad has been reduced to a trickle. Several emails have been received from Friends outside the area asking when the normal flow will be resumed. Ali from Milton Keynes is anxious to know when the flow will be restored - he says it's a long way to drive and a long wait to fill up his containers when he gets there. Robin from Cheltenham said he thought it had been slowing down since the introduction of the bifurcating spout in 2007.
On 17th February Cora went to investigate with someone who knows about these things - Severn Trent engineer Stephen King. Stephen measured the flow: it was 5 litres per minute, half of what it should be (see picture). Water was only coming from the right hand spout and when he covered it with his hand there was no flow at all. "It's blocked," he announced, questioning the design of the spout. Severn Trent's Garry Sullivan, who is very familiar with Hay Slad, said it was not ST's responsibility to maintain the spout and its flow. He said that because the water is analysed by Malvern Hills District Council, and it is MHDC who puts up the notices to boil the water, the maintenance of the spout is almost certainly their responsibility. However, Cora then spoke to Malvern Hills Conservators' Director Stephen Bound who said that it was indeed MHC's responsibility and a couple of Conservators had pushed rods into the spout last year but their action had not cleared any blockage or increased the flow. They then visited the spout with a Severn Trent engineer who suggested that the valve in the flow chamber was not diverting enough water. He was reluctant to do anything to the valve at the time because it may have resulted in silt and discolouration in the flow - and people were collecting water at the time. He said he would come again.

Stephen Bound said he will try once more to dislodge any debris from the spout, but will also contact Severn Trent again with a view to them checking the valve. Hay Slad is a tangled web, it seems. MHC is responsible for the maintenance of the spout; MHDC for analysis and purity; ST for the flow to the spout. Let's hope that the normal flow can be regained by March; if it isn't it's not through want of trying.
Gilsland Spa, Northumberland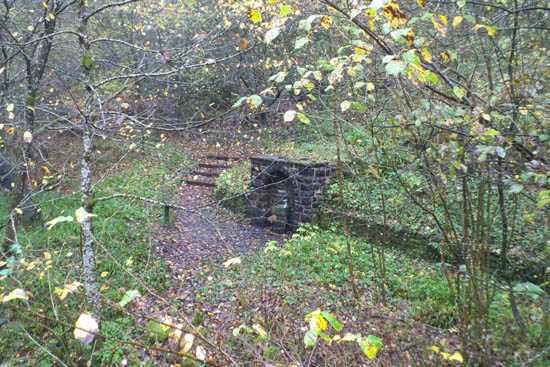 In 1841 Dr A.B Granville published his two-volume Spas of England: there were more spas in England at that time than one might imagine. His comments and observations are gems for the modern-day spa enthusiast or scholar.
Gilsland spa, he said, was in a thickly-wooded dell at the bottom of a steep rocky cliff beside the river Irthing, 'brown as the best London stout, and as frothy'. It still gallops brown and frothily along the river bed. Early every morning, the 'common people' from the village, who were said to be born and bred pale and sickly, and middle-class summer visitors, thronged down the steep zig-zag path to the sulphur spring (see picture). The water still smells quite strongly of sulphureted hydrogen; it is crystal-clear, though it still leaves a natural white-yellow deposit. Visitors sipped from a small glass, walked a little, and then repeated the dose. Its effect was to 'settle the digestion of weak stomachs and to allay irritation in that organ'. Some people drank the water for several weeks, but most came for the scenery as much as the water and only stayed a few days.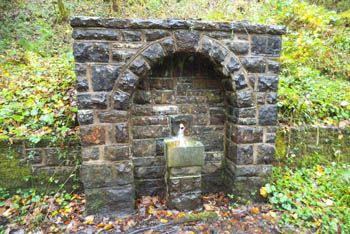 The hotel Granville stayed in was destroyed by fire in 1859 but the Gilsland Spa Hotel that now stands on the site is comfortable and affordable and has easy access to the sulphur spring. The stone surround to the spring was refurbished in 1964 and looks today just as Granville would have seen it. It is comforting to know that it is not only Malvern's springs and wells that are considered part of the local heritage and worthy of conservation.
Earl Beauchamp's notice December 2014
In December the notice in the picture right appeared on Earl Beauchamp's Spout. This is a popular filling up point for tourists to the Malvern Hills and the notice was attached to the spout itself and so could not be missed. In January the situation deteriorated further when the water supply was closed down. Today most of our springs used for drinking carry warning notices.
A Friend who grew up in this area and has always loved the spring water has made the following observation. "I was horrified to discover that some of the springs are now contaminated. I knew this would happen when livestock were put on the hills as all the faecal and urine matter would eventually soak down into the springs. It was a totally stupid idea and now the beautiful springs are to be ruined by allowing this to happen."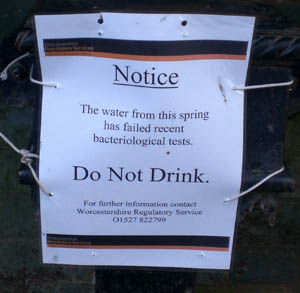 We note that there is still a body of opinion which is promoting the possibility of a web site to alert the public. This runs into three problems. Firstly any test results are applicable only at the time of testing. As it takes some time to analyse samples the results are always historic. Secondly the advertising of possible contamination of our springs has a negative effect on tourism. Thirdly, contamination by wild animals is a natural phenomenon and is difficult to prevent on surface springs. The solution is instant testing or expensive filtration.
Unfortunately science and funding have not developed sufficiently to provide this. Do continue to let us have your views.
Should Britain's original National Park have a cable car?
Much publicity is being given to a new scheme to encourage tourists to the summit of the Malvern Hills. In earlier times it was by donkey but this time by a cable car. Situated just a short distance from the summit of the Beacon, the top station will offer amazing panoramic views as far as the eye can see. There will be outside areas to congregate or a chance to sit down in a new cafeteria, a customer service desk and a first aid/security facility. There will also be provision for male and female toilets together with baby changing and disabled facilities. But is this the type of development that is wanted in what is arguably Britain's pioneering National Park?
The modern perception of a National Park resulted from pre-war measures to protect the countryside and to provide access for the urban population of Britain's industrial towns and cities. After the war there was great deprivation as we recovered from the conflict and the new National Parks were seen as something that was worth fighting for. The year 1951 saw a number of designations confirmed and the National Park movement was at last underway.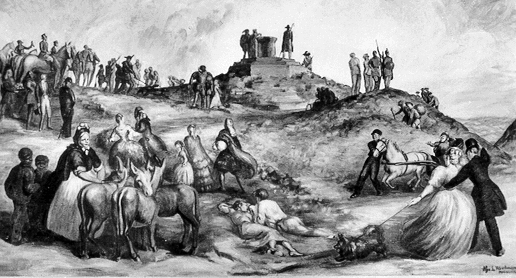 Or was it that simple? No, the Victorians had got there a lot earlier in the 19th century. Although not named a National Park, the Malvern Hills could arguably be called Britain's original National Park, being established with its own statutory administrative body and countryside protection initially under an Act of Parliament of 1884 with subsequent amendments. With its priorities on public access and conservation, the Malvern Hills were well established as a specially protected area by the dawn of the 20th century. The Malvern Hills Conservators were empowered by an Act of Parliament that enabled them to resist everything from intrusion by major new road schemes, water company projects and urbanisation. In addition access by the public was and remains top of their agenda.
Director Stephen Bound argues that it is not simply a question of the Conservators deciding whether to allow a cable car. The fact is that they would be acting unlawfully if they were to give consent; it seems clear that Parliament intended the Conservators to ensure that the hills and commons were kept free of intrusions on the landscape such as the proposed cable car. He adds that the Malvern Hills Acts of 1884, 1909, 1930 and 1995 forbid development on the hills, and that the 1995 act specifically forbids the installation of overhead cables.
Whilst a cable car up the Malvern Hills may offer the grandchildren an exciting day out and stimulate further interest in the springs and wells, does England want the character of the hills fundamentally changed by the introduction of such technology after such a pioneering fight to protect the hills? Would not Malvern donkeys be a more novel and attractive seasonal proposition to reintroduce? And it would not need a special Act of Parliament!
Well Decorating 2015 theme - Mayday Weekend
'River of Life' is the theme for this year. This is an opportunity to creatively link Malvern Waters with this supermundane theme. We look forward to seeing some interesting presentations.
Malvern's Elgar Stars in TV Programme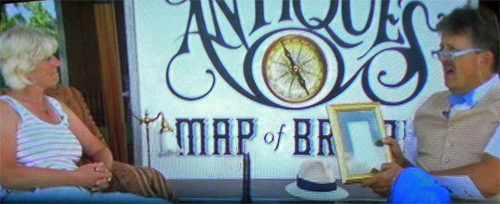 Edward Elgar like the Malvern Hills, Tower of London, Winston Churchill and Beachy Head epitomises everything that we hold dear in this land of Britain. In Malvern the Elgar Fountain and statue on Belle Vue Terrace commemorate this great musician whose composition "Land of Hope and Glory" has become to many our second National Anthem. Imagine historian Cora's delight therefore one evening, when she was doing one of her famous lectures, a member of the audience kindly presented her with a postcard written by Elgar. The word got around and before long this card was to enjoy national fame. Those of you who watched Tim Wonnacott's program "Antiques Map of Britain" on 4th February will know that it was all about discovering treasures in Worcestershire. And who should appear on the screen? It was none other than Cora with her Elgar postcard. In the picture above Tim discusses with Cora the provenance of the card as part of the programme that unearthed numerous iconic collectables from Worcestershire's past.

Email:
springs@thespas.co.uk (click here to send an email)
Website:
Click Here
SUPPLEMENTARY INFORMATION
The home page can be accessed by clicking website above.
Contact Information:


Newsletter Archive which can also be accessed from our WEB SITE INDEX.

Friendship

- There is no charge made for joining Friends of Malvern Springs and Wells. Just let us have your email address and we will send our newsletters, which are usually two monthly. Please be aware that some email addresses block large circulation emails. Do feel free to participate in our activities by contacting us below.

Best wishes, Cora & Bruce
Bruce Osborne, Tower House, Tadworth, Surrey. KT20 5QY
Tel. 01737 213169 email
bruce@thespas.co.uk
Cora Weaver, 4 Hall Green, Malvern, Worcs. WR14 3QX
Tel. 01684 561215 email
cora@malvernspa.com
1) TOPOGRAPHICAL LOCATION:
Malvern Hills - arguably Britain's original National Park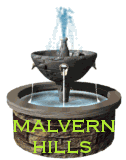 3) INFORMATION CATEGORY:
History & Heritage
Friends Newsletter