Springs and Wells - It was in 1992 that serious research was started to catalogue and promote the springs and wells heritage of the Malvern Hills. There are now about 130 recorded, celebrated Springs, Spouts, Fountains and Holy Wells sites. Many of the famous sources are still running albeit some have been lost, while others have been restored as a result of local effort. Visitors, travelling upward of 100 miles, and locals alike collect the refreshing spring water and opinions vary as to which is supposedly the most likeable. Even if not "taking the waters" many enjoy the opportunity of exploring the Malvern Hills and discovering the whereabouts and history of the many springs and wells.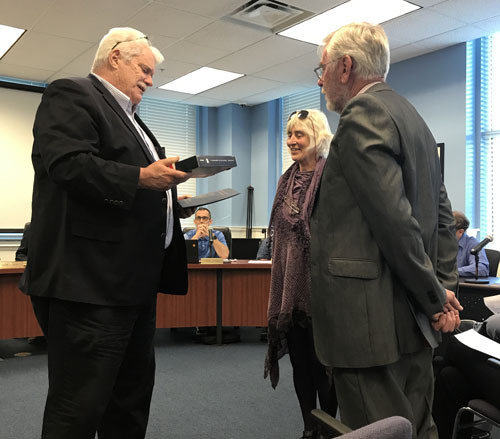 In May 2017, international envoys Cora Weaver and Bruce Osborne receive on behalf of Great Malvern UK a state flag of Pennsylvania that had flown over the State Capital in Harrisburg on the 26 April 2017 on behalf of Duane Milne, PA House of Representatives. The presentation took place at the Borough Council Meeting of Malvern Pennsylvania.
Malverns Worldwide - In 2016, following interaction with a number of Malverns throughout the world, it was decided to formalise this activity under a common banner "Malverns Worldwide". As a result since 2016, contact has been forged between many of the two dozen Malverns. This has included visiting the various locations and the exchange of gifts between the civic leaders in Great Malvern and those elsewhere. This is leading to a number of projects developed from common interest themes. One such project is the provision of George Bernard Shaw mulberry trees to Malverns across the globe. For more information click the logo link below.

Launched in 2012, this book is your invitation to explore the springs and wells of the Malvern Hills, both in the field or at home in the armchair. Have you ever wondered where Great Malvern's Dumpling Fountain was? And did it look anything like a dumpling? Would you like to know, at last, where Dr Gully's elusive Neubie House really was? And which of today's well-used fountains was the brainchild of Barry Jackson? The answers to these questions, and a host of new information about the history of Malvern and its waters, can be found in Celebrated Springs of the Malvern Hills, by Cora Weaver and Bruce Osborne.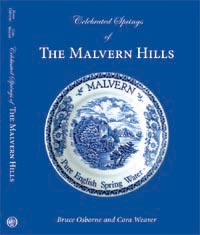 This work is the culmination of 20 years' research by the authors, who published their first book on the springs and wells of the Malvern Hills in 1992. That little book contained details of 27 springs and wells. This new work details 130 celebrated sites, and contains information and pictures that have never before been published.
Using this book discover the springs and wells of the Malvern Hills on foot, by car or bicycle - and historically. Maps and grid references guide you to elegant fountains, commemorative water features, animal troughs, water tanks, gushing flows and useful spouts where, even today, many people collect the water for domestic use. The text explains and interprets what you see. You can discover who provided water for the town before water mains were invented; where the water came from; who maintained the springs and fountains; who used them, and the problems of contamination. The theme of well-decorating since 1993 runs throughout the book, and is illustrated with many colour photographs of decorated wells, and there is a whole chapter on bottling Malvern waters.
Published by Phillimore in hard back, the book is lavishly illustrated with almost 200 pictures and a similar number of pages. This book would not have been possible without the support of many individuals and organisations, particularly Coca-Cola,who have ensured that Celebrated Springs of the Malvern Hills is a tribute to 160 years of bottling Schweppes Malvern Waters and that Malvern's water heritage will live on.
The book's regular retail price is fifteen pounds
available from Cora's Great Malvern Bookshop by clicking on the green menu top left. For more details of this book click the cover above.