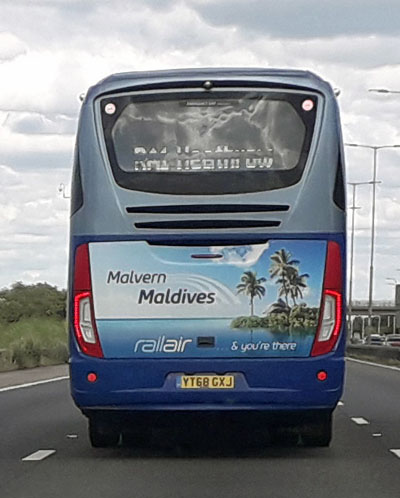 Friends Newsletter No. 92
August 2019
Friends are the recognised guardians of Malvern's water heritage (Malvern Gazette 1 March 2013 p.14). We are an independent voluntary group of Malvernologists who relentlessly promote research and celebration of Malverns Worldwide and the Springs and Wells of the Malvern Hills.
Shock on M4 Motorway near Heathrow Airport.

Imagine our surprise when travelling on the M4 motorway recently we found ourselves behind a coach with a prominent advertisement for 'Malvern Maldives' decorating the rear end. Quick as a flash Cora recorded the advertisement on camera and the result can be seen left. The Maldives lie in the Indian Ocean and could it be that there is a Malvern there that has previously been missed by the Malverns Worldwide team? Bursting with excitement at the prospect and already planning a trip to explore Malvern Maldives, we rushed home and the search was on.

The results revealed a most interesting scenario, albeit unexpected. The local coach company First Berkshire apparently added 9 coaches to their fleet in January 2019. The one we followed was one of them. Each coach had different artwork decorating the rear end. Each artwork was based on a UK locality and an overseas locality, each with a similar first letter; or example "Bristol - Brisbane" and "Newport - New York". We had followed the one with "Malvern - Maldives". So Malverns Worldwide does not include the Maldives and we have cancelled our exploratory visit plans! On the positive side it is a good advertisement for Malvern.

International Visitors from Malverns Worldwide - what to see?

In August, we're expecting to host visitors from Malvern Pennsylvania. Their hectic itinerary has left them a mere 24 hours here in Great Malvern, from midday Saturday until midday Sunday. We'll plan a schedule of the most must-see places, so what should that include? The Morgan factory will be closed, which reduces our list of options. Malvern was named after its bare hills, so a leisurely trip around the different Malverns that surround the hills is a priority. This will include the springs and wells, in particular the Holy Well, first mentioned in literature in 1599, and St Ann's Well, which attracted the Victorian donkey-riding visitors. We must include the wide, green expanses of common land, formerly Malvern Forest, the gas lamps and references to C S Lewis, Tolkein and Edward Elgar. To come all the way to Great Malvern, famous primarily for its ancient hills, and not reach the summit of the Worcestershire Beacon, would be a shame. So that's another two hours of our precious time if we climb to the top from the hills via St Ann's Well.

The town trail must include the ancient Priory Church, far older than anything our foreign namesakes have, and of course the Water Cure that brought Malvern even more fame and fortune than the arrival in 1830 of Princess Victoria and her royal entourage. When time is short, all these things and more can be summarised in Malvern Museum of Local History, located in the ancient Priory Gatehouse. Here is where our visitors can also hear a brief account of the telecommunications and radar establishment that once hosted Donald Trump's uncle John.

What have we missed? What else might be squeezed in? Well there's the Mulberry Tree in Priory Park and the Mulberry Restaurant on Belle Vue Terrace. The list is endless. The conclusion is that if you are planning to come to Malvern you need a lot more than 24 hours!

Misleading Slip-ups Awards - THE BIG OOOOOOOOooooopps! - WHERE WE SPOT THE BANANA SKIN SLIP-UPS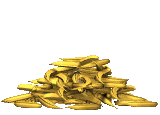 We often observe that incorrect or misleading information can lead to problematic outcomes, some is deliberate and some is unintentional. Even we drop the odd clanger. Whatever the reason, good or bad, there is no real alternative to the truth, properly presented, leading to better decision making and good working relationships. With this award we seek to set the record straight.

This time we award the MSA to the MSA. Well Dressing has been in the news again this year and the MSA (Malvern Spa Association not to be confused with Misleading Slip-ups Awards) has produced a very good leaflet. However, it says the custom was revived as an organised event in 1998 by the Malvern Spa Association and thereafter became an annual festival based in the May Day Holiday. Somewhat misleading, the event was already an annual celebration albeit an autumn rather than a spring festival. Well Decorating was in fact initiated in 1993 by Cora Weaver in conjunction with the Malvern Tourism Department's Officers and team. This was the team who created the Malvern Victorian Weekend in 1992 and well decorating was one of many new events on the agenda for September 1993.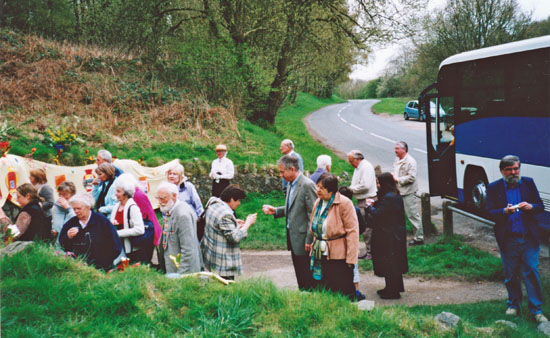 In the historic picture left the tour bus arrives at Hay Slad to view decorated wells during an early well decorating weekend. Tour guide Cora can be seen centre dressed in her white blouse and black skirt Victorian outfit.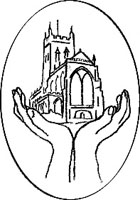 ;Malverns Worldwide Engage with Malvern Priory

Following discussions we are pleased to announce a valuable association with Malvern Priory Church. Its origins date back to before the Norman Conquest and today might be considered as the historic axle of the wheel of Malverns Worldwide. It is the oldest remaining man-made structure in any of the Malverns. It came about by the establishment of a religious order in the hills. St Werstan came to what is now Great Malvern from Gloucestershire and founded a religious cell in the time of Edward the Confessor, just before the Norman conquest in 1066. A century later this had developed into a substantial Benedictine Priory and surrounding community.

During the time of Henry VIII and the dissolution of the monasteries, the local people purchased the magnificent Malvern priory building for use as a parish church dedicated to St. Mary and St Michael. As a result, the building was not destroyed unlike many priories elsewhere. In particular the medieval windows survived intact and these can still be seen together with many other original features. These include the graveyard around the priory where historic Malvern families are commemorated, perhaps linking with pioneering families from Maverns across the globe.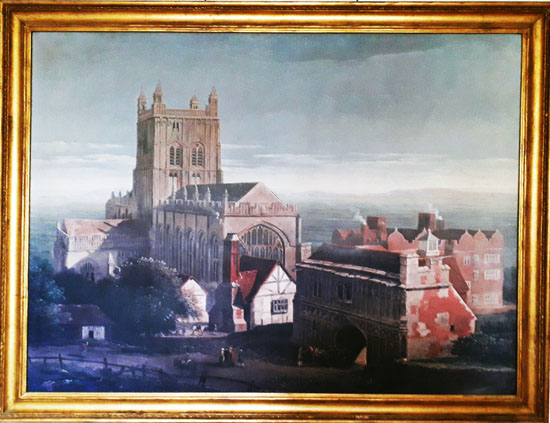 For Malvernologists, a visit to the Priory church must surely be on their itinerary and the Friends of Malvern Priory offer guided walks around the building and the churchyard. The Friends of Great Malvern Priory is an organisation whose aim is to bring together all who have an interest in the priory. Peter and Sarah Chappell (Peter is chairman

of the Priory Friends) are most enthusiastic about welcoming Malvernologists to the Priory church with the possibility of customised exploration tours of the magnificent structure and environs. To find out more about the history of the Malvern Hills go to http://www.malvernhillsaonb.org.uk/ where there is an excellent 10 minute video.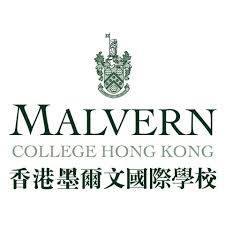 Have we discovered another Malvern Worldwide?


A chance acquisition at a weekend market of a Malvern rugby ball prompted us to investigate its provenance. The vendor indicated that her daughter, a lady interested in competitive sport and athletics, had possibly acquired it in Hong Kong. Nick Tisdale, Rugby Master at Malvern College said, "I had the balls made over here in the UK from Ram Rugby. How one got to Hong Kong we may never know. But it's good to know that the name Malvern is indeed Worldwide."

Investigation revealed that Malvern College Hong Kong (MCHK) opened its doors to its first pupils in August 2018. This co-educational day school now caters largely for international pupils, reflecting the truly multi-cultural nature of this vibrant city. It draws on the educational heritage and practices of Malvern College in Great Malvern, UK, whilst being adapted to fit its geographical location and culture.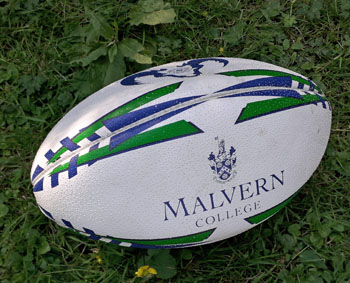 MCHK opened with 400 pupils and will grow year on year to reach a capacity of 960 pupils. MCHK is located near the Science Park in the New Territories, with easy access by both road and rail from all areas around Hong Kong. With the added attraction of proximity to the Chinese University of Hong Kong as well as the Hong Kong Institute of Education, the area provides an excellent cultural and academic environment for teaching and learning.

This excellent example of Malverns spreading across the globe is the latest in a long history of Great Malvern spreading its influence as one of the many Malverns Worldwide. Our congratulations to Malvern College International who have orchestrated this family of colleges. The college now has four overseas campuses, Malvern College Qingdao and Malvern College Chengdu in China, Malvern College Egypt in Cairo, Egypt, and Malvern College Hong Kong located in Pak Shek Kok, New Territories, Hong Kong, adjacent to the Hong Kong Science Park.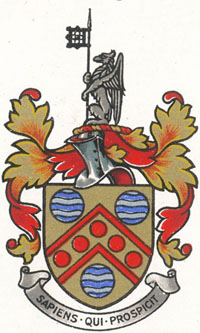 The colleges share the same arms and crest.
Arms : Or, five torteaux between two chevronels gules, all between three fountains.
Crest: On a wreath Or and gules, A griffin sejant supporting a weather vane sable
Motto: Sapiens qui prospicit (Wise is the person who looks ahead)
torteau - a roundel of any colour except gold or silver, which is a besant; sejant - upright
chevronel - like a chevron only half the width; or - gold; gules - red; sable - black



Friend AJ seen in Malvern Melbourne.

AJ Bains who runs the Mount Pleasant Hotel in Great Malvern disappeared shortly after opening the Mulberry Tree Restaurant in May. Searches revealed that he had left the restaurant in capable hands while he flew off, leaving us all wondering where. Imagine our pleasure therefore when we received an emailed picture of AJ from another Malvern. It transpired that using the information from the Malverns Worldwide web site he had decided that he wanted to check out the Mulberry Tree on the other side of the globe in Malvern Melbourne Australia. In the picture he is seen photographed by the tree that was a 1950s cutting from the George Bernard Shaw tree in Great Malvern. He is accompanied by leading dignitaries from the local historical society who guided him in his world-wide quest. As they say, that's what Friends are for.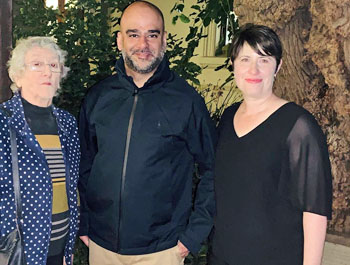 In the picture: From left to right - Lorraine Sage, President, Malvern Historical Society; A J Bains from Great Malvern; Simone Sharpe, historian at Stonnington History Centre; the Mulberry Tree.

Thought for the Day - what are you planning for Malvern Appreciation Day 2019? In 2016, the mayor of Malverne New York, Patricia Norris-McDonald, declared the 19th October Malvern Appreciation Day. Each year we commemorate the day and this year we plan to be in Malvern, Canada. How about you? - let us have your thoughts....
Email:
springs@thespas.co.uk (click here to send an email)
Website:
Click Here
SUPPLEMENTARY INFORMATION
The home page can be accessed by clicking website above.
Contact Information:


Newsletter Archive which can also be accessed from our WEB SITE INDEX.

Friendship

- There is no charge made for joining Friends of Malvern Springs and Wells and Malverns Worldwide. Just let us have your email address and we will send our newsletters, which are usually two monthly. Please be aware that some email addresses block large circulation emails. Do feel free to participate in our activities by contacting us below.

Best wishes, Cora & Bruce
Bruce Osborne, Tower House, Tadworth, Surrey. KT20 5QY
Tel. 01737 213169 email
bruce@thespas.co.uk
Cora Weaver, 4 Hall Green, Malvern, Worcs. WR14 3QX
Tel. 01684 561215 email
cora@malvernspa.com
1) TOPOGRAPHICAL LOCATION:
Malverns Worldwide
Malvern Hills - arguably Britain's original National Park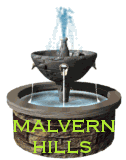 3) INFORMATION CATEGORY:
History & Heritage
Friends Newsletter