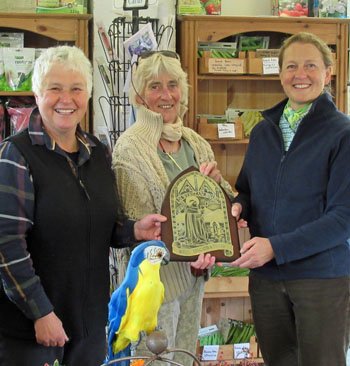 Friends Newsletter No. 91
June 2019
Friends are the recognised guardians of Malvern's water heritage (Malvern Gazette 1 March 2013 p.14). We are an independent voluntary group of Malvernologists who relentlessly promote research and celebration of Malverns Worldwide and the Springs and Wells of the Malvern Hills.
Well-decorating flies us to Malverns Worldwide
This year the theme for the May Well Decorating was Flight and there were a record number of decorated sites that totalled over 60. The winner of this year's Founder's Award for well-decorating was Guarlford's Grange Farm Nursery. The delightful and thoughtful decoration of the bronze wellhead in the grounds of Davenham House in Graham Road was the craftsmanship of Nicola Nokes and Carol Nicholls.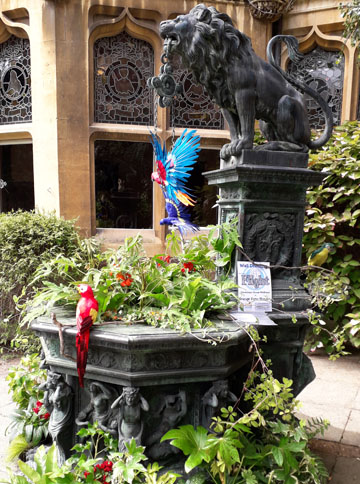 Using the theme of Flight, Carol and Nicola figuratively 'flew' to the tropical paradise of Malvern Jamaica and returned with vibrantly-coloured parrots and macaws and the lush vegetation of their habitat. They have also added a new dimension to well-decorating, taking the idea beyond our shores to Malverns Worldwide. Malvern Jamaica was founded about the same time as the ornamental Davenham Well was constructed. Coincidentally, Davenham House was built in 1859 to designs by Edmund Wallace Elmslie, who was born in the parish of St Mary, Jamaica in 1818. The award is sponsored by Coca-Cola Enterprises and supplied by the Friends of Malvern Springs and Wells in recognition of the founding of Well Decorating in the Malvern Hills in 1993 by Cora.

Picture above: Well-decorating founder Cora Weaver (centre) presents the well-decorating Founder's Award to Carol Nicholls (left of picture) and Nichola Noke, (right of picture).
Picture left: Davenham wellhead decorated with parrots, flora and fauna from Malvern Jamaica.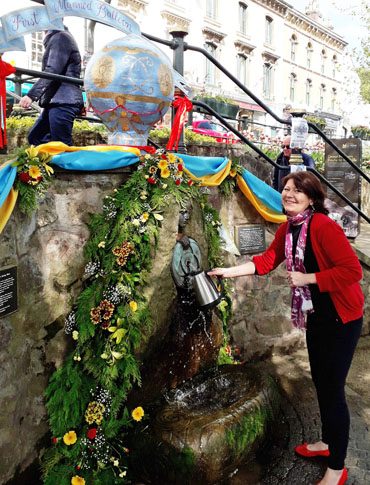 New Councillor Celebrates
The recent local election results soon had its impact when, on 3rd May, local wards declared their elected councillors. One new personality to join our representatives was Josephine Leibrandt who became a Town Councillor for Priory Ward, Great Malvern. What better way to celebrate the achievement than a toast with Malvern Water? Caught on camera during the Malvern Well Decorating, Josephine is collecting Malvern Spring Water from the decorated Malvhina Fountain on Belle Vue Terrace.
Mulberry Tree Restaurant Opens in Great Malvern
Wednesday 1st May at 5pm saw the formal opening of the Mulberry Tree Restaurant and Bar at Malvern's historic Mount Pleasant Hotel. The occasion included a presentation on the history of the Mulberry Tree in Great Malvern, from George Bernard Shaw's tree planted in 1936 through to its reinstatement via Malvern, Melbourne. The Malvern Melbourne tree is a 1950's cutting from the original in Great Malvern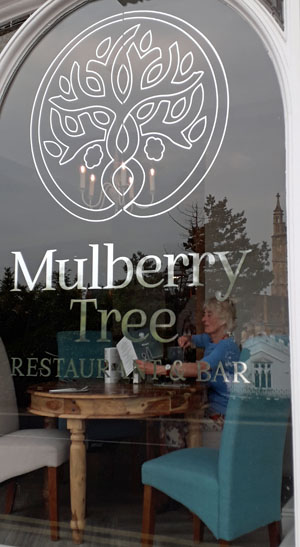 The presentation, by Cora and Bruce, included details of how the Malverns Worldwide project has resulted in a Shaw Mulberry Tree cutting being planted recently in Malvern Barbados. It was also revealed that, c.1910, the Mount Pleasant had its own mulberry tree, but it was lost many years ago. In recognition of this extraordinary coincidence, the hotel's manager, A J Bains, was given a Shaw Mulberry Tree cutting as a replacement. The Mulberry Tree restaurant further links this historic hotel with the history of Malvern, the Malvern Hills and the Malverns Worldwide project. This has become another reason for Malverns Worldwide visitors to visit Great Malvern, especially as Mulberry Pie is on the menu.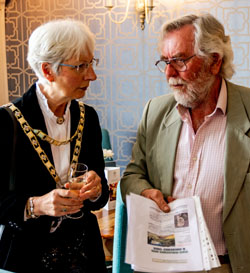 In the pictures Cora contemplates the new restaurant menu and interior while Bruce discusses Malverns Worldwide with mayor Cynthia Palmer at the opening occasion.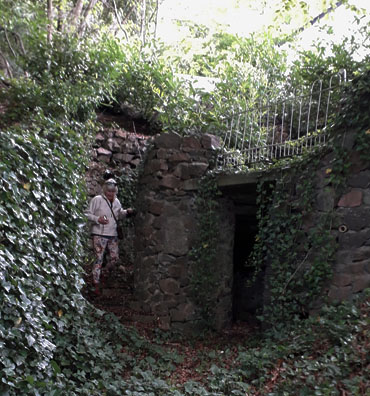 Joanna's Well - missed by the May Well Decorating Teams
With more than sixty springs and wells decorated in May 2019, Joanna's Well was not included and we wondered why. Joanna's Well nestles in the grounds of Ellerslie, at the southern end of Abbey Road. Formerly a water cure establishment, to which Florence Nightingale resorted in 1856, and then a school, Ellerslie was neither by 2011/2 and was earmarked for total rebuilding as a retirement village.
We knew where the well was following an exploration of Ellerslie's grounds several years ago but today new imposing buildings fill the substantial Ellerslie site. With permission, we were allowed to explore the grounds to rediscover the hidden treasure.
We found Joanna's Well in a dense clump of trees, neglected and unseen in the darkness. Thought to be a mid-Victorian garden feature, it comprises a circular shaft that once led to spring water and, around it, a winding staircase, all in local stone. At the top of the stairs, a bridge overlooks the shaft and adjacent chamber. Our hope is that as landscaping becomes completed, we will see this restored structure re-emerge into the limelight. For more details see site 90/2 on the index of springs and wells on the web site. In the picture Cora wades through the ivy to find this lost treasure. Our next query is: has Hampton House pond disappeared as a result of the same development?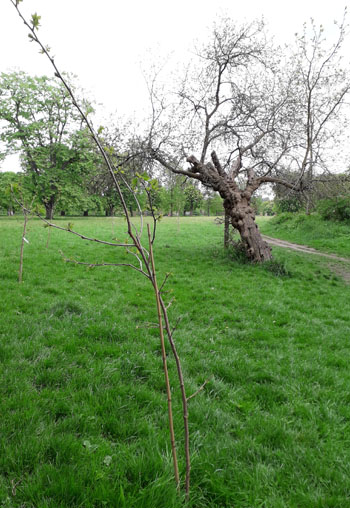 Morden Hall Park Mulberry Forest
We were intrigued to learn about another Mulberry Tree project. This time it's in the 51 hectares of grounds of Morden Hall in South London SM4 5JD. For decades their ancient Mulberry Tree has attracted attention. However, we learnt recently that they are concerned about the long-term future of the tree and so have initiated a project to perpetuate its presence in the park. Discussions with the gardener revealed that several saplings have been planted in the immediate vicinity of the original tree - see picture right. Our own experience has revealed that there are several varieties of Mulberry Tree and so on enquiry we learnt which one they had used. Known as Morus Nigra, it is a black berry variety which is noted for its long life albeit becoming gnarled with age. The leaves are heart shaped being rough above and downy underneath. The fruits are dark red/black and edible. For anyone wishing to see the trees, Morden Hall is a National Trust property and open to the public.
Malvern Barbados Celebrates a Second Planting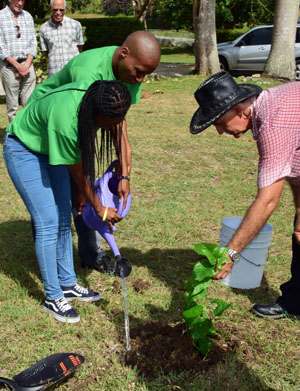 In our previous newsletter we featured the planting of the George Bernard Shaw Mulberry Tree in Malvern, Barbados in March as part of the Malverns Worldwide project. We are pleased to reveal that a second sapling was planted in May. June Cheesman from Malvern Great House records the event as follows. 'This second planting had a slightly different twist. It focused on bridging persons around the world in love and harmony, which would have started with George Bernard Shaw in 1936,' she said. The programme included her welcome address together with horticulturist Dr Peter May's message from Malvern Melbourne Australia. There were excellent messages and prayers by Dr. Michael Clarke and the Rev. Dr. Cicely Athill-Horsford of the local Mount Tabor Moravian Church and a vote of thanks by June's friend, John Moss. John himself is an Englishman married to a Barbadian. He is a retired language master from Queen's College, one of the island's top schools. The Mulberry Tree was planted by a senior student of The Derrick Smith School & Vocational Centre - Barbados. One of June's colleagues, Tessa Kerr, played the piano afterwards to entertain the students and invited guests. After that, light refreshments were served.
June received three saplings from the Australian tree through the joint action of Dr. Bruce Osborne of the U.K. and Dr. Peter May of the University of Melbourne, Australia. The first tree that was planted is coming on superbly. The third one, which had lost its leaves, now has renewed growth as if to say that she is not going to be outdone by her siblings! The second sapling is pictured above.
OOOOoops - Evendine Spring and Heavy Metals
In our last newsletter we published an analysis of Evendine Spring showing that heavy metals are not a problem. The analysis should have read: 'Part per billion/ppb - microgram per litre of water - ug/l.' and not 'ug/l = parts per billionth of a litre.'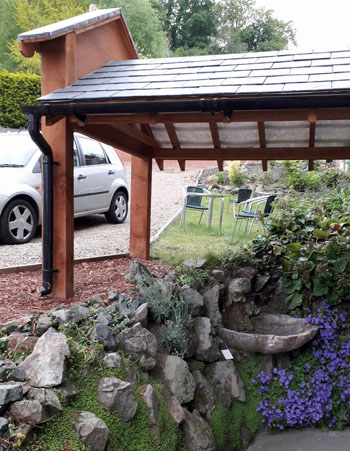 News About the Foley Fountain
The Foley Fountain was once the main water feature at St Ann's Well. In 1892 it was moved to the Mount Pleasant Hotel, then owned by Lady Emily Foley, who installed a new spout and basin at St Ann's Well. Since then it has been a rockery decoration by the car park entrance to the hotel building. Here it has weathered and deteriorated and repairs have been initiated at various times. The fundamental problem is that this valuable artifact of 19th century Malvern is outdoors. Now we are pleased to announce that a shelter has been constructed over it, hopefully protecting it from the elements for the foreseeable future. More details to follow - see picture left.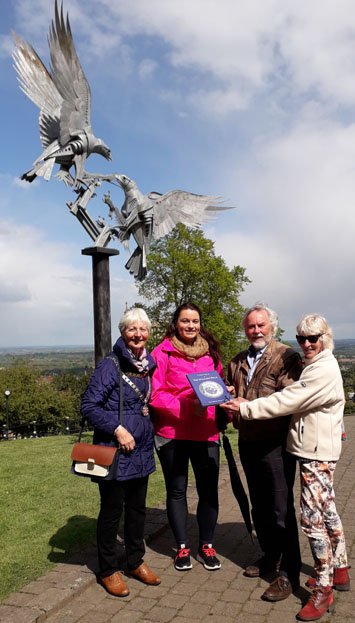 Envoy from Graefenberg receives welcome from Great Malvern
In the first half of the nineteenth century a pioneer of the water cure in Eastern Europe was to have a major impact on the development of Great Malvern as a Victorian spa town. In the Middle Ages Malvern Wells had developed a reputation for curing of disorders by the application of spring waters but by 1840 doctors were starting to take seriously a new level of expertise. It evolved in a hillside village called Graefenberg, near the town of Jesenik in what is now the Czech Republic.
In a letter dated April 4th 1845, published in Letters from Graefenberg by John Gibbs, it states that 'Sir Isaac Newton was led to discover the laws of gravitation by observing the fall of an apple: Priessnitz discovered the art of curing disease with cold water from witnessing its effects in producing auschlag, or eruption in cases of trifling injuries. Thus, from circumstances so simple and apparently so trivial in themselves, are great truths evolved by the observant mind of a genius.' Water cure doctors such as Wilson and Gully quickly latched on to this branch of medical healing and founded substantial residential water cure establishments in Great Malvern. As a result, Great Malvern flourished as a place for the upper classes to come and restore their health, away from the pollution and ill health associated with the industrial and city zones of England.
Today, contact with the origins of the water cure is maintained and Cora and Bruce have visited Jesenik several times to trace the origins of this branch of medicine which still secures credibility. We were delighted to be able to welcome an envoy from Jesenik to Great Malvern over the May Day holiday period. In the picture mayor Cynthia Palmer accompanied by Cora and Bruce present Lucie Tenekedzi with a copy of Celebrated Springs of the Malvern Hills to take back to Jesenik on her return.
Email:
springs@thespas.co.uk (click here to send an email)
Website:
Click Here
SUPPLEMENTARY INFORMATION
The home page can be accessed by clicking website above.
Contact Information:


Newsletter Archive which can also be accessed from our WEB SITE INDEX.

Friendship

- There is no charge made for joining Friends of Malvern Springs and Wells and Malverns Worldwide. Just let us have your email address and we will send our newsletters, which are usually two monthly. Please be aware that some email addresses block large circulation emails. Do feel free to participate in our activities by contacting us below.

Best wishes, Cora & Bruce
Bruce Osborne, Tower House, Tadworth, Surrey. KT20 5QY
Tel. 01737 213169 email
bruce@thespas.co.uk
Cora Weaver, 4 Hall Green, Malvern, Worcs. WR14 3QX
Tel. 01684 561215 email
cora@malvernspa.com
1) TOPOGRAPHICAL LOCATION:
Malverns Worldwide
2) LANDSCAPE:
Rolling Countryside
Park or Garden
Island
3) INFORMATION CATEGORY:
Springs and Wells General Interest
History & Heritage
Friends Newsletter