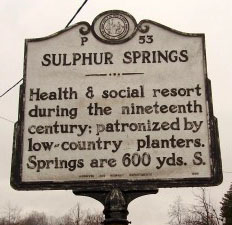 Friends Newsletter No. 88
January 2019
Friends are the recognised guardians of Malvern's water heritage (Malvern Gazette 1 March 2013 p.14). We are an independent voluntary group of Malvernologists who relentlessly promote research and celebration of Malverns Worldwide and the Springs and Wells of the Malvern Hills.

New Discovery - Malvern North Carolina - see illustration above
We were intrigued to learn of yet another Malvern, at Asheville on the western side of North Carolina. In 1827 Robert Henry discovered some sulphur springs there. Three years later he built The Sulphur Springs Hotel on the hill above the springs in the centre of what is now Malvern Hills. The healing waters were very popular and the hotel, the first of its kind in Western North Carolina, attracted wealthy planters to the area during summers. Other recreational facilities were developed in the grounds and by the 1840s the spa resort attracted almost 500 visitors per season. Today it is a largely residential area. More details will be on the web site in due course and we plan to make local contact and a visit soon.
Very Happy Valley Spout (126)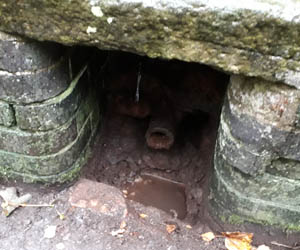 In November, a sharp-eyed Friend spotted a tiny morsel of an old iron spout peering out at the old donkey spout in Happy Valley. On two consecutive days, using two different trowels, a square foot of silt was excavated to reveal the spout, the trough and the overflow. Now, water drips into the trough, as it would have done in 1904 when it was built at the expense of an anonymous benefactor. So now the unblocked overflow can once again do its duty.

This is surely a worthy recipient of next year's well decorating.

Mulberry Plaque cleaned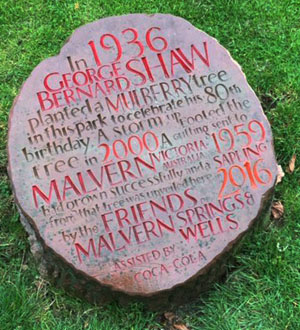 Many of you will have seen the Mulberry Tree plaque in Priory Park, Great Malvern. The stunning plaque, resembling a section of the trunk of Shaw's original tree, was created by Catherine James, a local stone mason. Di Foster from Malvern Australia unveiled it in front of a large crowd on 25 June 2016. Today the tree and plaque stand as an icon to Malverns Worldwide. Inevitably many Malverns across the globe are now keen to have their own offspring of Shaw's original tree.
We are grateful to Catherine who cleaned the plaque in 2018. Many thanks Catherine!
New Water Feature Discovered in Great Malvern
We were intrigued with the recent unearthing of a previously hidden water feature in Graham Road. For some time local residents had been aware of an old iron hand pump at the far end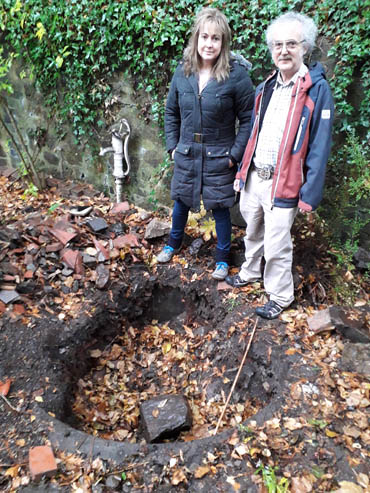 of their garden and a bit of digging unearthed what appeared to be a circular pool about five feet in diameter and about two feet deep. There was no sign of water but that may change as winter wet weather raises the water table. The house dates from circa 1901 and the pump and pool may be contemporary with the creation of the property.
Following a site visit and some background research, we came up with a hypothesis. Looking at the large scale map of the area, the site is located downhill from the Lodge Fountain (site C17 on our database). The Lodge predates the house in Graham Road by several decades and the fountain's overflow probably ran down a small water course to the Severn flood plain. When the Graham Road houses were being built, the water would likely have been piped and the water used for the building works, which was cheaper than paying for water from the public main. The circular pool may have been the builders' supply reservoir and the pump enabled buckets to be filled relatively easily. When the houses were complete, the feature was retained as a garden curiosity.
If you have any ideas do let us know. Meanwhile, Anne and Jonathan continue excavating this local treasure in their garden.

Hand Pumps are full of surprises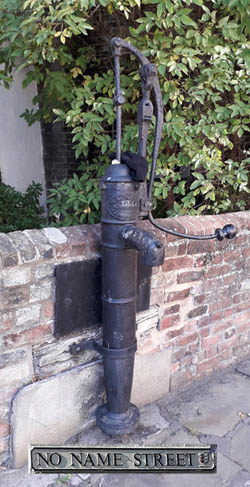 We recently came across some old hand pumps. They date to the days before mains water and often were sourced from natural springs and wells. Today they are generally decrepit and not working if surviving at all. The first one that we came across was in Sandwich, the seaside resort in Kent. It is a charming town with lots of ancient buildings and an old water pump in No Name Street. No surprise how that street was named! Stylish in design it was apparently originally fed by a water leat some miles away in Chichester. Hopefully the water leat was well protected from animals adding to the flow!
A short while later we came across another hand pump in Malvern Iowa churchyard USA. We tried pumping it and to our amazement our feet got soaked as water poured from the spout. This is one of the first that we have tried that actually worked. Full marks to the Americans for keeping this one in a good order. Here it not only demonstrates the shortcoming of a pump over a mains water tap; it also enables the graves to be watered in style.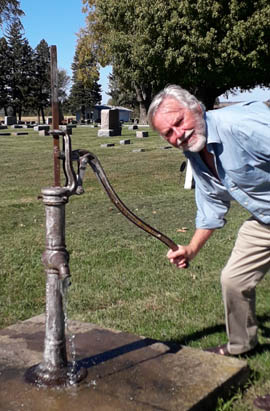 Our final surprise goes back to Deal in Kent, England. You never know where you will find another Malvern and Deal has one. This time it's a guest house called Malvern. It dates from the late 19th century but we could trace no commonality with Malvern in the Midlands, other than both were health resorts at the time, albeit one seaside and the other spa treatments.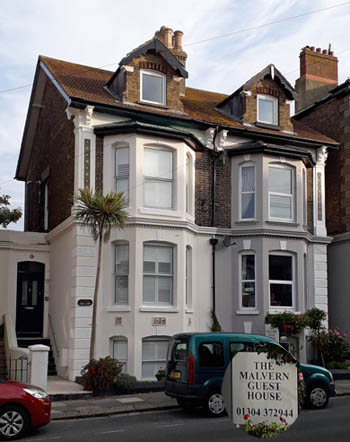 Here is a location that could be explored further if anyone fancies a holiday break in Deal.
WE WISH ALL OUR MALVERNOLOGIST FRIENDS WORLDWIDE A Happy New Year AND HOPE THAT 2019 IS FILLED WITH SUNSHINE AND FULFILLMENT
Coal Mining in the Malvern Hills exposed.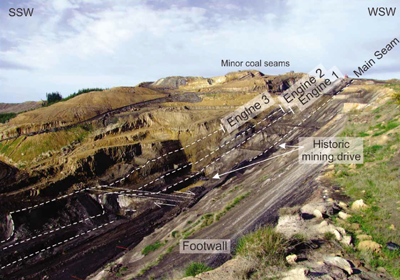 After extensive research we are at last able to reveal details of coal mining in the Malvern Hills. The Malvern Hills mine is now an open cast coal mine. It exploits one of a number of modest deposits along the hills. Over 120 mines have operated in the region since 1866, producing a total of about 2 million tonnes with most coming from underground mines in the Malvern Hill. It is estimated that up to 25 million tonnes is still exploitable using open cast methods. The coal is sub-bituminous and best utilised for boilers and similar apparatus. The layout of the surface features is shown in the above picture which is part of a detailed appraisal 'Sedimentary and Structure of the Malvern Hills Coal Mine' (2013) Holm R., Bell D H.
For those who are wondering exactly where it is, we can advise that it lies near Coalgate, west of Christchurch in Canterbury on South Island, New Zealand. Nearby lies the Malvern residential area which is detailed on our Malverns Worldwide web site.
Gifts of Friendship received from Malvern Iowa.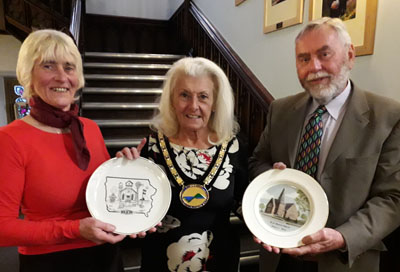 Following the visit to Malvern Iowa in October as part of the Malverns Worldwide project, Andrea Morgan, Chair of Malvern Hills District Council received two commemorative plates. Presented by Cora and Bruce, these were gifted to Great Malvern by the residents of Malvern Iowa and pictorially record the local history and the early Christian church. They will go on display at the Council Offices England in a cabinet that contains a number of souvenir gifts exchanged between Malverns across the globe and Great Malvern.

Malvernberry Pie for Malvernologists Worldwide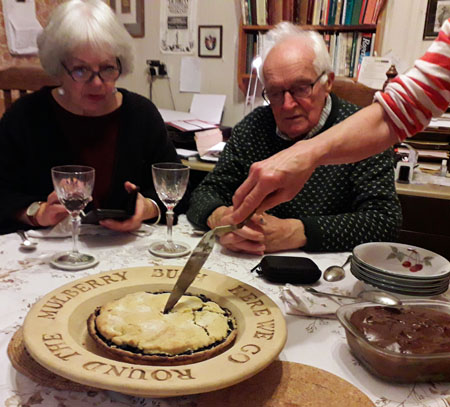 Allen Hall, a fit and lively Malvernologist who lives in Malvern, Iowa, is a keen local historian and Malverns Worldwide enthusiast. Aka Pie Man, Allen has taught all his grandchildren to make mulberry pie using fresh mulberries because they're readily available locally.

Mulberry trees play a significant part in the Malverns Worldwide project, so we decided to create a new international dish - Malvernberry Pie. It's made with mulberries which, although not heavy on flavour, are unusually weighty in fibre, vitamin C, antioxidants and, for a fruit, are a rich source of iron and protein. We've used Allen's pastry recipe, which is quite unusual, and concocted our own filling using dried black mulberries, since fresh and frozen mulberries aren't so readily available in the U.K.

Our prototype pie was unveiled on 19th November 2018 and Helen and John Willson were invited to taste and comment. It was served on our distinctive Mulberry Tree plate acquired specifically for the purpose. The creation proved very appetising and Cora was praised for her efforts. The recipe will be developed further as a result of the first trial and details will be given in forthcoming newsletters.

In the picture Helen and John await the serving of the Malvernberry Pie at a dinner party held in Great Malvern for the trial tasting.


Email:
springs@thespas.co.uk (click here to send an email)
Website:
Click Here
SUPPLEMENTARY INFORMATION
The home page can be accessed by clicking website above.
Contact Information:


Newsletter Archive which can also be accessed from our WEB SITE INDEX.

Friendship

- There is no charge made for joining Friends of Malvern Springs and Wells and Malverns Worldwide. Just let us have your email address and we will send our newsletters, which are usually two monthly. Please be aware that some email addresses block large circulation emails. Do feel free to participate in our activities by contacting us below.

Best wishes, Cora & Bruce
Bruce Osborne, Tower House, Tadworth, Surrey. KT20 5QY
Tel. 01737 213169 email
bruce@thespas.co.uk
Cora Weaver, 4 Hall Green, Malvern, Worcs. WR14 3QX
Tel. 01684 561215 email
cora@malvernspa.com
1) TOPOGRAPHICAL LOCATION:
Malverns Worldwide
Malvern Hills - arguably Britain's original National Park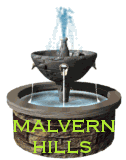 International Interest
3) INFORMATION CATEGORY:
Springs and Wells General Interest
History & Heritage
Friends Newsletter