Friends Newsletter No. 79
August 2017
Friends are the recognised guardians of Malvern's water heritage (Malvern Gazette 1 March 2013 p.14). We are an independent voluntary group who relentlessly promote research and celebration of the Springs, Spouts, Fountains and Holy Wells of the Malvern Hills and Malverns Worldwide.


Malvern Council Chairman Receives Gifts from Malvern, Pennsylvania.
Following the visit of the two Malverns Worldwide envoys to Malvern, Pennsylvania earlier this year, Chris O'Donnell, Chairman of Malvern Hills District Council received gifts from Malvern Pennsylvania as a reciprocal gesture of friendship. Details of Cora Weaver's and Bruce Osborne's visit appeared in our earlier Newsletter no.78. Now the gifts from Pennsylvania are to be displayed in the Council House in Priory Park, along with others received from Malverns elsewhere. Perhaps the most striking of the recent gifts is the Pennsylvania state flag that formerly flew on the Capitol Building in the state capital Harrisburg.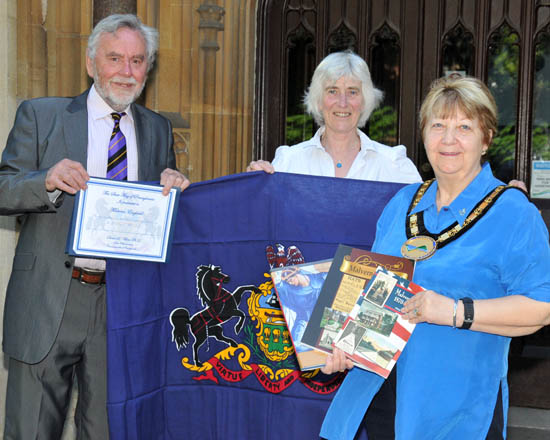 Picture - Chairman Chris O'Donnell outside the Council House, with the gifts for Great Malvern.
Life is short so have an adventure.
Join us in visiting Malverns Worldwide and become a Malvernologist. Our International Coordinator is Denise Preston. Plan your trip and liaise with Denise to make local contacts in your chosen Malvern destination. Then tell us all about your adventure for our Newsletter so that others can follow.
Denise can be contacted by email: dnspreston@yahoo.co.uk.
Malvern Springs Celebrated Worldwide.
When we started researching the springs and wells of the Malvern Hills 25 years ago, we never dreamt that they would become legendary and celebrated across the globe. We are in dialogue with many people overseas in connection with identifying Malvern-named locations to link with. Our attention has been drawn to Western Australia where a new township is being created. Guess what they are calling it? About half an hour from Perth, Western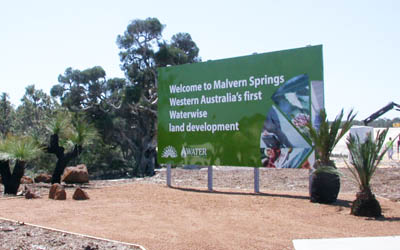 Australia lies Ellenbrook. This is a major regional development area and now you can buy properties in a new village called Malvern Springs. The name reflects the stated intention of the developers to enhance the natural environment which includes surface water in many forms. Hence the development is promoted as Waterwise. Our earlier newsletter number 50 included earlier information.
The new village has an impressive sales brochure on-line which we will link with our web site. As the new residents move in we need to find a shop in the village to stock our book Celebrated Springs of the Malvern Hills! If you know of a Malvern that is not already recorded on our web site www.MalvernsWorldwide.info do let us know so that we can extend the hand of friendship.
Religions, mythology and the association of springs and wells with saints and Gods.
Water has long had a special relationship with religions and beliefs about the more mystical matters of life. Sites are named after saints and St Anns Well is a good example in the Malvern Hills.

Then there is St Werstan and his relationship with Malvern springs. His was a practical relationship when he needed spring water to drink, when establishing his religious cell in the Malvern Hills at the time of Edward the Confessor. There can be little doubt that once located at what is now St Anns Well, Werstan used the water for baptisms and other religious purposes. There is also the idea that the Celts similarly used the water for their worship. This resulted in their objection to the intrusion of Werstan and in his death after just three years in the Malvern Hills.
As science develops, early beliefs adjust to the findings of science whilst continuing to provide an explanation for the unexplained. A simple example is we now know our sun is a celestial body and not a God. What appears to happen is that we use belief systems as metaphors to enable us to cope with the mysteries that remain unresolved. Even the Vatican, it would appear, invests heavily in astronomical research. This enables a clearer understanding of how the universe operates and as a result a clearer understanding emerges of what is referred to as God. This subject we have now investigated further and our resulting hypothesis is on our web site. To have a look go to our web site INDEX and click on entry number 33. We would welcome your comments.
BBC Bargain Hunt June 2017 Its all to do with the spring water!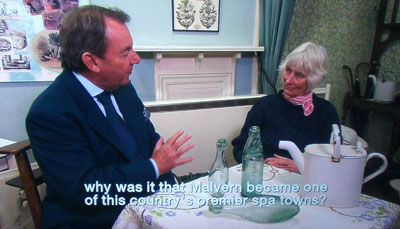 Host Eric Knowles interviews Cora in Malvern Museum during a recent programme from the Three Counties Showground, Malverm UK. The discussion included what made Great Malvern a great spa town in the nineteenth century and how the spring water played an important role in what became known as the "Water Cure".
Mulberry Tree Update
Now that several of the Malverns worldwide are seeking a George Bernard Shaw Mulberry Tree to plant in their own towns, we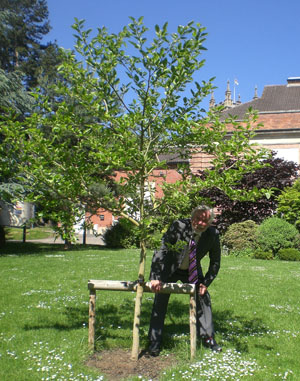 felt it appropriate to take a brief stock-take of our own trees in the UK. The principal one in Priory Park Great Malvern is prospering as can be seen from the picture. This one was unveiled last year and is now strong enough to have the supporting band removed. There are two reserve trees that are doing as well and a further one that suffered damage earlier this year but is recovering. Overall we are well organised to arrange for cuttings to be taken if necessary later this year. Our immediate endeavour is to take further cuttings from the Australian tree. We are awaiting confirmation from Dr Peter May that this can now proceed, enabling cuttings to be exported to the US sooner.
Picture left - The mystery figure is Bruce discovering that the George Bernard Shaw Mulberry Tree is doing well in Priory Park; thanks to Malvern Hills District Council who keep an eye on it.

Springs and Wells elsewhere - Coggans Well Tiverton, Devon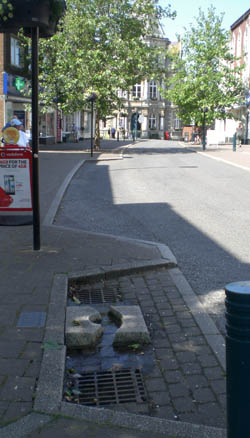 The importance of a good water supply from natural springs is apparent when the history of this peculiar water feature in the town centre of Tiverton is explored. Known as Coggans Well it dates back to circa 1250 and is fed by a leat or water channel that carries water from springs at Norwood Common near Chettiscombe, a small village one and a half miles away. The supply was the gift of one Alson de Ros, a local tenant, although the plaque at the outfall in Fore Street in the centre of town is somewhat misleading. This gift enabled the land owners, the Coutenays to further their business interests in the locality. The springs were contained and split between the village and the town.

Picture right - the outfall of the spring water in Fore Street.

As the town expanded around the water outfall, it was vital in not only being the principal source of water but also critical when fire swept through the town in 1730. A combination of timber houses and intensity of building meant that the town needed rebuilding after this major conflagration. Today many of the existing buildings remain a testimony to better planned development at the time. The nineteenth century saw a number of actions involving the leat. These included a complete reappraisal of its value following a cholera outbreak in 1847. Earlier in 1810 the leat had been considered in conjunction with a new sewerage scheme. In 1841 a map was prepared of all landholding within half a mile of the well or outfall for the imposition of tithes for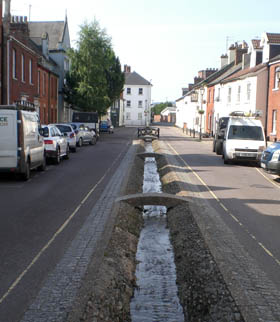 those lucky enough to enjoy the water. The leat and its outfall remained an important facility for the town folk until the 19th century when it was eventually replaced by a piped water supply.

Pictures: Left - the town leat as it runs through Castle Street.

Today the well or outfall in Fore Street is a popular drinking facility for dogs and pigeons but not humans. As such it has similarities to Great Malvern's spring water supply which led to the founding of Malvern at the foot of the hills. Today we just turn on the tap, but in earlier times securing a good water supply was a critical consideration for all. For more information see "A History of Tiverton" (2004) by Mike Burton.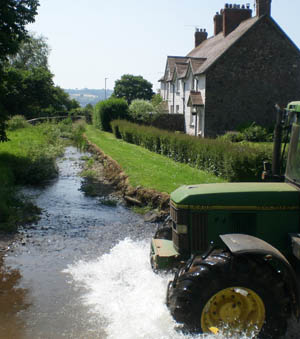 Picture right - a tractor splashes through the leat near the springs that source the water.

Is there an expert who can answer the question: why was the Tiverton source called Coggans Well? If you have the answer, do let us know.

Wanted - a pump restorer

In the last newsletter we featured the iron pump in St. Andrews Churchyard, Poolbrook. This has solicited the following request from a Friend who obviously has an interesting project in mind.

Good Afternoon Bruce. Nice newsletter thank you. Do you happen to know who (if anyone) repairs pumps like the one pictured? The iron is sound but the mechanism into the well is broken.
If you think you may be able to help drop us an email and we will be pleased to pass on your details. In due course we may even be able to feature a newly restored pump in a future newsletter, you never know.
Finally for Malvernologists, where was this picture of the Malvern Hills Road Train taken?

Drop us an email.
Email:
springs@thespas.co.uk (click here to send an email)
Website:
Click Here
SUPPLEMENTARY INFORMATION
The home page can be accessed by clicking website above.
Contact Information:


Newsletter Archive which can also be accessed from our WEB SITE INDEX.

Friendship

- There is no charge made for joining Friends of Malvern Springs and Wells. Just let us have your email address and we will send our newsletters, which are usually two monthly. Please be aware that some email addresses block large circulation emails. Do feel free to participate in our activities by contacting us below.

Best wishes, Cora & Bruce
Bruce Osborne, Tower House, Tadworth, Surrey. KT20 5QY
Tel. 01737 213169 email
bruce@thespas.co.uk
Cora Weaver, 4 Hall Green, Malvern, Worcs. WR14 3QX
Tel. 01684 561215 email
cora@malvernspa.com
1) TOPOGRAPHICAL LOCATION:
Malverns Worldwide
Malvern Hills - arguably Britain's original National Park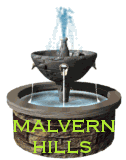 3) INFORMATION CATEGORY:
Springs and Wells General Interest
History & Heritage
Friends Newsletter