Misleading Slip-ups Awards
THE BIG OOOOOOOOooooopps! - WHERE WE SPOT THE BANANA SKIN SLIP-UPS
We often see misunderstanding or misleading information lead to problematic outcomes, some is deliberate and some is unintentional.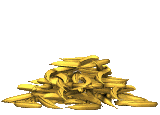 Even we drop the odd clanger. Whatever the reason, good or bad, there is no real alternative to the truth, properly presented, leading to good decision making. With this award we seek to set the record straight.
We received a request for a possible Mulberry Tree elsewhere in Malvern recently and on investigating the purpose discovered the following alleged scenario about the memorial to the memorial.
The site location is the thin triangular piece of land where Priory Road diverges from Abbey Road. This land was apparently given in the early 1870s to Malvern town by Miss Palmer, who lived on the other side of Abbey Road at Lower Abbotsfield (later re-named Croftdown), with restrictive covenants about retaining the trees on the site proposed for the memorial fountain in honour of Dr James Wilson, a pioneer of the Malvern Water Cure. The memorial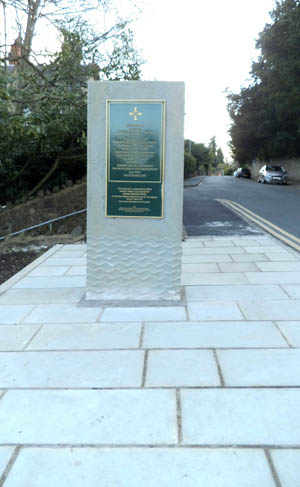 was finally completed in 1877. Sadly, after years of neglect, it was demolished in 1948. But the sole survivor of Miss Palmer's trees, a horse chestnut tree which is shown in drawings of the Wilson fountain, remained, to the enjoyment of all until its unheralded felling on 3rd February 2015.

Somehow, after 1948, the stewardship of Miss Palmer's gifted land seems to have passed to Worcestershire County Council (WCC). Certainly, it was WCC who, following a site meeting in November 2014, felled the tree without ado. WCC subsequently allegedly apologised to MHDC for having failed to carry out the correct public notification, which would have given locals a chance to comment/object, but the apology didn't bring back the much-loved old tree. Removing the massive horse chestnut tree has provided a much better site for the simple stone Wilson Memorial which was unveiled earlier this year thanks to Brian Iles' long campaign and efforts. Unfortunately the opportunity to make that a replacement fountain was foiled by the development of Croftdown Court over the lead water supply pipe running from Melton Lodge up on the Worcester Road. However, there is still plenty of room left on Miss Palmer's land for a decent commemorative tree to replace the much-loved horse chestnut tree.

In the picture slabs replace tree, do you have a view on what if any tree should be planted?


During the Spring of 2016 the Friends of Malvern Springs and Wells drew attention to the rather sad state of the Elgar Fountain on Belle Vue Terrace in Malvern, Worcestershire. Suggestions from Friends included coloured lights perhaps forecasting the weather or music and coloured lights providing a visual multi senses display in the evening. Local media fuelled the debate with front page news items.

In order to explore further such possibilities members of the Friends launched an investigatory field trip to Marienbad in the Czech Republic. This was in conjunction with Malvern Civic Society and took place Mid-May. The reason for selecting Marienbad was that not only is it twinned with Malvern, it has a famous "singing fountain" that provides entertainment for visitors at set times of the day using classical music, water displays and coloured lighting.

Marienbad is a 19th century fairy land type spa resort in Bohemia and was patronised by royalty in former times. As well as offering spa health programmes, Marienbad attracts large numbers of visitors who come for the high quality environment and entertainments. Key to this is the Colonnade and Singing Fountain which provides a centrepiece for those doing everything from taking the waters to enjoying a concert or visiting the surrounding visitor attractions.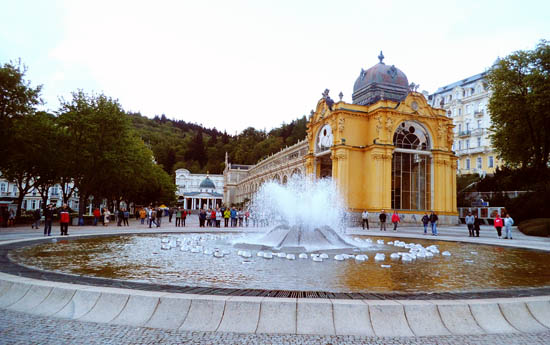 Suggested recommendations for the Elgar Fountain - A structure as grand as the Singing Fountain at Marienbad is not suited to Belle Vue Terrace, Great Malvern. However the lessons are that if you have something that will entertain, people will gather to watch and enjoy it. It also becomes a focal point for other activities and a general meeting place.

The Malvern Elgar fountain that looms from the gloom is a massive structure and when the fountain runs, water can gather on the road below causing a possible hazard. The massiveness can be used to advantage but the provision of water need to be rethought. For example water bubbling in giant bubbles may be a better consideration than an open fountain. Lighting and music are much simpler to envisage. With modern technology LED lighting, a spectacular display that excels that of Marienbad for Belle Vue Terrace should be possible. Using buildings in the locality, laser lighting may also be relatively easy to install. Similarly music, particularly Elgar's, is a practical proposition, even including live local musicians on set occasions.
It is recommended therefore that a detailed proposal in prepared for the Elgar Fountain using expertise that will have experience in resolving the issues raised above. There is a possibility that funding could be available for a suitable scheme through the 'Community Improvements Fund'.
Do see our website by clicking on the Singing Fountain header logo above.
Newsletter No 60 elicits a response from New York following a discovery
.

In Newsletter 60 (available to read on our web site) we highlighted a recent find of what appeared to be a Gibraltar stone water bottle. We have now heard from two Friends in New York who found a broken piece of a similar bottle. "Helley (my spouse) and I went walking in a local seaside park, Welwyn Preserve, on Long Island (New York) yesterday and found a chard of 'the mysterious Gibraltar stone bottle' (see the attached picture), Steve."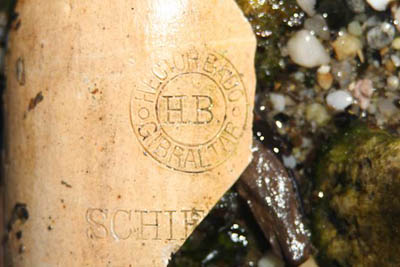 This prompted a further investigation with some interesting results. Hector Bado, the name on the bottle. appears to have been born 1884/4 and aged 26 lived at 7 Church Street Gibraltar. He is described as a General Merchant and was single and a Roman Catholic. By 1931 he had married Nona and they travelled from London to Gibraltar on the Maloja, with P & O S.N. He was still a merchant at this time. They stayed at the Park Lane Hotel, London, one of London's top hotels. The bottle of which Steve has a piece contains the word Schiedam, which was a place in the Netherlands noted for its gin. It would likely have been gin bottled and labelled for the American market and Bado was presumably the entrepreneur who set this up.