In recognition of David's endeavours, a Friend has proposed that the New Myrtles Spring should be considered for the St Werstan Award.
The scheme is run by Friends in conjunction with Coca-Cola. Nominated sites are featured in the Friends Newsletter. Friends of Malvern Springs and Wells are then invited to express their views as to whether nominations justify the award by completing a simple appraisal form.
The appraisal is based on six factors: preservation, environment enhancement, public accessibility, provenance, maintenance and general WOW factor.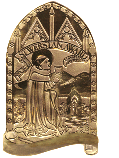 The owner or occupier of sites receiving the St Werstan Award for Enhancement of Water Heritage receive the St Werstan plaque and can order a stained glass window for display. See our web site for more details.
Your vote counts and so please complete the form at the end of this newsletter and return to Cora.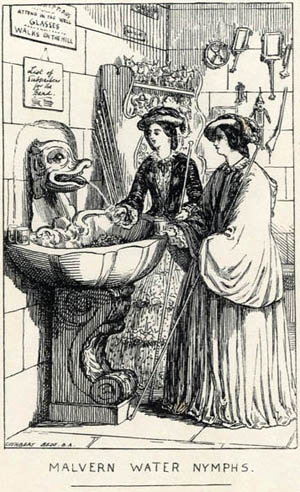 Often we have wondered what the original fountain at St Ann's Well looked like. Recently we found this picture of the Foley Fountain in situ at St Ann's Well.

The accreditation was given as follows: Foley Fountain picture, After Edward Bradley - Original 19th Century Lithograph. Published by H.W. Lamb, Royal Library, Malvern. Illustration from "The Youthful Travellers; or, Letters chiefly descriptive of scenes visited by some young people, designed as examples of the epistolary style for children" first published in 1823. Signed in plate.

Unfortunately the dates do not match because we know the fountain was installed for the visit to Malvern by Princess Victoria and the Duchess of Kent in 1830. Any ideas?
Another Friend has contacted us with more reminisces of the Schweppes Grotto at the 1951 Festival of Britain. Did this celebrate 100 years of Schweppes Malvern Water at the time is the question we raised in earlier newsletters?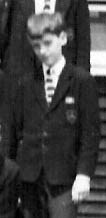 Michael Kemp pictured left recalls: "I used to visit the Battersea Park Pleasure Gardens when I was a child (late 1950s/early 60s) ~ I remember the Grotto well ~ the sights and sounds ~ the howling wolves ~ the dry smoky aromas in the caves ~ pine cones ~ tinkling bells ~ flickering lights ~ a bridge suspended over a sea of (papier mache) volcanic lava ~ and I think it may have also been an alternative entrance to the Fun Fair. I recall that as you left the Grotto you appeared to be walking directly into a waterfall, but that was an optical illusion ~ you skirted the cascading water by means of a previously obscured path ~ and that would bring you out somewhere in the vicinity of the animated Guinness Clock..."

Michael has also come up with some pre-festival designer pictures of the planned caves in the grotto. Unfortunately we do not hold the copyright on these and are unable to reproduce them here. For more details about the Schweppes grotto see previous newsletters and
www.Grotto.Directory
Malvhina has taken on a new image
Recently discovered on the Internet was this image entitled 'Beltane: Lady of the Sacred Well'. It was intriguing because there is a similar looking water feature in the centre of Malvern: Malvhina.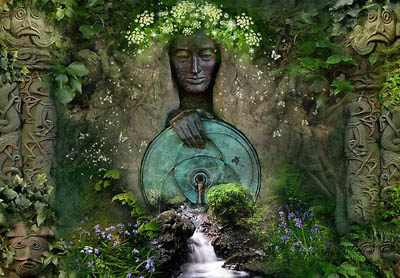 On further investigation we found that the creator is photographer and artist Angie Latham from Upton upon Severn. She designed the image you see by infusing photographs of the Malvhina Fountain with photographs of woodland scenes from around Britain. Over the last few years, Angie has produced several variants of this theme, which is heavily influenced by the Celtic festival of Beltane and May well dressings to honour the spirits of water as the giver of all life and renewal. This design as illustrated and others, is reproduced on posters, pillows and prints. For more details about the artist and her products, go to
www.celticmystery.co.uk/
Misleading Slip-ups Awards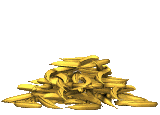 THE BIG OOOOOOOOooooopps! - WHERE WE SPOT THE BANANA SKIN SLIP-UPS
We often see misguided information, some is deliberate and some is unintentional. Even we drop the odd clanger. Whatever the reason, good or bad, there is no real alternative to the facts, properly presented. With this award we seek to set the record straight.

Recently, we found a willing sponsor to fund half the costs of the urgent repair to a Malvern Fountain. Although it is a heritage site with a recognised historic background, access to it was unrestricted and informal. Then another local group stepped in and demanded that not only should full public access be secured as a condition of funding, but that the site should be formally made available for well decorating. It has, in the past, been decorated without problem.
If you were a property owner, would you grant unhindered public access to a fountain up your drive? Allowing legal public access could lead to unwanted loitering, health and safety considerations, water purity implications and would be a legal burden on the property forever. You would probably decide that no public access at all was the answer and install fences and gates.
Those two ill-considered and unjustifiable demands may have jeopardised the future of the fountain as an accessible water feature. Fortunately, a well-wisher Friend became aware of the dilemma and stepped in with the missing funds.

There is a need to be realistic in dealing with site owners. Their goodwill is imperative to preserving our heritage and informal access. Trying to impose thoughtless conditions will only result in the decline of our springs and wells heritage being enjoyed by all.
URGENT Can you help? Can you join or contribute in some way to our engineering team?
You will recall from earlier newsletters that the historic Owls Hole Pump and Engine is now in the care of local engine enthusiast John Clifford. Earlier this year we also made the historic Stretton Mineral Water Pump available to John. The Three Counties Showground has already seen a number of appearances of these vintage local water engineering artefacts but there is a problem. John reports that we have bearings that need replacing and magnetos that need refurbishment as well as other engineering niceties requiring attention. John has done much to ensure the promotion and public display of these interesting relics but now needs assistance to procure spare parts and carry out repairs. Can you help or would you like to be involved? If so let us know and we will put you in touch with John.
Although Dr James Wilson brought fame and fortune to Malvern, it took ten years from his death in 1867 to erect a memorial to him. The memorial turned out to be an elaborate, practical, gracious and appropriate fountain. Unfortunately it was sited away from the main pedestrian and vehicular routes and became unused, overgrown and damaged. It was demolished in the 1940s. Nearly ten years ago it was suggested that a new memorial be erected; it would commemorate the fountain and, by implication, Dr Wilson. Like its predecessor, it will be situated on the same junction. The site for the new memorial is being prepared and the memorial is hopefully to be unveiled in the not-too-distant future.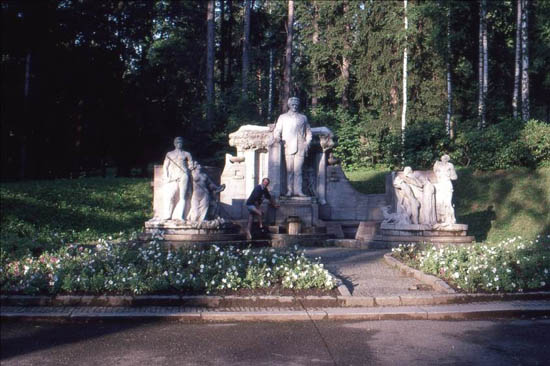 Picture - Vinzenz Priessnitz, water cure pioneer, Jesenik, Czech Republic. Will we be getting something like this in Malvern?