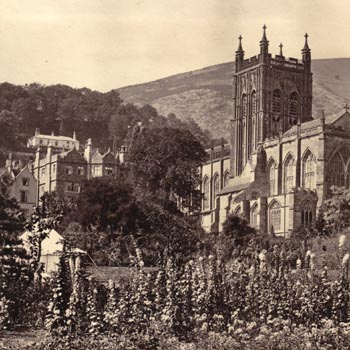 Florence Nightingale Trail - Great Malvern
Great Malvern
Worcestershire
England
WR14 3ES
Between 1842 and 1872 Malvern was the Water Cure capital of Britain. The Water Cure has been described as a quick way for the witless wealthy to be parted from their purses by quack doctors. But if this is true, why did Florence Nightingale visit the town ten times to recover her health?
It was a combination of the residual effects of the illness she had suffered in the Crimea, and the difficulties with, obstacles to be overcome, and the sheer volume of work involved in preparing her report for the Royal Commission into the Crimean debacle, that made Florence Nightingale ill. She was treated by her doctor in London who advised her

not

to go to Malvern for rest and hydrotherapy treatment. So she did; on several occasions. Her preferred doctor there was Dr Walter Johnson, her junior by four years, and who was described as, 'very watchful, very thoughtful. He appears to me to be all one could wish for... as a doctor...' His Water Cure establishment was at Malvernbury in Abbey Road.
On one occasion, in August 1857, Florence arrived unannounced in Malvern. The town was brimming at the seams with visitors and a room at the top of Malvernbury was the only space available. She was very unwell and wanted to be alone, so had only taken a footman with her. At first she was attended only by the doctor and two bathwomen, then after a few days by her family. When her father visited he was horrified at her condition, believing her days to be numbered. But then she summoned government commissioners to her bedside because from there she wanted to prepare her report for the Royal Commission on the Health of the Army and discuss engineering plans for the proposed new Netley Hospital. It was in Malvern that Florence Nightingale decided how to organise the rest of her life so that she could complete what she had been called to do without the strain on her health.
Malvernbury was demolished and rebuilt in 1908 but there are several other places in Malvern where Florence stayed during her visits to the town. Florence Nightingale's first visit to Malvern was in 1848 when she came with her mother, and described how she entered the village of Malvern 'through a Triumphal Arch of wet sheets and an avenue of flannels...' During the Crimean War she became extremely ill with Crimean Fever, now thought to have been brucellosis, and came to Malvern a further nine times. Malvern was her hospital and Dr Walter Johnson her chief physician, who almost certainly saved her life.
SUPPLEMENTARY INFORMATION
Click on Florence to go to the trail locality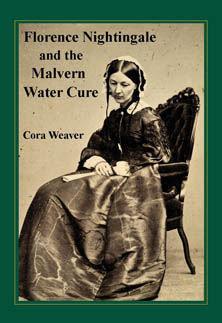 Do read Florence Nightingale and the Malvern Water Cure, by Cora Weaver (2016), 28 pages, 14 illustrations, A5 format as illustrated above. Send a cheque payable to Cora Weaver to Cora at 4 Hall Green Malvern Worcs WR14 3QX for £4.49 inc, p&p; with your name and address.
Map: (Click to View in New Window)
1) TOPOGRAPHICAL LOCATION:
Malvern Hills - arguably Britain's original National Park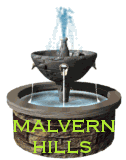 2) LANDSCAPE:
Uplands
3) INFORMATION CATEGORY:
Food & Drinks
Retail Gift or Souvenir Shop
A Spring, Spout, Fountain or Holy Well Site
Geology & Landscape
History & Heritage
Gardens
4) MALVERN SPRING OR WELL SITE DETAILS:
Site with Malvern Water
5 SPLASHES - Prime 'Must See' Site

5) GENERAL VISITOR INFORMATION:
Access By Road
Open Set Times Only
Disabled access
Toilets
Accessible All Year