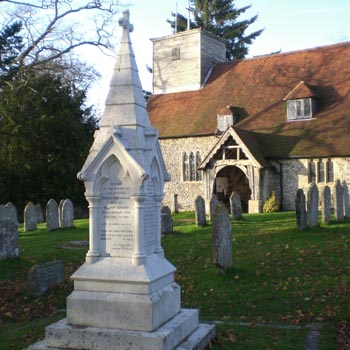 Florence Nightingale Trail - St Margaret's Church, East Wellow
Wellow
Hampshire
England
This is where Florence Nightingale's Grave can be found. There is a display in the church.
The present flint faced structure was consecrated in 1215, but there are earlier foundations beneath the present building. From 1251 until the Dissolution of the monasteries, the church was controlled by the monks of Netley Abbey, to the East of Southampton.
The wall paintings were whitewashed over at the Reformation, and rediscovered in the 1890s. Note the depiction of St Christopher carrying the infant Christ over a river (immediately opposite the South Door) and St Margaret herself, sitting on a hillock, spinning (to the right of that painting).
Florence Nightingale requested in her Will that, at her burial place, her initials F.N. and the date of her birth and death should be her only memorial. It was recorded in the Aberdeen Evening Express in 1910 that the monumental mason Mr. R.L. Wood was asked to execute the inscription, having served earlier as a Warrant officer in the Royal Engineers.
Website:
Click Here
SUPPLEMENTARY INFORMATION
Click on Florence to go to the trail locality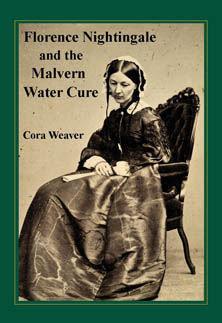 Do read Florence Nightingale and the Malvern Water Cure, by Cora Weaver (2016), 28 pages, 14 illustrations, A5 format as illustrated above. Send a cheque payable to Cora Weaver to Cora at 4 Hall Green Malvern Worcs WR14 3QX for £4.49 inc, p&p; with your name and address.
3) INFORMATION CATEGORY:
History & Heritage
5) GENERAL VISITOR INFORMATION:
Free Parking Nearby
Accessible All Year