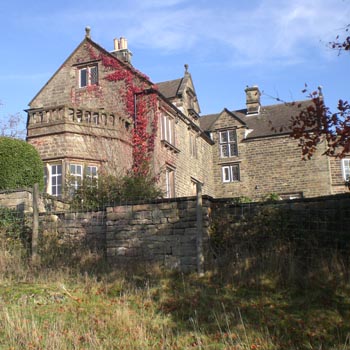 Florence Nightingale Trail - Lea Hurst
Matlock
Derbyshire
England
The nineteenth century novelist Mrs Gaskell visited Lea Hurst in 1854 and described its flights of steps, stone terraces, and stone columns topped with stone globes. The house was originally a modest Jacobean house built of Millstone Grit from a local quarry. Peter Nightingale bought the house in 1771 and William Edward Nightingale (Florence's father) enlarged it to his own designs. The date 1825 over the porch suggests that that's when the work was completed and when the family moved in. The garden faces south making the house an ideal summer residence. In the winter the family lived at Embley Park in Hampshire; Florence preferred Lea Hurst.
After her return from the Crimea Florence lived here for a few months , drained, exhausted, and ill. She then moved to London and rarely returned to Lea Hurst after 1856. Lea Hurst stayed in the Nightingale family until the death of Louis Nightingale in 1940. It was sold at auction in 1946 and in 1951 was presented to the Royal Surgical Aid Society to be used for a home for the elderly. At that time it still retained several Nightingale family mementos including the kidney-shaped dressing table that Florence had used as her dressing table; her desk, from where she wrote countless quill-penned letters, and her prie dieux chair and footstool. There was a beautifully carved oak sideboard and a marble clock her parents had owned, and the bars on the nursery windows.
Lea Hurst is a short distance from the site of the Nightingale lead smelter which smelted raw ore during Florence's lifetime and deposited 10% of what it processed, which was silver, in the Bank of England. There is on record, and now a modern study on, the effect of lead poisoning upon the Nightingale family and the village of Lea. There are several symptoms in children with lead poisoning. One is "drop wrist" or a weakness in the wrists. Florence writes about this in the opening of her curriculum vitae for Kaiserwerth Hospital. Also lead-poisoned children are hard to get along with, cranky, uncooperative, difficult ... she was a difficult child. Lead poisoning plays havoc with reproductive organs. Florence and her sister were both born in Italy but after their relocation to Lea Hurst none of the Nightingale women ever gave birth.
The house is private property and is not generally available to casual visitors.
SUPPLEMENTARY INFORMATION
Click on Florence to go to the trail locality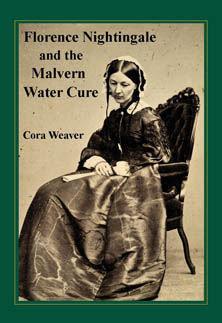 Do read Florence Nightingale and the Malvern Water Cure, by Cora Weaver (2016), 28 pages, 14 illustrations, A5 format as illustrated above. Send a cheque payable to Cora Weaver to Cora at 4 Hall Green Malvern Worcs WR14 3QX for £4.49 inc, p&p; with your name and address.
2) LANDSCAPE:
Woodland or Forest
3) INFORMATION CATEGORY:
History & Heritage