Nomination for the St Werstan Award for the enhancement of Malvern's water heritage, in conjunction with Malvern, The Original, English Water.
Court Road Spout

sometimes known as Poolend Spout at the junction of Court Road and Woodshears Road in Barnards Green.

In our last Newsletter we outlined the success achieved by the owners of Court Road Spout in reinstating the water supply. As a result a Friend has nominated the site for the St Werstan Award.
The St Werstan Award is based on six criteria, preservation, environment enhancement, public accessibility, provenance, maintenance and general WOW! This site arguably manifests all six. It preserves the heritage by drawing attention to the historic site and built surrounds. It substantially enhances the environment. The fountain can be seen by the public from the road and thus has good public accessibility. The provenance of the site is well documented and is important in that it was once a prime water source for the local populace. The owners maintain the site in tidy condition, in spite of it being adjacent to the public highway and therefore subject to litter and vandalism. And now of course it joins the elite few sites that still have water in abundance. As such it is a location with a considerable WOW factor for enthusiasts of Malvern Springs and Wells and the local community.
URGENT - Please complete and return the ballot form enclosed with this newsletter to decide whether this site should receive the award. It is Friends who decide.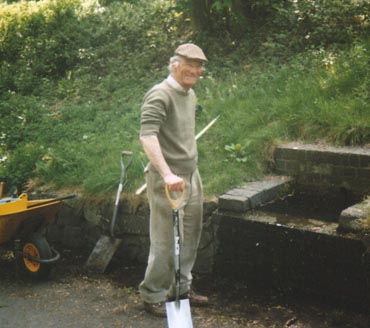 Well Watchers Report - conservation work
A number of Friends regularly keep an eye on several of the Springs and Wells and keep us informed as to any developments, good or bad. These Well Watchers are an important aspect of our activities and we are grateful for their input. One Well Watcher who keeps an eye on what is going on sent us the following picture of some minor tidying up going on around Weavers Well. Thank you for supplying the picture. Ivy House Pump is reported to be undergoing restoration according to another of our band of Well Watchers who has recently completed a survey of all sites. Unfortunately the pump piston was dumped inadvertently by the builder and the hunt is on for a replacement. We think we have one in our store of recovered springs and wells paraphernalia, which we will pass on.
St Werstan's Labyrinth
- update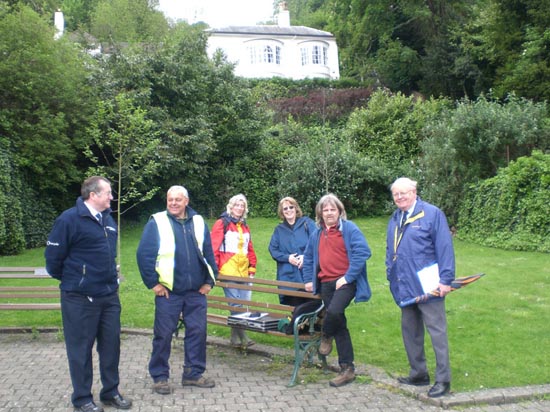 We have now had a meeting with Malvern Hills District Council to develop a construction plan and this is being circulated. A major international company has offered financial support for this project and pledged a set sum of money. It is hoped that this will be sufficient to construct the labyrinth. It is unlikely that the pledged sum will cover further stages such as the water feature and the standing stones. The opportunity is there to secure sponsorship for these as a separate exercise. We have also carried out some field investigations to look at other labyrinths. Such structures are not common place and so we have had to go abroad to see suitable structures. We reproduce one that we visited during our holidays in the USA recently at Salt Lake City, Utah (see picture). We also saw another in Montpellier, Idaho. These are substantial structures and the hope is that we can construct a similar size labyrinth in Rose Bank Gardens that would be visible from satellite on Google Earth.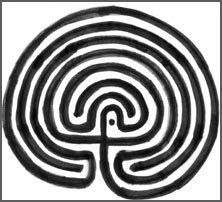 It is suggested that ours is a grass and paved combination rather than just a solid circle of paving, making it much more in keeping with the gardens. There is a great interest in labyrinths world wide and as such a St Werstan's labyrinth would generate much interest in Malvern as well as being a fitting tribute to our martyr saint of Malvern Springs and Wells. In this endeavor we have been fortunate to secure the assistance and guidance of several individuals who are authorities on labyrinths. These include: Dr Kimberley Saward, President of the International Labyrinth Society. Jeff Saward, Labyrinth Design Consultant and principal of the Labyrinth Locator international web site. Grahame Gardner, Geomancy Group. John Moss, Director of the Society of British Dowsers (based in Malvern), etc.
If you go into our web site at www.malvernspa.comyou can see the full proposal details together with some links to various labyrinth web sites.
In the picture above, taken on the possible site of St Werstan's Labyrinth are our own experts together with
Anthony Collis, Ron Evans and Tony Klesslinger of Malvern Hills District Council.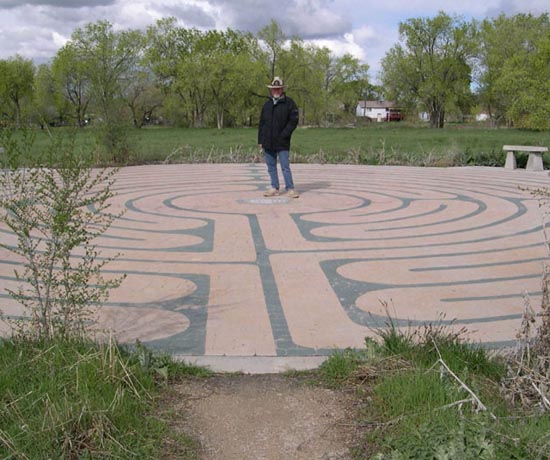 New Guide to the Springs and Wells in preparation
Since 1992 our various published guides to the Springs and Wells have generated an enormous amount of interest in this aspect of Malvern's heritage. Groups have been formed to pursue these interests and funding secured to promote the theme. Our first publication in 1992 featured a mere 27 celebrated sites however research continued unabated. By 1997 we had identified 62 celebrated sites and this steadily rose to 88 in the 2001 third edition of Springs, Sprouts Fountains and Holy Wells of the Malvern Hills. book. It will come as no surprise therefore to learn that as a result of extensive further research we now have about 130 sites on our master database. Thank you to all the Friends who have guided and assisted over the years. The research and database, we anticipate, will lead to a fourth edition of our guides, possibly in 2008 and so watch this space!
Friends also put Malvern on the world map of locations famous for their natural waters.
It is not only bottled Malvern English Water that puts Malvern on the international map. We are continually developing links with other locations with similar interests. This year we have visited the mountains of Wyoming and Utah to see the hot springs and thermal resorts, wearing appropriate headgear of course! In particular we went into Yellowstone National Park to see the geysers as well as the astounding scenery and wild life.Up in the Rocky Mountains there are a number of resorts scattered around Yellowstone, including Lava Springs, Thermopolis and Soda Springs. These townships have a history of hot spring bathing and health treatments that date back to the times of the Native Americans. Subsequently many were taken over by the 19th century settlers and became famous for their healing qualities. Today the waters are used as a tourist attraction and bathing is fashionable all year. For those who can find the thermal waters that are "off the beaten track" there is ample opportunity for the traditional 'skinny dipping'. In April and May Yellowstone Park opens its various gates as the snow clears and we were one of the first, if not the first to use the Eastern Entrance, albeit it did entail following a snow plough, much to the amazement of the Park Rangers when we eventually arrived at the extensive thermal areas. It was worth the adventure however because the experience matches that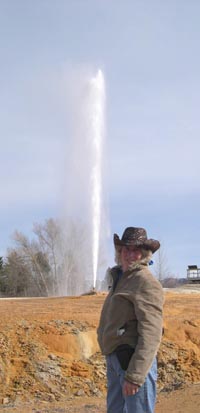 of Iceland or Rotorua in New Zealand. Also of course it means that Malvern Springs and Wells join the world wide community of locations famous for their waters. For more details see our web site. In the picture - Cora at Soda Springs
Diary Date
On Thursday July 12 there is a Malvern Civic Society coach trip to Buxton, the heritage spa town. This all day trip is being conducted by Bruce and Cora in conjunction with Buxton Civic Society. Friends are welcome to join the party. The plan is to look at Buxton's springs and wells heritage and the development of the town from the 17th century leading to it becoming a premier 19th century spa resort.
The price of the trip is 15 pounds and there is an optional possibility of visiting the famous Poole's Cavern, this will be in addition and about 5 pounds. The main part of the day will be spent in and around this historic spa town. There will be a guided walk and a visit to St Anne's Crescent where there are major new spa developments underway. There will also be free time to explore any particular points of interest. The springs and wells will have been dressed the weekend before and so some should still have their decorations in place. The coach departs from Avenue Road at 9am and should get back to Malvern around 6pm.
Bookings are already being received and places are limited. To secure a place contact Greville Megson, Treasurer, Malvern Civic Society, 16 College Grove, Malvern WR14 3HP tel. 01684 572748

email: jandg16@talktalk.net
MALVERN SPRINGS AND WELLS LEGENDARY ANNUAL COACH TOUR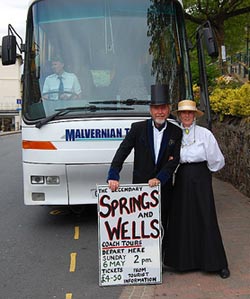 The annual springs and wells afternoon coach tour took place on Sunday 6th May 2007, coinciding with the Bank Holiday Weekend celebrations. Cora and Bruce conducted the tour as usual dressed in Victorian period costume. Leaving Belle Vue Terrace at 2pm, a lively party headed off to the wilds of the Malvern Hills and a good time was had by all. In the picture, the hosts and John the driver after the tour. It included Stone Bottle Fountain as well as much new information about the springs and wells resulting from recent research. Amongst the celebrities on board were Friends Sandie and Bob who took the picture and Carolyne and Merrick, who recently restored the water at the Court Road Spout. The previous weekend, several Friends joined the tour run by the Victorian Society, also hosted by Cora and Bruce. As a result more people took the "magic journey" this year than since the tours were initiated in the early 1990s. Next year - spaces are limited and so make sure that you are on board for a lively afternoon exploring our Springs and Wells.
The Origins of our Springs and Wells
Modern scholarly research is now dramatically altering the way that we decipher the recent past. In particular the relatively recent demise of the supposed Ice Ages and the advent of modern man is being reconsidered. It is now considered plausible that a major cosmic event occurred some 11,500 years ago that dramatically disrupted a number of the planets in our solar system including Earth. The event was caused by the passage of a mass of debris from an earlier supernova that narrowly missed Earth, passing between Earth and our Moon with cataclysmic results. The result was a shifting of the earths axis and rotation speed, altering climates, massive land mass change, flooding as oceans responded to the gravitational effects of the body passing and major earth upheavals as our planet responded to the unimaginable forces involved. Much of life on the planet was extinguished as extreme weather conditions, floods, earth movements and black sky conditions prevailed. Arguably the earth is still recovering from this trauma, which in effect ended the legendary Golden Age. The whole concept of the Ice Ages and their demise can be re-interpreted in the context of this cosmic event.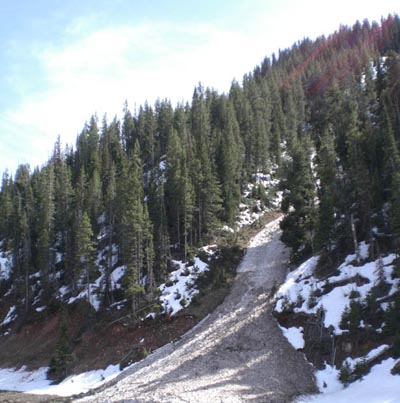 Having looked at this theory in some detail we can speculate on the effect on the Malvern Hills. The present geography of the hills would have prevailed from this time and this suggests a starting point for the emergence of the springs and wells as we know them. In the picture we get an insight as to how the Dripping Well or Hay Slad would have appeared perhaps 100-200 years after this cosmic near miss. The surface water would have been seasonally frozen due to the global cooling and we see mini glaciers scouring out a number of valleys in the hills that can be identified today. Vegetation would have recovered although many animal species would take a lot longer to build up numbers or had suffered extinction. This was all in very recent time, a mere blink in geological time. If you have an interest in this theory please contact Bruce, who has prepared a summary paper. Included in this is how this event has remained in our collective memory, appearing in the early legendary origins of many religions world wide.
Snippets
We have submitted a list of springs and wells for 'Listed' protection status to Malvern Hills District Council, as indicated in our earlier Newsletter. This has all the signs of being a long slow process, which reminds us of a situation in the USA. When you are hanging around waiting in a queue, the new entertainment is the symphony of music played by the cell phones of others waiting. Perhaps we should have a tune to load for Friends? Suggestions welcomed and the amusing ones we will publish. One way of securing a protected status quickly in the US is to propose that an area be identified as a possibly future nuclear dumping ground. I am not sure where this leaves springs and wells but we are working on it!
Who are Friends?
Friends promote research, conservation and celebration of the Springs, Spouts, Fountains and Holy Wells of the Malvern Hills and of Great Malvern as a Spa Town. If you would like any back numbers of our Newsletters send a large SAE to Bruce with details of which ones you require. There is no charge and they are now collector's items! Due to the ever increasing numbers of Friends (now in their hundreds), we have to make a small charge for occasional Newsletters of 5 pounds for 4. This only applies to renewals and new Friends.