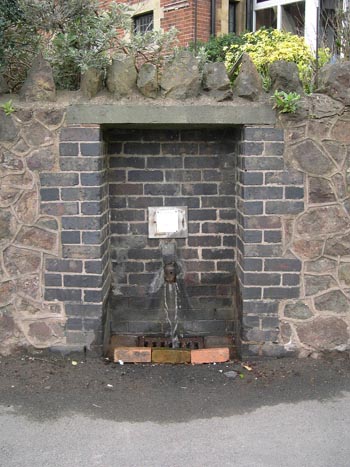 Friends Newsletter No. 17
April 2007
WATER RESTORED at Court Road Spout
sometimes known as Poolend Spout
Good news has been reported by the Friends and owners of Court Road Spout who have carried out works to enhance the flow of water. The makes it another celebrated site where we have water flowing.
'today we have managed to unblock the pipe which feeds the spout itself and there is now a healthy head of water bursting from the spout in the wall. We've also cleaned out the drain under the spout so that the water can get away easily.'
If you want to have a look, it is at the junction of Court Road and Woodshears Road down at Barnards Green. Could this be a candidate for the next St. Werstan Award nomination? Let us have your views.
Now available - new postcard map of Malvern Springs and Wells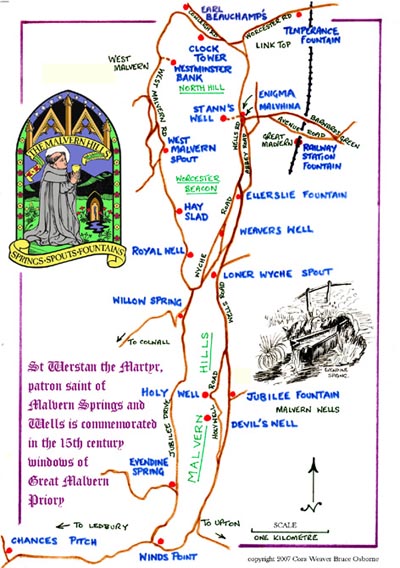 For those who keep their eye on the bookshops, you will probably have noticed the new 2007 postcards. Enclosed with this newsletter is a free copy featuring Malvern Springs and Wells. This has been updated from an earlier card, stocks of which have been exhausted. If you would like a pack of 10 of these new supersize cards to send to your friends at 'a special price', send Cora a cheque for 3 pounds 30 pence, payable to C Weaver. Do not forget to enclose you name and address! This offer is only available to Friends of Malvern Springs and Wells.
Putting the Spa back in Malvern
Being an historic spa town with natural spring water, it is ironical that Malvern has not yet opened up a modern destination spa. The UK spa industry has enjoyed a major period of growth since the 1990s and many towns now boast their temple to health and wellbeing. It is exciting that as a result of local effort, John Williams of Colwall has now secured planning go-ahead for a five million pound development just off Townsend Way. He
first submitted his plans for a hotel and spa in 2002, when he also hoped to drill for spring water. This followed outline approval for a hotel in 2000.
The planned facilities will include indoor and outdoor swimming pools as well as a restaurant, health and beauty facilities, fitness suite and 34 bedrooms, making it a fine destination spa, for those visiting Malvern. The big question is will it be capitalising on our natural waters? Earlier plans, rejected by the Council, included a water feature. We are now talking to John to see if his revised plans will similarly add yet another site to our ever increasing list of celebrated springs, spouts, fountains and holy wells.
North Malvern Clock Tower and Tank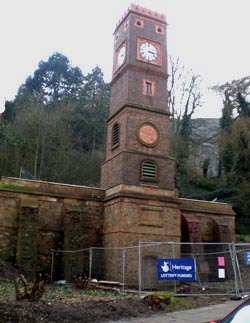 This is where time stands still, according to the restored clock face. The proposed renovation of the Clock Tower and the provision of a new spout at the tank, as part of the Heritage Lottery Fund project, progresses at a remarkably slow rate. In the last Newsletter we reported how the original path had been dug up; this time the news is to do with the proposed gates to the spout alcove. In spite of objections, the Malvern Hills District Council Committee approved a design that was described by one Local District Councillor as reminiscent of Tolkein and Lord of the Rings. To picture the design, imagine wavy lines from top to bottom interspersed with spirals. The Tank and Clock Tower at North Malvern is a grade II listed 19th century building. According to one objector it is muscular, geometric and industrial. A number of objectors argued that the design was totally unsuitable as part of a project to conserve a building of this nature. What is your view? Are you for it or against it?

Have a look at the MHDC web site to see the design
Do let us know. friends@malvernspa.comor drop a note to the address at the end of this letter.
St Werstan's Labyrinth
- the proposal
Since the proposal for Rose Bank Gardens was published in Newsletter 16 we have had a most enthusiastic response from many quarters. Typical is this comment from a Friend of Malvern Springs and Wells.
We like the suggestion of St Werstan's Labyrinth being a project at Rose Bank Gardens. This, & perhaps a water drinking fountain, would be something imaginative to draw interested locals & visitors alike, a unique attraction for the town. We walk the area regularly & always feel that not enough is done in the gardens to attract people in to look at the wonderful view. A few more seats - even picnic tables - & a new notice explaining the history would be an advantage. I thought I read that the local council had proposed work to be carried out here? Thanks for all the hard work you & Cora do, it is much appreciated. Regards,
Not only have the Council endorsed the idea, we now have a firm offer of financial support from a sponsor and a number of experts have offered their services. Other support includes our local papers and the British Society of Dowsers. We are now trying to coordinate a meeting of interested parties to set out a plan of action.
One point we do need to clarify is that it is a labyrinth and not a maze. A maze mystifies whereas a labyrinth relaxes, amuses and mystifies.
St Werstan goes to reprint
By now many of you will have read

The Illumination of St Werstan the Martyr

which was published last year. The research presented in this book re-examines the legend of St Werstan and concludes that he was the 11th century founder of an oratory alongside a spring in the Malvern Hills. In spite of his murder by the Celts, this eventually led to the establishment of Malvern Priory and the town. By last month we had sold out and so we have had to go to a reprint. The good news is that this is now available for those who still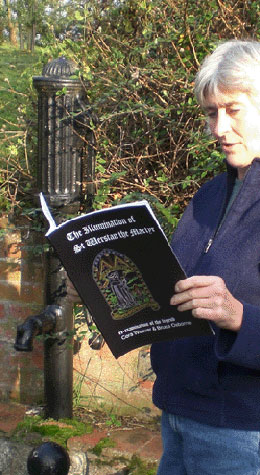 wish to catch up on this important aspect of our Springs and Wells history. See local bookshops particularly that at the Priory church or contact Cora or Bruce direct.
This year there is a choice of coach tours as follows:
VICTORIAN SOCIETY SPRINGS AND WELLS TOUR - this takes place of Sunday 29 April and is being run by the Victorian Society. This tour will be conducted by Cora and Bruce and coincides with the annual Well Decorating. There are a limited number of spare places on this afternoon trip at a cost of 5 pounds per person, which is payable to the VS on the day. The pick up point is the Post Office, Belle Vue Terrace at 2pm. If you would like to join this tour please contact Roger Sutton of the Malvern Civic Society tel. 01684 565 273 or email roger.sutton1@btinternet.com
BANK HOLIDAY SPRINGS AND WELLS COACH TRIP - In 2007 the legendary Springs and Wells Coach Tour will take place on Sunday 6th May. Cora and Bruce will be conducting the tour which coincides with the Bank Holiday weekend. The tour will leave Belle Vue Terrace at 2pm. and will last for about 3 hours. Tickets are 4 pounds 50 pence, now available from the Tourism Information Centre in Malvern or from Cora direct. Book this date for a tour of the hills to be remembered. Book early because this tour has been a sell out previously and there is only a set number of tickets available.
On Thursday July 12 there is a Malvern Civic Society coach trip to Buxton, the heritage spa town. This all day trip is being conducted by Bruce and Cora. Friends are welcome to join the party. The plan is to look at Buxton's springs and wells heritage and the development as a major 19th century spa resort. Please note the date; more details will be supplied in forthcoming Newsletters.
St Werstan Award Nomination for St Ann's Well
In our last Newsletter we indicated that we had dropped the award nomination for St Ann's Well. There is no doubt about it, this site certainly promotes debate. Much of this has been to do with the high expectations of the HLF monies of nearly a quarter of a million pounds. Disappointment was felt by many over the resulting cascade alongside the entrance to the St Ann's Well building. There was a complete lack of proper consultation over it, which did not help and has doubtless led to mistakes and misunderstandings. However a Friend also commented as follows:
I am disappointed, however, that St.Anne's Well has been dropped for nomination for a St.Werstan Award - why did this get a mixed reception, and what were people's objections? I sincerely hope it wasn't reactionary moaning about John Redman's cafe, when he works so hard up there to provide a good service for walkers at weekends!
Hopefully the comments above clear up any concern about John Redman and his excellent facilities.
Tewkesbury Spa at Walton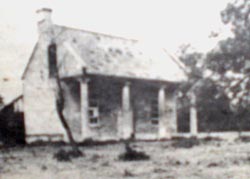 We recently took a detailed look at another local spa and put together the following history.
The idea of establishing a spa resort near Tewkesbury was first proposed about 1746 according to J Bennetts History of Tewkesbury (1830) (p.12). It was not until 1789 that James Johnstone published on the beneficial properties of the Tewkesbury waters, thus making them known to a wider audience. By 1846, a Mr Witts was allowing visitors to access a pump in his yard to take the healing waters and the pump was reported as being much frequented.
Johnstone's account is also referred to by Thomas Dudley Fosbrooke,

The History of Gloucestershire

, Vol II, (1807) (p.274).

'Dr Johnstone, of Worcester, in 1788, published an account of the Walton waters, which he presumed to be similar to Cheltenham: but no Naiad will be worshipped, till temples have been likewise erected to pleasure, convenience, and dissipation.'

This indicates that although the waters were similar to Cheltenham, patronage was poor because of the general lack of facilities.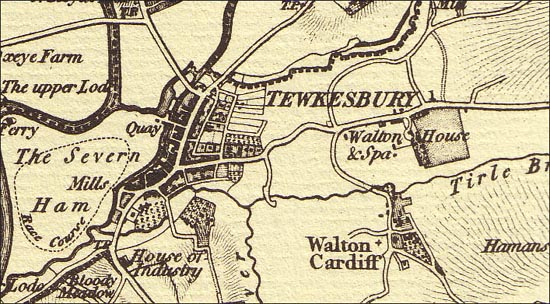 Johnstone describes the local geology as a deep clay soil, which the well penetrates for seven or eight yards. Beneath this lies a blue slate stone which yields the medicinal waters impregnated with salt. Overall the well was about 20 feet in depth. It appears to have been a chalybeate, sulphur, saline water with a taste and resemblance of Cheltenham Water. Like the latter it had laxative properties after taking a pint or more. After various experiments on the water, Johnstone goes on to suggest ailments that the waters might address, citing the case of Tanner of Kidderminster who successfully dealt with a leprous eruptions on the face and elsewhere.
A more detailed knowledge of the location of the resort can be ascertained from A Jones's book Tewkesbury (1987) (p.106). Jones indicates that there was a house called Walton Spa. This was also identified on the first edition OS map.
From Gloucester Record Series, v.8 pt 4 by B. Frith (p.1381) we can deduce that the spa estate was finally disposed of by Elizabeth Smithend, heir and daughter of Nicholas and his wife Mary nee Romney. By Elizabeth's will of 1832 it passed to her cousin Robert Phelps and thereafter exchanged hands several times. The change of ownership would account for the investment in the new Pump Room in 1837, after a period when the waters were disregarded. A new Pump House was built on the north side of the turnpike in that year.
The Pump Room appears to have contained the Well Room and was located on the Ashchurch Road in an orchard as illustrated. It fell into disuse and was later an agricultural equipment store. The site can now be identified as Springfield and Wellfield Gardens. The O.S. first edition map illustrated dates from survey work done circa 1813 and predates the later Pump Room to the north of the Ashchurch Road.
All was eventually removed in 1961 when the area was developed as a somewhat characterless housing estate typifying architectural views of how we should live at that time. We have given details of our reference sources so that others may be able to add and extend the knowledge of this local spa. Let us know if you come across anything new.
Who are Friends?
Friends promote research, conservation and celebration of the Springs, Spouts, Fountains and Holy Wells of the Malvern Hills and of Great Malvern as a Spa Town. If you would like any back numbers of our Newsletters send a large SAE to Bruce with details of which ones you require. There is no charge and they are now collectors items! Due to the ever increasing numbers of Friends (now in their hundreds), we have to make a small charge for occasional Newsletters of 5 pounds for 4. This only applies to renewals and new Friends.
Email:
springs@thespas.co.uk (click here to send an email)
Website:
Click Here
SUPPLEMENTARY INFORMATION
The home page can be accessed by clicking website above.
Contact Information:


Newsletter Archive which can also be accessed from our WEB SITE INDEX.

Friendship

- There is no charge made for joining Friends of Malvern Springs and Wells. Just let us have your email address and we will send our newsletters, which are usually two monthly. Please be aware that some email addresses block large circulation emails. Do feel free to participate in our activities by contacting us below.

Best wishes, Cora & Bruce
Bruce Osborne, Tower House, Tadworth, Surrey. KT20 5QY
Tel. 01737 213169 email
bruce@thespas.co.uk
Cora Weaver, 4 Hall Green, Malvern, Worcs. WR14 3QX
Tel. 01684 561215 email
cora@malvernspa.com
1) TOPOGRAPHICAL LOCATION:
Malvern Hills - arguably Britain's original National Park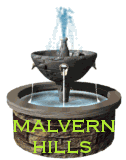 3) INFORMATION CATEGORY:
Springs and Wells General Interest
History & Heritage
Friends Newsletter