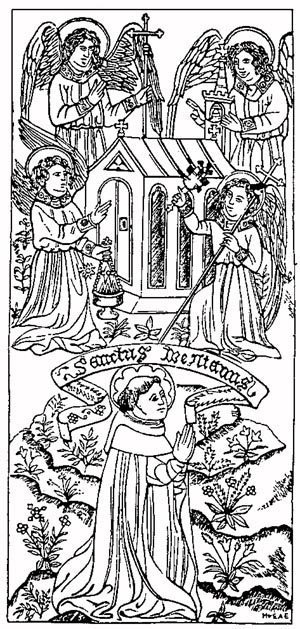 Friends Newsletter No. 10
July 2005
NEW- St Werstan's Award for the Enhancement of Water Heritage
St Werstan was one of the earliest saints to be associated with Malvern's Springs and Wells and it is fitting that his name is being linked with this new scheme to encourage enhancement of Malvern's water heritage. The Award is a public recognition of outstanding endeavour in the conservation or renovation of our springs and wells and their immediate environment. Friends, local residents and visitors can nominate sites for an award by forwarding a short resume of the circumstances and location. Nominated sites will be featured in a short critique in the Friends Newsletter. Friends of Malvern Springs and Wells will then be able to express their views as to whether nominations justify the award by completing a simple appraisal enclosed with the newsletter. The appraisal is based on six factors, preservation, environment enhancement, public accessibility, provenance, maintenance and general WOW! factor. Those sites receiving the St Werstan Award for Enhancement of Water Heritage will enjoy the recognition that such an award bestows. A register of awarded sites will be available for public scrutiny and such sites can promote their award through their own publicity if appropriate.
Our first nomination is the recently developed Penny Cottage and Osborne's Fountain, on the Worcester Road. Read the critique in this newsletter and if you feel that you would like to register an opinion, complete the appraisal at the end of this Newsletter and send it to either Cora or Bruce. You may wish to have a look for yourself before commenting.
The illustration shows the legendary consecration and dedication by angels of St Werstan's chapel at Malvern, while Werstan prays below. Drawing by M. T. Stevens of stained glass, c. 1460, in the Priory church of Ss Mary and Michael; see James Nott,
Malvern Priory Church

, c. 1900.
St Werstan - local patron saint of Malvern Springs and Wells
St Werstan or Werstern was a monk who fled the monastery at Deerhurst when the Danes invaded England during the period 840 and 918. No doubt encouraged by the presence of pure spring water, Werstan chose a rocky ledge in the vicinity of the present day St Ann's Well to take refuge. Here he hoped to live a holy and solitary life as a recluse but was murdered and subsequently honoured as a saint. A hermitage was established here before the Norman Conquest. Aldwyn, who had been made a monk at the Cathedral Priory of Worcester by the Bishop, and a companion called Guy, were apparently the first to take up residence. Aldwyn, on the Bishop's advice, gave up his contemplated pilgrimage to Jerusalem to begin a monastery at Malvern. Thus Malvern was founded. Werstan's hermitage was decorated with encaustic tiles and carved stones and portions are reputed to have survived into the 19th century. Also human bones have been found on the site. Relics of St Werstan were on view in Malvern Priory in the 15th century. This uniquely Malvern saint, the founder of Malvern, now enjoys further recognition through the posthumous endorsement of the new award scheme for enhancing our water heritage.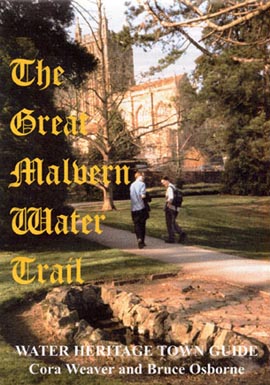 Malvern Pride Week - Great Malvern Water Trail conducted walk
Friends are invited to register early to join the Great Malvern Water Trail. The guides will be Cora and Bruce and participation is free. The date is 18th August and the walk leaves Belle Vue Terrace, in the centre of town at 2 pm. Numbers are limited to 20 and so please confirm your attendance beforehand if you wish to guarantee a place. The Trail will take about 2 hours and we plan to view many of the interesting sites featured on the recent publication of the same name. The guides will also be talking about several new discoveries in the course of the walk. Book a place by letting the Tourism Information Office know if you are definitely coming. This should be done once the Tour is advertised in The Malvern Gazette. Alternatively email bruce@thespas.co.uk for Friends early bird reservation.
Friends care - to the rescue with Lord Sandys Spout
In spite of Lord Sandys Spout supposedly being on the list for the HLF monies being administered by David Armitage, the Malvern Hills AONB Officer, in the absence of any response regarding our enquiries about progress, we were obliged to take matters into our own hands.
A soggy bag of mouldy bread rolls, myriad crisp packets, a bent coke can, sandwich and sweet wrappers and empty tobacco packets half-filled a purple refuse sack when I recently cleaned up a desperately forlorn-looking Lord Sandys' Spout. Added to that was a vast clump of tangly ivy that had penetrated the Malvern stone backcloth and was busily prising apart the stones and causing them to collapse in a heap. The smell of rotting leaves in the basin was the worst part. A stinking six inches of branch debris covered an even fouler-smelling six inches of potentially useful compost that might have been loaded into the car if I'd had a gas mask.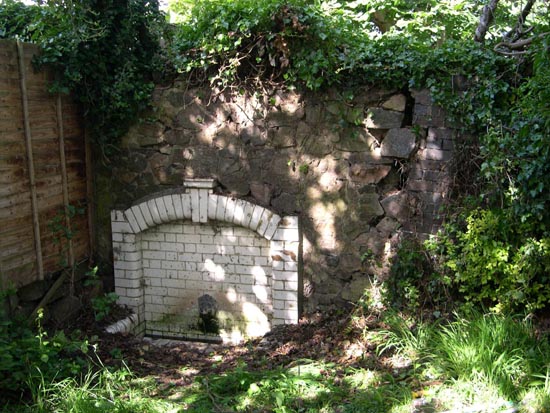 As you will observe from the before and after pictures, at least you can see the spout now, but Lord Sandys' needs a lot of tender loving care if it is to survive the ravages of man and nature.
Thanks to Cora for sorting this one out.
Daylesford and Hepburn Springs News and Friends Visit
Those of you who have followed the exploits of our Springs and Wells enthusiasts will be aware that Daylesford and Hepburn Springs in Victoria, Australia has a similar situation to Malvern, with springs and wells located throughout the surrounding countryside. We keep in touch and share experiences with members of the Victoria Mineral Water Committee who maintain our Australian counterpart and we have reciprocated with visits. Unlike Malvern, one feature of the Australian springs is that they are all sparkling natural sources, carbonated with gas making a refreshing drink when you locate and try the springs, which usually have a pump or a tap freely available for explorers. Also of course you share the terrain with kangaroos although this is now similar to Malvern where both wallabies and wild bore have been seen locally.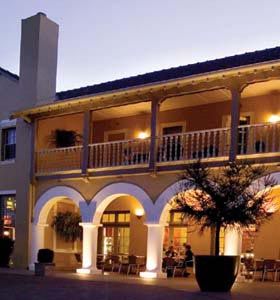 Now Daylesford boasts its first 21st century residential spa and we have just received details. Peppers Springs Retreat is a complete spa resort where guests can indulge in the most luxurious of spa treatments and revitalise their bodies from head to foot. Originally built in the 1930's in the Art Deco style, the landmark hotel attracted many visitors from Melbourne seeking the beneficial spring waters and cleansing country air. Once again the hotel is brimming with buzz and vitality. The Art Deco architecture has been embellished with sympathetic, contemporary styling and details, creating a sleek, polished atmosphere. Before or after you're completed your spa treatments and dined on fresh local produce, Daylesford awaits with antiques and art, the lake and gardens, fields of lavender, grape vines and mineral springs of course.... To find out more have a look on the internet by going to
http://www.thespasdirectory.com/profilego.asp?ref=2E3A39
or better still put your name down for a possible Friends group trip later next year if demand justifies. We are planning on a trip of about 12 persons, so do not leave it too long before you express an interest.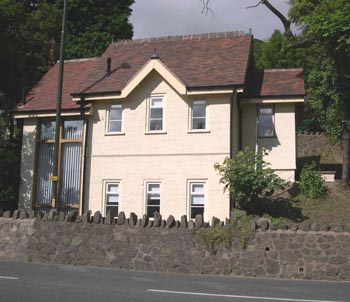 Penny Cottage - Nomination for the St Werstan Award
One of Malvern's dark, dismal, drab little corners has been given a delightful facelift.
Picture a dank, dreary, depressing, disused public toilet block opposite the old police station (now Jenkins' motor cycle shop) at Link Top. It certainly didn't make a tasteful backdrop for any fountain fans that had gone to look at nearby Osborne's Fountain. It's rear view was no more charming for fountain fans walking up North Malvern Road to admire the Stocks Fountain - or the stocks and whipping post.
Two years ago the old loo was bought and has since been transformed.
It is now not just a house. Penny Cottage is a little gem in a discreet setting. Cream in colour, the original loo walls of this country-style cottage don't pierce the attention like the brilliant white walls of some cottages. The many small windows (more original features) in their warm wooden frames, are nicely proportioned and the full-length window in the southern extension, although modern, sits comfortably with its older neighbours. Two modest extensions were added to the original building, but after a successful search for reclaimed tiles who would know? The northern extension provides a lobby and in the southern extension a staircase leads down to the former 'gents', now a bedroom. Upstairs, the 'ladies', with the original stone LADIES sign above the doorway, comprises a comfortable, modest, modern lounge with kitchen area that incorporates the original north window. The whole interior is light and airy. Who would have believed that this once ugly duckling could become a fairytale swan?
At the end of this newsletter is a form for you to complete as part of the appraisal process for the St Werstan Award. It is your view that determines whether the nomination is accepted for the award so please have a look at the site when passing and express your opinion.
Rare Film Footage - Your chance to see it and laugh your socks off
Our constant pursuit of the rare and interesting has yielded what we think is an amazing acquisition. Malvern Spa was founded on its Springs and Wells and the 19th century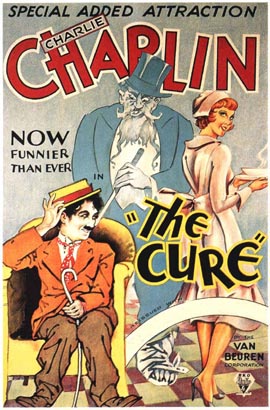 water cure regime was world famous. We now have in our possession rare vintage film footage of Charlie Chaplin in 'The Water Cure'. Dated 1917 and lasting about 15 minutes, this silent movie is a rare insight into the more humorous and bizarre aspects of the water cure. Mr Chaplin visits a spa taking some alcoholic beverage with him. He has several brushes with other patients and the masseur and the alcohol ends up in the mineral water fountain with disastrous results. He also gets the girl in spite of the determined efforts of the Count who suffers from a combination of bad gout and bad temper.
This blast from the past is therefore of interest to anyone studying or amused by the goings on of the vintage water cure patient and practitioners. The film is in excellent condition; we have located a projector but better still have transferred it to DVD. The plans are to show it privately at the Owls Hole Garden Party on 18th September. Make sure that the date is in your diary therefore if you are a Friend or a Malvern Civic Society member.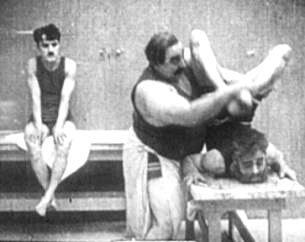 Get dressed up and come and laugh your socks off at.....
18th Sept. 2005 - Owls Hole Pump Informal Garden Party
with the Malvern Civic Society.
Time to relax with friends of like interest on Sunday 18th September. The Owls Hole Pump and Engine will be working at 4 Hall Green from about 4pm to early evening and you are invited to drop in for a chat and a snack.
The Owls Hole Pump and Engine once pumped water from the spring below British Camp to the Swimming Pool and houses in the vicinity. The items were rescued with the help of Severn Trent Water and are now occasionally demonstrated. This is a chance to see them in action and learn more about the restoration of these interesting local artefacts.
Programme - Owls Hole Pump and Engine demonstration 4.00 - 5.00 pm
Refreshments
Charlie Chaplin in The Water Cure 5.30 - 6.30 pm.
Drinks and Music thereafter, bring a bottle if you are staying on.
Friends of Malvern Springs and Wells and Civic Society members are invited,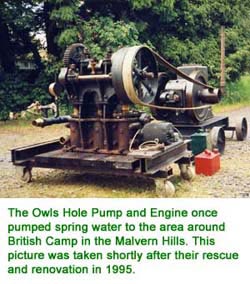 together with their immediate friends and family. Tickets are 3 pounds per person payable in advance. There will be no tickets available at the gate and the number of tickets is limited. If you would like to join us please send a cheque to Cora at the address below before the 10th Sept. either by using the form at the end of the newsletter or contacting Cora separately. (make cheques payable to Spas Research Fellowship)
Become a Friend
Friends are independent and include the now defunct Well Wardens Scheme members. To become a Friend drop us an email with your name and contact details. Friends@malvernspa.com If you get this newsletter mailed direct you are already registered as a Friend. There is no charge.
Email:
springs@thespas.co.uk (click here to send an email)
Website:
Click Here
SUPPLEMENTARY INFORMATION
The home page can be accessed by clicking website above.
Contact Information:


Newsletter Archive which can also be accessed from our WEB SITE INDEX.

Friendship

- There is no charge made for joining Friends of Malvern Springs and Wells. Just let us have your email address and we will send our newsletters, which are usually two monthly. Please be aware that some email addresses block large circulation emails. Do feel free to participate in our activities by contacting us below.

Best wishes, Cora & Bruce
Bruce Osborne, Tower House, Tadworth, Surrey. KT20 5QY
Tel. 01737 213169 email
bruce@thespas.co.uk
Cora Weaver, 4 Hall Green, Malvern, Worcs. WR14 3QX
Tel. 01684 561215 email
cora@malvernspa.com
1) TOPOGRAPHICAL LOCATION:
Malvern Hills - arguably Britain's original National Park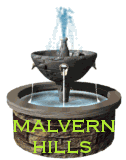 3) INFORMATION CATEGORY:
Springs and Wells General Interest
History & Heritage
Friends Newsletter