Friends Newsletter No. 8
April 2005
Springs need Friends
Following the consolidation of various enthusiast groups under the general banner of Friends of Malvern Springs and Wells it is apparent that Friends represent the principal interest group for our water heritage. Remember there are no fees for being a Friend. Included with the Friends are the Well Wardens. We are still keen to recruit Warden volunteers to keep an eye on a small number of springs and wells. The Wardens perform a vital role in alerting us if anything untoward threatens one of the 110 celebrated sites around the hills. Friends continue to participate in the programme of joint Springs and Wells events with the Malvern Civic Society as previously advised and detailed in this newsletter.
Spa Souvenir saved from America.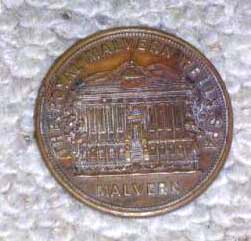 Unusual and interesting items relating to Malvern's Springs and Wells heritage often turn up and the latest is what appears to be a very rare medallion from the Royal Malvern Well Spa. It was secured by the coordinated efforts of a number of Friends who bid on ebay to prevent it going to America. The spa was located on the Herefordshire side of the hills, just north of the Wyche Cutting. The Pleasure Gardens, Pump Room and Concert Hall opened in 1883 but soon ran into financial difficulties and closed a few years later. This undated medal is one of the few souvenirs of this short lived spa that was opened by W H Ryland, former mayor of Bewdley who promoted and financed the venture. The medal includes a rather dodgy poem on one side as follows:
From Pole to Pole let the fame be unfurled,
for every known ailment as thousands can tell,
who have drank and were cured
at the Royal Malvern Well.
I know a few people who could do with a dose of that!
We would welcome any further light that readers can shed on its provenance.
Pictures on the web.
You do not have to be a dowser to discover our springs and wells. There is an easier way. Have you been into our web site recently? If so you will have noticed that we have been steadily adding a Facts Sheet to all the listed springs and wells. Each sheet includes some heritage background, location details and a picture. The latter is especially useful in that it enables you to speedily recall a specific site. To have a look at what we have done so far go to

www.malvernspa.com

and click on the Friend for the site list.

Click on 'Mystery Spout' (after no. 21) to see the picture below on screen.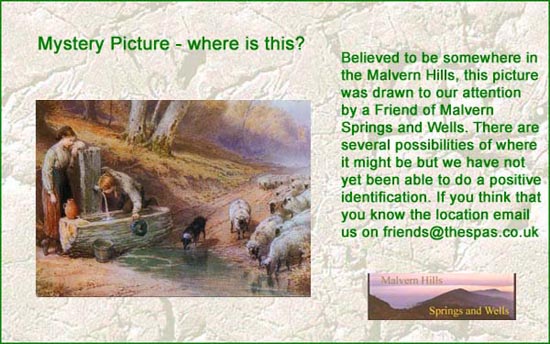 It was a pleasure to meet the staff at Colwall recently when we joined the Malvern Civic Society on a joint visit to the bottling plant. Since then we have received a letter from the Coca Cola Enterprises Head of Corporate Affairs endorsing our efforts to get a more balanced view of their future plans.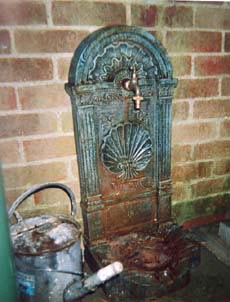 Our storage facilities are getting stretched to the limit with pieces of machinery and artefacts related to Malvern's water heritage. We have recently covered in Newsletters the reciprocating pump from the mineral water works, the Owls Hole Pump and Engine and the large Windlass and Pump suitable for a well or spring. Now we have a steam driven reciprocating pump to consider how to restore and display to advantage. This rather large and heavy piece of machinery was of the type likely used to pump the Railway Tunnel spring water from the tunnel under the hills to the reservoir above. Here it supplied local houses that had lost their water with the digging of the tunnel. We are contemplating restoration of this artefact and perhaps running it off compressed air. While we make our minds up we are investigating its provenance. To find out more go to
www.malvernspa.com
and click on the Warden to go to the site list of springs and wells. Then click on 63. Railway Tunnel Spring. More details will be revealed in due course. In the meantime yet another item has turned up. This is a caste iron waterspout or tap. It is not all that old but is ideal for anywhere that has lost its spout or tap and needs a stylish replacement. The picture illustrates this attractive item that is not large, being approximately two foot six inches high. If
you have any ideas as to how we can apply this to the advantage of Malvern Springs and Wells Heritage we would be pleased to consider suggestions. We need the space! We would also welcome some engineering expertise if there are any Friends who like getting greasy.
30 April - are you in Malvern?
On Saturday 30 April we are considering setting up a booth to promote Friends of Malvern Springs and Wells and the coach tour the following day. This will be in Malvern and, if the weather is good, it could be a good chance to meet and socialise. We would appreciate help if anyone would like to volunteer to join us. Call 01684 561215 if you are about.
The value of the Well Wardens is epitomised in a recent urgent request that we received concerning Hay Slad spout.
'...........but tonight's correspondence is of a more urgent nature, Iím afraid. The run off from Hayslad has not been draining properly for some time now, and tonight when I checked it I noticed it was nearly overflowing. You may recall we mentioned the design of the grate tended to collect bottle caps. When we noticed the slow build up of water in the drainage area we dug into that icy water and cleaned out what we could. However, it has been to no avail as the water has continued to rise; I suspect the blockage is somewhere deeper. In any case, I was alarmed to note tonight that it is nearly overflowing the cement area in front of the spout, which will allow it to run towards the road...... temperatures are forecast to remain freezing.'
Ode to Well Wardens
It's so nice to go and take a drink at Malvern Springs;
but not so very pleasant when there're littered up with 'things'.
Chocolate wrappers, coke cans, weeds, a polystyrene cup -
Fortunately our Well Wardens will pick the whole lot up.
Our visitors like quenching thirsts at fountains they pass by:
But disappointed when they find the well is running dry.
Frost and rain and ivy too can weaken rock and stone.
Well Wardens will save the day by picking up the phone.
CFW.
We would be interested in zany further verses for this ode - let us have your creative suggestions, even the rude ones, for the next newsletter.
Back Numbers
- If you would like to complete your file of back numbers to our newsletter we would be pleased to provide copies without charge. Just send a large SAE to one of the addresses below, with a note stating which ones you would like. This one is number 8. You never know, one day they may be collectors items!
1st May 2005 - Annual Coach Tour of the Springs and Wells in conjunction with Malvern Civic Society Wardens. Civic Society members and Friends of Springs and Wells can pre-book a place on this popular trip around the hills. Conducted by Cora and Bruce this is an opportunity for a lively afternoon of fun looking at the famous springs and wells many of which, it is anticipated will be decorated for the annual Well Decorating. Modern day Malvern Well Decorating started on 1993 recapturing a tradition that goes back to the 1860s. The coach leaves Belle Vue Terrace at 2.30pm and tickets will be 4 pounds per person on the day. To book in advance, at a special price of 3 pounds 50 pence per person, please send a cheque payable to Cora Weaver to her at the address at the end of this newsletter. Places are limited so book early.
A flyer is enclosed detailing the Coach Tour. If you have anywhere that it could be usefully displayed it would be appreciated. We hope to fill the coach again!
18th Sept. 2005 - Owls Hole Pump Garden Party with the Civic Society. Time to relax with friends of like interest on Sunday 18th September. The Owls Hole Pump and Engine will be working at 4 Hall Green from about 4pm to early evening and you are invited to drop in for a chat and a snack. More details nearer the time.
Email:
springs@thespas.co.uk (click here to send an email)
Website:
Click Here
SUPPLEMENTARY INFORMATION
The home page can be accessed by clicking website above.
Contact Information:


Newsletter Archive which can also be accessed from our WEB SITE INDEX.

Friendship

- There is no charge made for joining Friends of Malvern Springs and Wells. Just let us have your email address and we will send our newsletters, which are usually two monthly. Please be aware that some email addresses block large circulation emails. Do feel free to participate in our activities by contacting us below.

Best wishes, Cora & Bruce
Bruce Osborne, Tower House, Tadworth, Surrey. KT20 5QY
Tel. 01737 213169 email
bruce@thespas.co.uk
Cora Weaver, 4 Hall Green, Malvern, Worcs. WR14 3QX
Tel. 01684 561215 email
cora@malvernspa.com
1) TOPOGRAPHICAL LOCATION:
Malvern Hills - arguably Britain's original National Park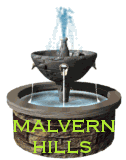 3) INFORMATION CATEGORY:
Springs and Wells General Interest
History & Heritage
Friends Newsletter