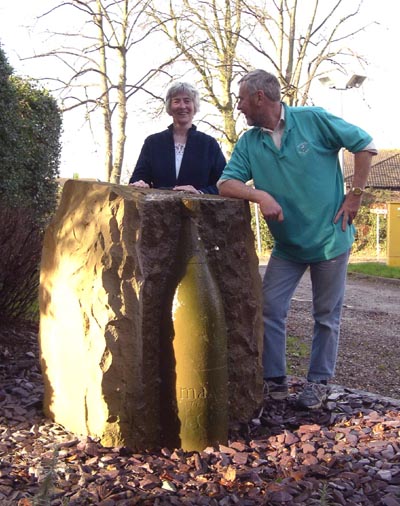 Friends Newsletter No. 6
February 2005
Your Views on Malvern Water bottling - confirmed 6 pm on 16th February
The Civic Society has been invited to meet Coca Cola Enterprises at Colwall for a general chat about their future planning intentions and to have a look around. The number of places is limited to 20. There are only a few places left. If you would like to join the trip, let Bruce have your details, if you have not already done so. It is on a first come first served basis. The trip is planned for 6 pm on Wednesday 16th Feb. meeting at the Bottling Works at Colwall.
Please delete the earlier 14th Feb date from your diaries.
Civic Society Springs into Action - 11 February
The Springs and Wells lecture is at Christchurch Hall, Avenue Road (near Great Malvern Station) on the 11 Feb. at 7.30 pm. For more details contact springs@malvernspa.com
Picture - the most recent addition to the water features but do you know where it is? Find out more on the 11th Feb.
Email:
springs@thespas.co.uk (click here to send an email)
Website:
Click Here
SUPPLEMENTARY INFORMATION
The home page can be accessed by clicking website above.
Contact Information:


Newsletter Archive which can also be accessed from our WEB SITE INDEX.

Friendship

- There is no charge made for joining Friends of Malvern Springs and Wells. Just let us have your email address and we will send our newsletters, which are usually two monthly. Please be aware that some email addresses block large circulation emails. Do feel free to participate in our activities by contacting us below.

Best wishes, Cora & Bruce
Bruce Osborne, Tower House, Tadworth, Surrey. KT20 5QY
Tel. 01737 213169 email
bruce@thespas.co.uk
Cora Weaver, 4 Hall Green, Malvern, Worcs. WR14 3QX
Tel. 01684 561215 email
cora@malvernspa.com
1) TOPOGRAPHICAL LOCATION:
Malvern Hills - arguably Britain's original National Park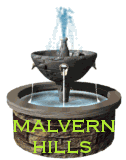 3) INFORMATION CATEGORY:
Springs and Wells General Interest
History & Heritage
Friends Newsletter