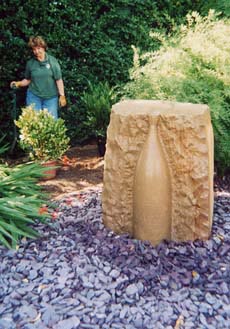 Newsletter No. 5
January 2005
Civic Society Springs into Action - Reminder
Are you up to date on the latest and greatest with Malvern's famous water sources? Malvern Hills Springs and Wells are the subject of the February lecture organised by the Civic Society and those with an interest in this fascinating subject are invited. The lecture is being given by local historians and authors Cora Weaver and Bruce Osborne. It will include recently discovered historic facts about the celebrated springs which well exceed 100 and will be the ideal opportunity to meet others with like interest. Malvern Hills Well Wardens are particularly invited and this will be the first occasion when these guardians of our springs and wells will be able to meet up. There will be no charge for visitors although a modest contribution to Civic Society funds is always welcomed.
This highly topical subject is just part of the Civic Society's programme for 2005 enabling participation in current issues and events. The Springs and Wells lecture is at Christchurch Hall, Avenue Road (near Great Malvern Station) on the 11 Feb. at 7.30 pm. For more details contact springs@malvernspa.com
Picture - the most recent addition to the water features but do you know where it is? Find out more on the 11th Feb.
Your Views on Malvern Water bottling - Valentines Day Trip
Malvern is a 19th century spa town founded on its natural spring waters. The famous water has been bottled by numerous companies over the centuries but now only one survives.There has recently been a lot of debate in the local and national media about the Coca Cola Enterprises application to enhance their Malvern Water bottling ability.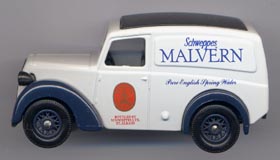 They need to continually update and improve their bottling operation in order to remain viable in the fiercely competitive pre-packaged water market. At present Coca Cola extract water from the Primeswell and have approval for 40 million litres per annum. This is not a large quantity for a world class bottling operation and represents a tiny proportion of the natural water available from the celebrated Springs and Wells of the Malvern Hills. The bottling plant at Colwall provides employment for a team of local people and the Malvern Water label adds prestige to this small community and Area of Outstanding Natural Beauty. The seasonality of the spring flow does not unfortunately match the seasonality of the market demand, with the result that they run out of water in the summer. Coca Cola have sought permission to draw water from an adjacent spring to top up their total 40 million litres. A group of well meaning people in Malvern have however caused a furore in the local and international media by opposing the application and there has been much false and misleading information bandied about. The result is that Coca Cola have now withdrawn their application. Let us hope that this is not the beginning of the end for the last remaining bottler of Malvern Water, a tradition that can be traced back to the early 17th century. A revised consultation and application is in the pipeline from Coca Cola but if they do not make headway with their plans as a result will they go elsewhere?
The Civic Society has been invited to meet Coca Cola Enterprises at Colwall for a general chat about their future intentions and to have a look around. The number of places is limited to 20. There are only a few places left. If you would like to join the trip, let Bruce Osborne have your details, if you have not already done so. It is on a first come first served basis. The trip is planned for pm on Monday 14th Feb. but this date is provisional at this point in time and will be confirmed to those who have forwarded their contact details.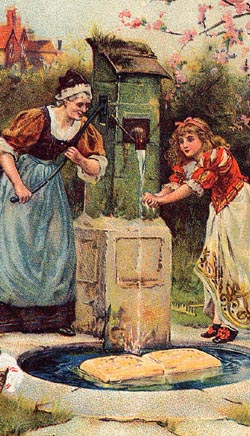 Well Wardens Status
A number of people have asked us about the present status of Malvern Hills Well Wardens and the confusion with the Malvern Spa Association. When the Civic Society terminated the incorporation of the Malvern Spa Association earlier in 2004, we endeavoured to enter into discussion with all interested parties about the best future for the Well Wardens. As there were potentially several organisations and individuals involved with a possible interest, a discussion document was issued to provide structure to the debate.
While this process was proceeding we were alarmed to see that the Malvern Spa Association had decided to initiate a look-alike Well Wardens scheme. The result is that we see little point in further discussions with the Spa Association. The original 2001 Malvern Hills Well Wardens scheme is now independent of the Association, who have advised that they see no problems with two schemes.
The operating of two Well Wardens schemes is in our view nonsense. We shall continue to manage the Well Wardens in the manner that we see most conducive to the furtherance of the Malvern Hills Springs and Wells. We continue to work with all other individuals, groups and organisations that have the interest of Malvern's Springs and Wells at heart and thank you for your continuing support.
Anyone wishing to register as a Well Warden or just receive our occasional Springs and Wells News should drop a note or email to the address at the end of this newsletter. There is no membership fee and Malvern Hills Well Wardens are informal, without onerous rules and obligations. Most new Well Wardens are now Wide-ranging Well Wardens with no specific site to observe. But do let us know if you are only interested in a particular site.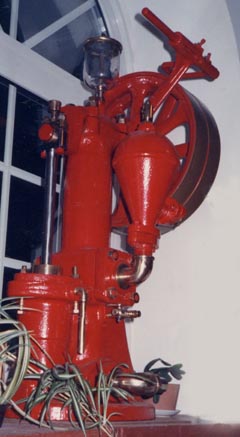 Mineral Water Pump electrified - Some time ago our 'engineering division' was presented with a magnificent vintage open crank pump from a local mineral water bottling works. Manufactured by Thos Ryder of Manchester, it was used to pump water up from the spring to a header tank to supply the bottling plant. Although some restoration was carried out earlier it has remained in store. However it is now mounted on a stand and powered with an electric motor. It is planned to use it at exhibitions and displays where it will make a most interested eye catcher. It does need some minor attention to the 'small end' bearing of the pump piston and we would appreciate assistance from anyone locally with the suitable skills and facilities to put the problem right.
Finally - Do let us have your Springs and Wells news for inclusion in our occasional newsletter, we want to hear from you. In the meantime keep up to date by looking in to our web site at
Email:
springs@thespas.co.uk (click here to send an email)
Website:
Click Here
SUPPLEMENTARY INFORMATION
The home page can be accessed by clicking website above.
Contact Information:


Newsletter Archive which can also be accessed from our WEB SITE INDEX.

Friendship

- There is no charge made for joining Friends of Malvern Springs and Wells. Just let us have your email address and we will send our newsletters, which are usually two monthly. Please be aware that some email addresses block large circulation emails. Do feel free to participate in our activities by contacting us below.

Best wishes, Cora & Bruce
Bruce Osborne, Tower House, Tadworth, Surrey. KT20 5QY
Tel. 01737 213169 email
bruce@thespas.co.uk
Cora Weaver, 4 Hall Green, Malvern, Worcs. WR14 3QX
Tel. 01684 561215 email
cora@malvernspa.com
1) TOPOGRAPHICAL LOCATION:
Malvern Hills - arguably Britain's original National Park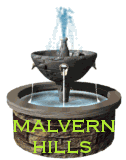 3) INFORMATION CATEGORY:
Springs and Wells General Interest
History & Heritage
Friends Newsletter