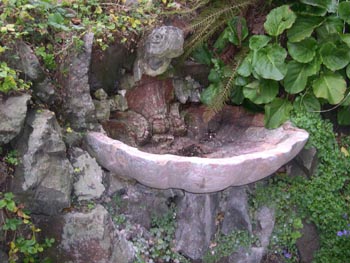 Newsletter No. 4
December 2004
Fine Future for Foley Fountain
Have you ever wondered about a few crumbling remains of an ancient fountain that sit on the rockery outside the main entrance to the Mount Pleasant Hotel on Belle Vue Terrace? Not any more! Cora has not only researched the history of this 'royal' treasure but has also masterminded its restoration.
In August 1830 the young Princess Victoria and her mother, the Duchess of Kent, arrived in Malvern for a ten-week holiday to improve their health. The Duchess also celebrated her birthday when the royal couple walked up the new, winding road (afterwards appropriately named Victoria Drive) leading from the town the St Ann's Well. There they viewed the new marble basin with its fish-head spout that Edward Foley, Lord of the Manor, had installed for the occasion. Many years later, in 1892 Lady Emily Foley replaced the spout and basin with a new dolphin-head spout and basin and the redundant duo were removed to Mount Pleasant, where you can still see their remains.
After 174 years the old basin has survived but in a sorry state. Cora spotted the damage and called in stonemason Simon Allard. Emergency restoration was carried out in November 2004 following lightening financial assistance from Malvern Civic Society. With the help of the owners of the Mount Pleasant, Cora has organised several fund raising activities to help with the costs involved.
Discovering Springs and Wells lecture by Cora Weaver and Bruce Osborne - Well Wardens are invited and welcomed by the Civic Society to this lecture on 11 February next year. The venue is the Christchurch Hall in Avenue Road commencing 7.30. This is an exciting opportunity to meet other Springs and Wells enthusiasts and to catch up on what is happening around the hills.
Owls Hole Pump and Engine
-
Those who saw our feature in the last Civic Society Newsletter will recall that we put out a plea for a large trailer. We are pleased to report that a trailer has been acquired as a result of a fortuitous tip off and bid at an auction sale, where it had previously remained unsold. It is a sturdy piece of equipment but requires a lot of work so that the pump and engine can be mounted on it for display purposes. As we solve one problem so another arises. Now we are looking for an old Morris 10 wheel to act as a spare. Also we need somewhere undercover to store it locally. Can you help?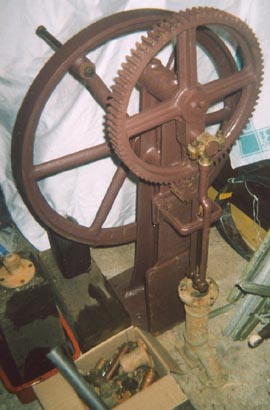 Ancient Well Pump & Windlass Recovered - Work has started on the restoration of a substantial vintage windlass and pump that once graced a wellhead. It was discovered on a farm where it had lain for many years abandoned in undergrowth. Knowing our interest in Malvern Springs and Wells the windlass was saved from the scrap man and is now undergoing restoration. It is essentially a hand winding gear, probably dating from the mid 19th century, which generates a reciprocating motion to work a pump submerged in the well. Fortunately most of the essential bits have survived, including the massive brass pump barrel. Once restored the task will be to put it to good use at a location still to be determined.
Heritage Lottery Funding for restoration of up to 20 Springs and Wells sites - the good news is that the Area of Outstanding Natural Beauty Officers in conjunction with the Malvern Hills Conservators have confirmed that the work on the water features can now commence, with a view to completion by May 2005. A lot of work has gone into preparing this bid over several years and at last the project can move forward. Further details were given in our recent editorial in the Civic Society Newsletter, which Well Wardens receive.
Are you a WWW
? -
those who have seen our new Wardens recruitment letter will be aware that we have introduced a new category of Warden - The Wide-ranging Well Warden, WWW for short. This category is for those who do not wish to be tied to one site but who are able to regularly keep an eye on Malvern's Springs and Wells in general. If you know of anyone who would be interested in joining the ranks of the noble order of Well Wardens please get in touch and we will forward the recruitment letter.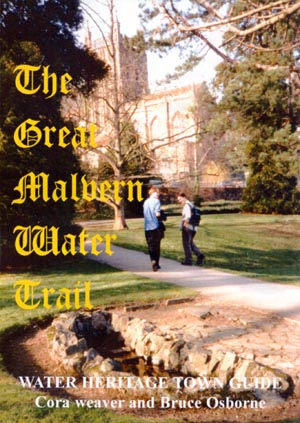 The Great Malvern Water Trail
-
this new publication is detailed on the flyer enclosed with this newsletter. It is dedicated to the late Peter Ward of Colwall who was a staunch supporter of all things to do with Malvern's heritage including Springs and Wells. Peter participated in the rescue of the Owls Hole Pump and Engine using his vintage Austin 12/4, which was until recently regularly seen around the Hills. Eventually the trail guide will find its way into the bookshops but if you want to secure copies soonest, a mail order facility is available.
Abberley and Malvern Hills European Geopark - designated in 2004, the Abberley and Malvern Hills Geopark falls within the counties of Herefordshire, Gloucestershire, Shropshire and Worcestershire and covers 1250 square kilometres. The geological and geomorphological significance of the area has been recognised for many years with 62 Regionally Important Geological Sites (RIGS) present. Springs and Wells are a distinct interest group enabling residents and visitors to appreciate what a very special area they have in the Geopark. Rocks nearly 700 million years old are represented over the Geopark and a journey across the area will take you through 500 million years of Earth history. We are extending our activities to encompass Springs and Wells throughout the Geopark and will be bringing further news of developments shortly. If you are interested in getting involved contact Cora or Bruce.
Malvern Water Bottling from Walm's Well
-
there has been an unfortunate proliferation of inaccurate and misinformed information in the media recently regarding Coca Cola and their plan to extend their water bottling to include water from Walm's Well. In order to give an accurate appreciation of the situation the following press information setting out the background and circumstances is direct from Coca Cola Enterprises.
Ian Deste, Vice President Corporate Affairs
, Coca-Cola Enterprises Ltd,
said:
'The Malvern Water plant has been part of Colwall and the Malvern Hills for over 150 years. This planning application is about meeting demand for this great British brand for the next 150 years.
'Our existing license from the Environment Agency allows us to take 40 million litres of water each year. This proposal will not result in us taking more than that. The Walms Well spring will simply ensure that a consistent flow is available throughout the year. Additionally there will be no impact on the aquifer, which supplies the existing and proposed springs.
'For 150 years, the impact on the local environment and the local community has been a key consideration. Before making this application we have consulted with a number of partners, including the Environment Agency, English Nature and several local organisations, as part of a normal, open, transparent, planning process. We will continue to consult with all parties as the application goes through its normal process.
'As part of the legal requirement for the application, a preliminary environmental impact study has been carried out on our behalf by experts, and this has demonstrated that the proposal will not lead to any detrimental impact on the local environment.
We can assure all concerned that the long term health of the Malvern Hills is our paramount concern. The sustainability of the Malvern brand and all its heritage is of critical commercial interest - we would do nothing to jeopardise that.'
Statement by Dr Bruce Osborne, 23 November 2004
Dr Bruce Osborne is Vice President of the British International Spa Association and Chairman of Spas Research Fellowship. As well as co-authoring books on the Malvern Springs and Wells he also runs the volunteer Well Wardens who maintain a watch on the celebrated sources in the Malvern area.
He said: 'Malvern Water has done much to promote the ethos of the Malvern Springs and Wells since its inception in 1851. The further development of the bottling facility will enable Malvern Water to remain a viable brand in the market place and will do much to promote the Malvern Hills and preserve its outstanding environmental qualities in the future.
'These springs are a natural outlet, and nature determines the volume they can yield. The use of the water from Walm's Well is potentially a valuable asset and to apply it to good use sounds an important opportunity for all concerned provided it can be done without detrimental impact on the area.'
Rick Brassington is a consultant hydro geologist who conducted the
Environmental Impact Assessment in July 2002, which is supporting Coca-Cola Enterprises application to extract water from the Walm's Well spring. Rick also worked subsequently on the development of further environmental protection measures.
Rick Brassington said: 'In my opinion, there will be no detrimental impact to the local environment. I carried out a detailed environmental impact assessment prior to the Coca-Cola Enterprises application to extract water from the Walm's Well spring. Furthermore there will be no impact upon the aquifer from which both the existing and proposed new springs are fed.'
He continued: 'Coca Cola Enterprises currently has a licence to extract 40 million litres of water from the existing Primeswell spring. The Primeswell spring is a natural spring and as such the flow of water from it varies considerably across the course of a year. The additional supply afforded by the proposed pipe from the Walm's Well spring will be used to support the existing Primeswell spring abstraction ensuring that total water flow to Coca-Cola Enterprises bottling plant is consistent throughout the year, in turn allowing supply to meet demand more effectively.
'It is important to stress that the overall water extraction under the proposal will not exceed the 40m litres permitted by Coca Cola Enterprises' existing licence.
ends.
It's not all bad but let us hope that our last Malvern Water bottler is not put out of business by this controversy.
Please note - that Malvern Hills Well Wardens, founded in 2001, are not associated with the group of people calling themselves Malvern Spa Association and we take no responsibility for their actions or statements.
In brief - let us have your Springs and Wells news for inclusion in our occasional newsletter, we want to hear from you. Thank you to the local enthusiast who kindly sent a book to us, the title was very amusing and we look forward to reading its contents. Back numbers of newsletters are available on request; please send a large sae. In the meantime do have a look at our web site directory accessible from the green panel above left.
Email:
springs@thespas.co.uk (click here to send an email)
Website:
Click Here
SUPPLEMENTARY INFORMATION
The home page can be accessed by clicking website above.
Contact Information:


Newsletter Archive which can also be accessed from our WEB SITE INDEX.

Friendship

- There is no charge made for joining Friends of Malvern Springs and Wells. Just let us have your email address and we will send our newsletters, which are usually two monthly. Please be aware that some email addresses block large circulation emails. Do feel free to participate in our activities by contacting us below.

Best wishes, Cora & Bruce
Bruce Osborne, Tower House, Tadworth, Surrey. KT20 5QY
Tel. 01737 213169 email
bruce@thespas.co.uk
Cora Weaver, 4 Hall Green, Malvern, Worcs. WR14 3QX
Tel. 01684 561215 email
cora@malvernspa.com
1) TOPOGRAPHICAL LOCATION:
Malvern Hills - arguably Britain's original National Park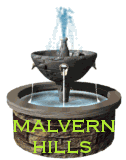 3) INFORMATION CATEGORY:
Springs and Wells General Interest
History & Heritage
Friends Newsletter