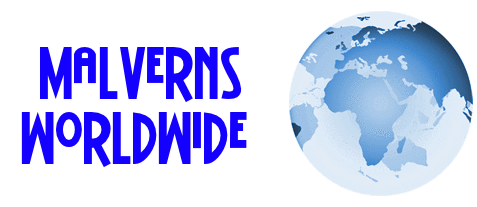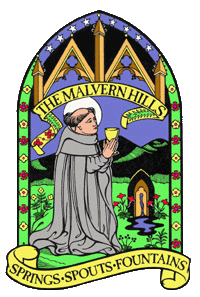 Malverns Worldwide - a friendship project
INDEX of MALVERNS
by the Friends of Malvern Springs and Wells
Mulberry House, 4 Hall Green
Great Malvern
Worcestershire
United Kingdom
WR14 3QX
Telephone: +44 (0)1684 561 215
Right: From Malvern Springs the Flow of Friendship - St Werstan was the founding saint of the medieval Great Malvern Priory in England - the original Malvern. He is also Patron Saint of our springs and wells. Although now usually viewed in a non-religious context, St Werstan became the founding father of the many Malverns throughout the world. Malvern Spring Waters flow out from the Malvern Hills in England and trigger abundant life in the surrounding lands, a metaphor for the friendship percolating throughout Malverns worldwide. To discover more about the founding of Great Malvern, the original Malvern from which others originated click 'Malverns' immediately below.
alverns
now exist around the world and this project is an initiative to bring about active friendship across the globe. It is masterminded by the Friends of Malvern Springs and Wells from Great Malvern, England.
To find out more about specific Malverns - click on the name in the index below.
alvern Hill Virginia
This is the site of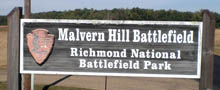 the Seven Days Battle of the American Civil War and is protected by the National Park Service. It is one of the oldest settlements in America. It was originally part of an estate and stately home granted by James I to Admiral Sir George Somers, whose family lived in Lyme Regis, England. On his death in 1610 his estate passed to his nephew Matthew Somers and then to Richard Cocke. By 1632 Richard Cocke was a member of the Government of Virginia. Click here to view YouTube.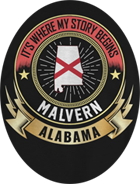 alvern Alabama
took its name from Malvern, Virginia. This tiny lumber village was named by Civil War soldiers in honour of comrades who died in the Seven Days Battle of Malvern Hill. It lies in Geneva County and has a population of about 1000.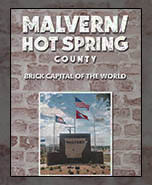 alvern Arkansas
was named by a civil engineer who saw a resemblance between the Arkansas Hills and Malvern Hill Virginia. The earliest inhabitants were Native Americans followed by trappers, hunters and farmers. Malvern later flourished as a brick making centre for many years but is now famous as the gateway town to the Hot Springs National Park and the county seat for Hot Spring County. (population c. 10,000)

alvern, Chester County, Pennsylvania
No official origin to the naming of the Borough of Malvern remains, although several theories abound. Today the buildings reflect the Victorian era when much of the town was built. The area was originally settled by Welsh immigrants in the 17th century who bought land

from William Penn. (population 3,450) Click here to view
YouTube
.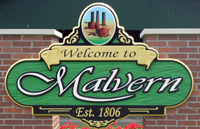 alvern Ohio
was located on a canal which brought prosperity to the locality but when the railways by-passed it and the canal fell into disuse the populace moved away. Located in Carroll County the population is still around 1200. It was first established in 1806. Click here to view
YouTube
.

alvern Iowa
The pioneer village of Milton
was established in the fall of 1869. It was later renamed Malvern when it was discovered that there was already another Milton in Iowa. It prospered as a farming town and today Malvern is a rural community with its own infrastructure. Malvern, Iowa is situated just 38 miles southeast of Omaha. Located in Mills County, Malvern sits just off U.S. Hwy. 34. In the recent census, Malvern had a population of 1,142. Click here to view
YouTube.
alvern, Oneida County, Wisconsin
lies just north of the Interstate 8 and prospered as a logging settlement as a result of the railway connecting it to the world at large. Malvern was established circa October 1882, when a railroad spur was built from Monico to Rhinelander. The naming was after the Battle of Malvern Hill in 1862. When the railroad closed the hamlet virtually ceased to exist. Malvern today is an unincorporated community located in the town of Pelican 6.5 miles south-east of Rhinelander
.

alverne New York
was founded between the two World Wars on Long Island. The land was once occupied by the Rockaway Indians. Named after Malvern, England, it grew rapidly after WWII as a residential suburb. The 'e' was added in error by the Long Island Railroad and never rectified. (population 1,600) It is now a vibrant community near the sandy south shore beach.
alvern Ontario (Canada)
was named by David Brown who became postmaster of a nameless hamlet in 1856/7. He was born in Malvern Link, a suburb of Great Malvern, England. At the time, growing flax and hemp for making rope and linen where the principal occupations. Now a suburb of Toronto, the population is over 44,000.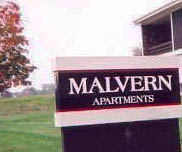 alvern Maryland
is located in Towson, just north of Baltimore and within Baltimore County. Maryland lies on the US east coast and Baltimore is between New York and Washington.
CARIBBEAN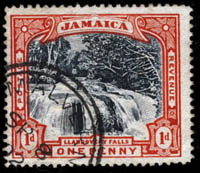 alvern Jamaica
is a settlement that was founded in the mid-19th century high in the Santa Cruz mountains. At approximately 760 metres in height, it was formerly a health resort for wealthy planters and landowners. Today it is renowned for schools and is considered to have the most delightful climate on earth. The population is about 3,440. Click here to view
MAP
.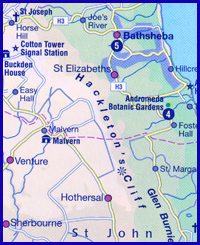 alvern Barbados
is a township on the border of St John and St Joseph parishes. Here Malvern House was a substantial plantation mansion, now a centre for complementary medicine. It lies on a similar latitude to Bridgetown, which is on the west coast. Bridgetown was a major international port for slave traffic; the largest such port in the British Empire. Barbados was originally discovered by the Portuguese. It was the English who claimed it however and settlement began in 1627. By 1642 sugar was the lucrative crop with a world market. African slave labour was imported to grow the sugar in the fierce equatorial climate. Ownership of the Malvern Plantation can be traced to 1652 when it passed from Richard Ellis to Seth Rowley. By 1747 Hill was the owner and by 1913 it was Austin. Click here to view
1747 MAP
with Malvern Plantation encircled, named Hills after its proprietor.
AUSTRALASIA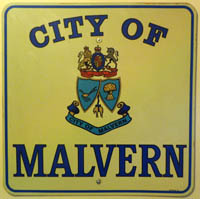 alvern, Melbourne, Victoria
originally founded by John Gardiner from Leamington UK. In 1856 it was sold to Charles Skinner whose family came from Ledbury, England near the Malvern Hills where he had wealthy ancestors. The area was formally named Malvern (pronounced mole-vern) in 1878 and is now part of Stonnington. (population 20,100)

alvern Adelaide
was a planned settlement dating from the latter part of the 19th century and is now part of the City of Unley, South Australia. The Malvern in Victoria (mole!) and the Malvern (mall!) in Adelaide are pronounced differently! (population 3,600)

alvern New South Wales
lies in Croydon, 10km from Sydney, It is a model suburb of inter-war housing dating from 1909 The Strand shopping area was built between 1913 and 1920 as an elegant boulevard between the railway station and the salubrious residential streets of Malvern Hill. This is considered a fine example of town planning and architectural fashions and is designated a conservation area.

alvern New Zealand
lies on South Island and was founded in 1877 as part of the Christchurch and Canterbury Settlement by John Robert Godley. Eventually Malvern, South Malvern and East Malvern were amalgamated in 1989 and renamed Sheffield in the Selwyn District of Canterbury on the east coast. This area of great natural beauty is under the watchful eye of the Malvern Hills Protection Society.

alvern Johannesburg
dates back to 1889, a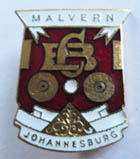 nd was closely linked to the Jumpers Mine across the railway line in neighbouring Cleveland. Those early miners were from Cornwall. In those early days the suburb was known as Morristown, named after lawman Hyman Morris. In 1904 its name changed to Malvern, believed to be named after Malvern in England, a health spa with rolling green hills. The association was made because the verdant ridges of Malvern offered a pleasant respite from the bustling, dusty gold-rush town of Johannesburg. Located some five kilometres from the city centre, the suburb has its own slogan "The village suburb for families where neighbours are side-by-side friends." Today Malvern is noted for its friendliness and has a newsletter called 'Malvern Matters'.(population 10,550) It is sometimes referred to as Malvern East.

alvern Durban
is a dormitory town as well as a local industrial hub.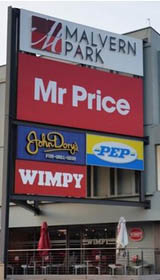 The hilly area was settled by people working in Durban who wanted to escape the humidity of the coastal city. In 1924, four residential townships in the area, Malvern, Escombe, Northdene and Moseley combined to form the town of Malvern. In 1952, to celebrate Queen Elizabeth II's coronation, Malvern received municipality status, forming part of Queensburgh.

alvern Harare
is a dormitory town in former Rhodesia which lies to the south west of Harare city centre. Harare was called Salisbury until 1982 and is the capital and most populous city of Zimbabwe. The Pioneer Column, a military volunteer force of settlers organised by Cecil Rhodes, founded the city on 12 September 1890 as a fort originally named Fort Salisbury after The 3rd Marquess of Salisbury, then British prime minister. There is also mention of Lord Malvern High School of Salisbury Rhodesia. This is located at Waterfall, 15km from Harare.

alvern
is a farming area in the Aberdares formerly in Mau-Mau lands. The Aberdare Range is a 160 km long mountain range of upland, north of Kenya's capital Nairobi with an average elevation of 3,500 metres (11,480 ft). A group comprising the sons and daughters of Mau Mau fighters in Kenya's struggle for independence went the Aberdare Range and some roads were renamed after the freedom fighters.

alvern College
lies near Kampala in former Uganda.
....and don't forget last but not least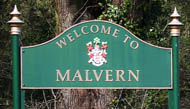 Great

alvern

, England

- the grandparent,

Malvern together with Malvern Link, West Malvern and Malvern Wells - explore our web site pages to learn more about us and our Springs and Wells. Click here to view YouTube.
If you know of any Malverns that we have missed or can add to our information do contact our International Envoys Cora Weaver or Bruce Osborne with an email.
Our International Coordinator will assist Malvernologists planning on travelling to a Malvern; contact Denise
dnspreston@yahoo.co.uk
For information on the Mulberry Tree project click website below.
Email:
cora@malvernspa.com (click here to send an email)
Website:
Click Here
SUPPLEMENTARY INFORMATION

Map: (Click to View in New Window)
1) TOPOGRAPHICAL LOCATION:
Malverns Worldwide
3) INFORMATION CATEGORY:
History & Heritage