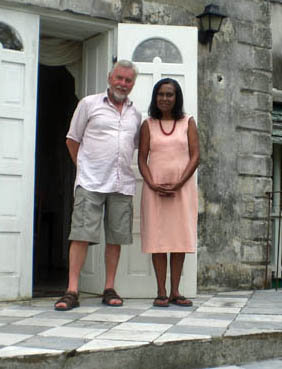 Friends Newsletter No. 90
May 2019
Friends are the recognised guardians of Malvern's water heritage (Malvern Gazette 1 March 2013 p.14). We are an independent voluntary group of Malvernologists who relentlessly promote research and celebration of Malverns Worldwide and the Springs and Wells of the Malvern Hills.
Malvern Plantation Barbados Open Day - See page 4 for details of this major event earlier this year.
A quote from June Cheesman in Malvern Barbados to Cora: - I am deeply touched and overwhelmed at this outpouring of love and friendship from Malverns Worldwide, which all started with Bruce's visit to Malvern, Barbados about 18 months ago. There are no words that can express my gratitude for the greetings from Bruce and yourself, and from South Africa, North America and Australia. (7 Malverns in total) Picture left, June with Bruce at the Malvern Great House earlier.
Trump comes to Malvern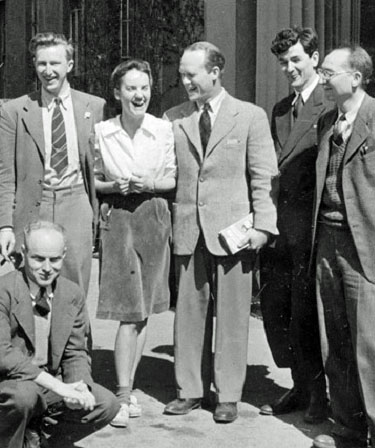 We were astounded to learn that Mr. Trump came to Malvern, UK. We speculated that it was because he wanted to participate in the Malverns Worldwide scheme. This was not so (not yet anyway). Instead, as WWII progressed the British and Americans combined secret operations, thus bringing the US into the War. This was the origins of the 'special relationship'. John D Trump was appointed director of the British branch of the American MIT Radiation Laboratory (BBRL), based during the Second World War at Telecommunications Research Establishment (TRE) at Malvern College, Worcestershire.
John was described as charming and patient. However, he kept his outfit at work even on British holidays 'partly because of my feeling that holidays are immoral, at least for Americans'. He was the uncle of Donald Trump, the 45th President of the United States. In recognition of his work during the war he was awarded the 'Kings Medal for Service in the Cause of Freedom' by King George V and the 'President's Certificate of Merit' by President Harry Truman. We are grateful to Friend Martin Hutchinson for this interesting 'secret' information; to find out more go to: https://mraths.org.uk/?page_id=2854 In the picture J Trump at Malvern College, possibly holding the Malvern Gazette.

Malvernberry Pie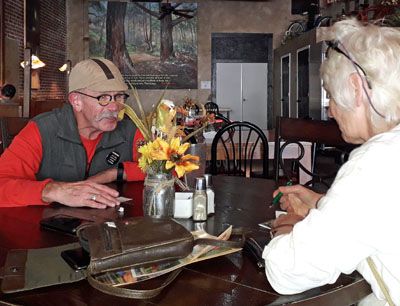 Allen Hall, a fit and lively seventy-something, lives in Malvern, Iowa. Aka Pie man, Allen has taught all his grandchildren to make mulberry pie using fresh mulberries because they're readily available locally.
Mulberry trees play a significant part in the Malverns Worldwide project, so we decided to create a new international dish - Malvernberry Pie, which we have now tried out on various guests. It's made with mulberries which, although not heavy on flavour, are unusually weighty in fibre, vitamin C, antioxidants and, for a fruit, are a rich source of iron and protein. We've used Allen's pastry recipe, which is quite unusual, and concocted our own filling using dried black mulberries since fresh and frozen mulberries aren't so readily available in the U.K. The recipe has a little way to go for perfection but here it is so have a go and see what you think? In the picture taken in Malvern Iowa, Cora discusses the recipe with Allen.
Malvernberry Pie (Malvern UK recipe for 9 inch pie)

In 2018, when we were in Malvern, Iowa, local resident Allen Hall (aka Pie Man) gave us his recipe for Mulberry Pie. We made a few changes. Allen uses fresh mulberries, which are difficult to find in the U.K so we use dried black mulberries ordered on the Internet. They are so sweet that we add lemon juice. He uses Clear-Jel for thickening his juice; we use cornflour. Then we changed the name to Malvernberry Pie.

To make the filling

6 oz (170g) dried black mulberries juice of one lemon
12 fluid oz (350ml) boiling water 1 heaped tsp cornflour
Pour the boiling water over the mulberries, squeeze in the lemon juice and soak for 24 hours. Mix the cornflour with the juice and add to the mixture. Bring to the boil and immediately remove from the heat. Leave to cool.
To make the pastry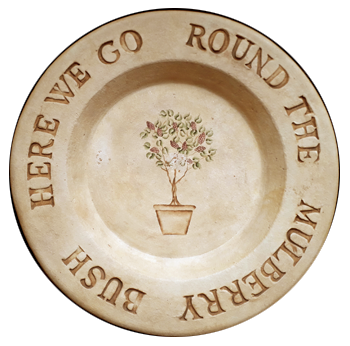 8 oz (227g) plain flour 1 tsp caster sugar
half tsp salt 4.5 fl oz(128ml) rapeseed (Canola) oil
Mix the dry ingredients together; add the oil and mix using a large fork. Add water if too dry. Cut into two uneven-sized pieces. Place the slightly larger piece on a well-floured board; cover with cling film and roll out the pastry to form the base of the pie. The pastry is very crumbly but it's worth persevering.
Grease the pie tin and line with the pastry. Add the fruit mixture, put the pastry lid on, press the edges together, cut two slits in the top and brush with milk or beaten egg. Bake in preheated oven 350 degrees F (175 degrees C, gas mark 4) for 20 - 25 mins. Remove from oven and sit for 5-10 minutes. Carefully slide pie on to wire rack or serving plate. Sprinkle with caster sugar then serve with ice cream.

Springs and Wells elsewhere Walsall, Staffs.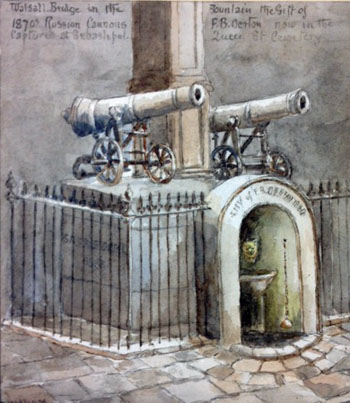 We were intrigued to learn about Walsall's drinking fountain recently. In the late 1850s two Russian cannons captured during the Crimean War, a clock on a pillar, and a drinking fountain presented by F. B. Oerton, mayor 1854-5, were placed in the centre of The Bridge. Initially the cannons had been sited opposite the racecourse stand but were re-sited when the plinth on The Bridge was ready. In the mid-19th century the town centre shifted westwards to the bridge and Park Street. Part of the water-course by the bridge had been covered over c. 1815, and in 1851 the open space there was enlarged by further culverting. Houses and shops were then built, and in 1855 Bridge Square (soon called simply The Bridge) was described as 'the centre and most strikingly beautiful portion of the town'.
Unfortunately, in 1879 the cannons were sent to Woolwich Arsenal, and in 1886 a statue of Sister Dora replaced the clock and fountain. She was Walsall's answer to Florence Nightingale in her compassionate care of local people. Florence Nightingale herself paid Dora tribute. The original statue was of Sicilian marble but due to weathering was replaced with a bronze copy in 1956. The picture right is a sketch of the water fountain that once was. For more information see www.crimeancannons.info
Evendine Spring and Heavy Metals

A Friend recently contacted us to say that for the past 30 years he and his wife and children had been collecting water from Evendine spring. Every three months, Worcester Regulatory Service (WRS) test the microbe and bacteria count in our popular springs and our Friend was curious to know whether WRS also tested for heavy metals such as lead, mercury or arsenic. At his own expense, our Friend had the test carried out, the sample being taken at 09.30 on 22 November 2018. Below shows the quantity of heavy metals dissolved in Evendine water - a good result and nothing to worry about it would appear.
Part per billion/ppb - microgram per litre of water - ug/l.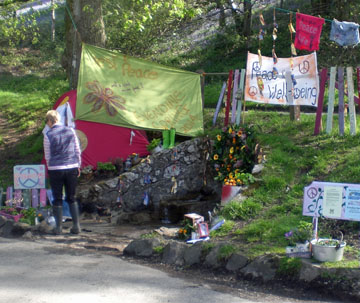 Arsenic O.20 ug/l
Boron <10 ug/l
Cadmium <0.02 ug/l
Chromium 0.7 ug/l
Copper <0.5 ug/l
Lead <.02 ug/l
Mercury <0.05 ug/l
Nickel <0.5 ug/l
Selenium <0.6 ug/l
Zinc 1.2 ug/l
In the picture - Evendine Spring decorated for the Annual Well Dressing.

Promoting Malverns Worldwide Events

It has been suggested that we initiate and publish a diary of events for the coming year or so relevant to Malverns Worldwide. This could be put on-line and updated when new details are supplied from Malverns around the world. It would enable us all to plan our travel and interaction to coincide with these celebrations, perhaps a local anniversary or town fete. For example, Malvern Appreciation Day is October 19th as declared by Malverne, New York. How will you be celebrating this annual event? We intend to visit Malverns hitherto unvisited in the US in 2019. It would be great if this coincided with their celebrations in one way or another. If you have Malvern events planned for 2019 or 2020 do let us know.

Picture left - Malverns throughout the world are now showcased in this display in Great Malvern Library UK. It's an idea that we got from Malvern Iowa and is now attracting considerable interest with local residents.

Seven Malverns and a Mulberry Tree
Seven Malverns around the world united for a very special event on Wednesday 6th March 2019. On that memorable day June Cheesman, held an open day at her home, Malvern House, Barbados, which is on the register of listed houses in Barbados. The occasion, organised by the Barbados National Trust, was attended by more than 326 people. The main event of the day was the planting of a mulberry tree sapling, one of three cuttings sent from Malvern, Melbourne, Australia in 2018. The Malvern Australia tree was itself a cutting from George Bernard Shaw's original 1936 tree, sent from Malvern Worcestershire to Malvern Melbourne in 1959.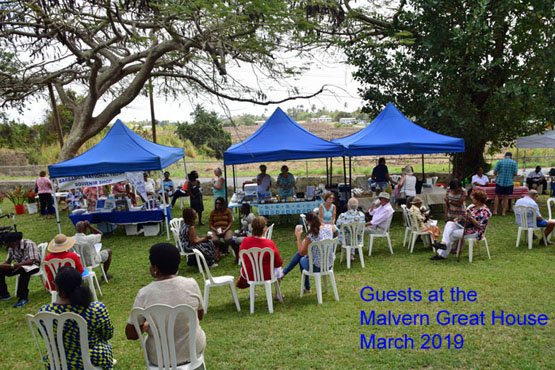 The planting ceremony was carried out by the manager of the Barbados National Trust, Miguel Pena, using a spade donated by Mary Clayton of the Barbados National Trust and that was inscribed:
'Planting ceremony of Mulberry tree at Malvern House, St. John, Barbados
March 6th, 2019
Mrs. Herbert Cheesman and the Barbados National Trust'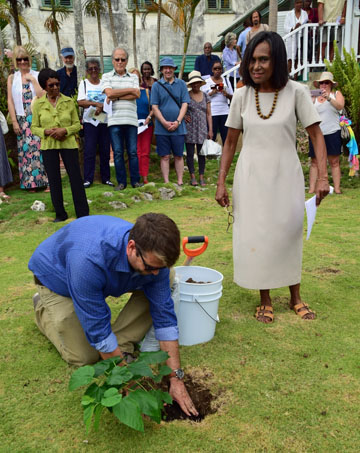 In her address to the crowds, June Cheesman remarked that the cutting being planted had been presented to Malvern House to continue and encourage friendship between the Malvern communities around the world. Also, that those present were witnessing a tremendous outflow of love from Malverns worldwide, having received greetings from six other Malverns. From Australia, Steve Stefanopoulos, mayor of Stonnington, Malvern in Melbouirne, hoped that the cutting would grow strong and healthy and offer shade for many years to come, and Karen Paris, museum curator at Malvern, Adelaide added her best wishes. Mayor David Burton of Malvern, Pennsylvania said it was an honor and a pleasure to congratulate Malvern House on being listed by the Barbados National Trust and for planting a mulberry tree cutting that had originated in Malvern England. Library Director Rebecca Bassich, from Malvern Iowa, whose local newspaper, the Malvern Leader, was very interested in the Malverns Worldwide story, hoped that the tree being planted would serve as a living monument to the friendship of all Malverns worldwide. Eric Clarence of the Memorable Order of Tin Hats in Malvern, Durban, South Africa, expressed sincere best wishes to all on the special occasion of the planting of a Mulberry tree to symbolize the hand of friendship between Malverns Worldwide. Lastly, a congratulatory proclamation was sent from Cora Weaver and Bruce Osborne representing Malvern, U.K and Malverns Worldwide.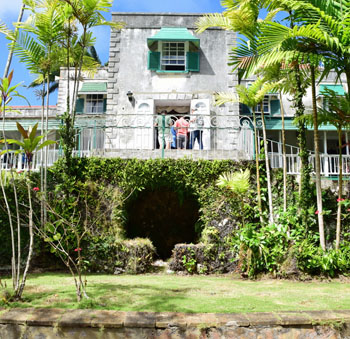 Cora said, 'This is a wonderful example of the Malverns' hand of friendship being extended across the globe. This year will see more special events in other Malverns that I hope will be recognised and supported by their namesakes. I'm looking forward to writing something one day entitled Twenty Malverns and a Mulberry Tree.
Picture 1 Guests at the celebration Open Day. Picture 2 Planting the mulberry tree by Miguel Pena, Malvern Great House owner June Cheesman standing behind in the white dress. Picture 3 Malvern Great House. Picture 4 Students from The Alleyne School on the lawns of Malvern Great House at the Open Day.
Mulberry Tree Restaurant & Bar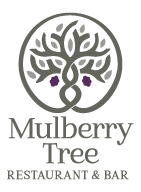 The Mount Pleasant hotel, Great Malvern, has a new name for its restaurant: The Mulberry Tree Restaurant & Bar! What prompted the management of the hotel to choose 'Mulberry Tree' as the new name for the restaurant apart from the fact that it once had a Mulberry Tree in its grounds? Situated right in the heart of town, the hotel and its restaurant have a deep connection with the community, the Malvern Hills and its enriched history.
iterature legend George Bernard Shaw planted the Mulberry Tree in 1936 in the Priory Park to mark his eightieth birthday. For him, the attraction of the tree was for it to last so long. Today Mulberry trees originating from the original GBS tree are being located in Malverns around the world as a result of the Malverns Worldwide project. In the words of AJ Bains, GM, Mount Pleasant hotel, 'Mulberry Tree is the right name for our restaurant as it represents a promise of growth and everlasting faith. Exactly what we want our customers to think of us.' The formal launch of the new name shall take place on 1st May 2019 and includes a presentation by Cora and Bruce.

Email:
springs@thespas.co.uk (click here to send an email)
Website:
Click Here
SUPPLEMENTARY INFORMATION
The home page can be accessed by clicking website above.
Contact Information:


Newsletter Archive which can also be accessed from our WEB SITE INDEX.

Friendship

- There is no charge made for joining Friends of Malvern Springs and Wells and Malverns Worldwide. Just let us have your email address and we will send our newsletters, which are usually two monthly. Please be aware that some email addresses block large circulation emails. Do feel free to participate in our activities by contacting us below.

Best wishes, Cora & Bruce
Bruce Osborne, Tower House, Tadworth, Surrey. KT20 5QY
Tel. 01737 213169 email
bruce@thespas.co.uk
Cora Weaver, 4 Hall Green, Malvern, Worcs. WR14 3QX
Tel. 01684 561215 email
cora@malvernspa.com
1) TOPOGRAPHICAL LOCATION:
Malverns Worldwide
2) LANDSCAPE:
Rolling Countryside
Park or Garden
Island
3) INFORMATION CATEGORY:
Springs and Wells General Interest
History & Heritage
Friends Newsletter