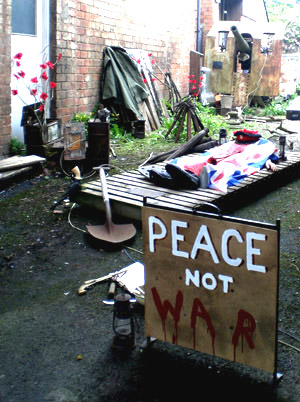 Friends Newsletter No. 59
June 2014
Friends are the guardians of Malvern's water heritage (Malvern Gazette 1 March 2013 p.14).

We are an independent voluntary group which relentlessly promotes research, conservation and celebration of the Springs, Spouts, Fountains and Holy Wells of the Malvern Hills and of Great Malvern as a Spa Town.
For 2014, the Friends of Malvern Springs and Wells decorated Harpers Yard Pump. It is in the yard of Harper's Bazaar, the government surplus store in Malvern Link, almost opposite the Co-op. The year 2014 is the centenary of the outbreak of the Great War, and appropriately the festival's theme is Peace. The Harper's Yard site was specially chosen because not only has it got a water feature - an old pump - but also a huge gun that came off a Second World War ship.
In the past, the decorated water features have been better seen in the daytime but ours was different; it was designed to be seen at night through the bars of a black iron gate fronting Worcester Road. The display was placed in position by the afternoon of Friday 2nd May and removed on Tuesday 6th, and depicted the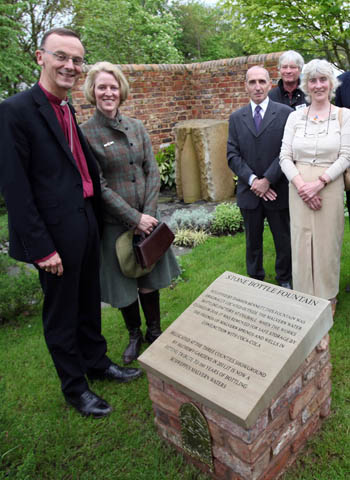 destructiveness and human cost of war and the better option - PEACE.
Bishop's wife leaves much to be remembered
We were deeply sorry to learn recently of the death of Dr Denise Inge, wife of the Bishop of Worcester, after a year long battle with cancer. She was known for her love of gardening and created a garden at her home next to Worcester Cathedral. It was this interest that brought her into contact with the Friends of Malvern Springs and Wells when, on Thursday 10th May 2012, she and husband John unveiled the Stone Bottle Fountain moved from the Colwall Bottling Works. The fountain was once again on display, in time for the Malvern Spring Gardening Show Gold Day at the Three Counties Showground, where it remains to this day. In the picture taken at the unveiling: the Right Rev. Dr. John Inge, Bishop of Worcester and wife, Dr. Denise Inge with Rob Stilliard, former manager of Colwall Bottling Works; Paul Taylor of Alchemy Gardens and Cora Weaver, Friends of Malvern Springs and Wells.
On the 23 April 2014 a historically significant planning permission was granted by Herefordshire Council on the old Schweppes bottling works site at Colwall. This included demolition of existing buildings, excluding the iconic Tank House, a replica of the Holy Well building and grade II listed, thanks to Cora's discussions with English Heritage. We will now see the erection of new residential housing including some 'affordable units', a retail shop adjacent to the Tank House and a nursing home. This is a key stage in a long struggle by Blue Cedar Homes to bring this site back into use after closure of the Schweppes Bottling Works in October 2010.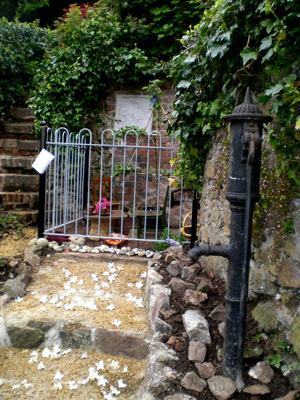 Well Rediscovered in Rose Bank Gardens
For many years a mysterious arch beneath a red brick wall puzzled local historians. It is located in the centre of Rose Bank Gardens opposite Tudor House about 50 feet back from the road. It was realised that this was a forgotten water source, thanks to Brian Iles who explored the site further and located a well there some years ago. The well is 25 feet deep with about 14 feet of water in the bottom. The 1885 map shows a pump alongside the well. Some recent landscaping and the addition of an iron hand pump have made the site an attractive feature. It made its debut in 2014 when it was decorated for the May Day Well Decorating celebrations.
Spring Contamination Warning System flawed.
The problem of water contamination at our springs rumbles on. The latest proposal is to develop a web site that keeps everyone posted with the occasional test results. This however has several problems that need to be considered. The test results are only pertinent to the moment when the water sample is taken. For example on a dry day the test sample is taken and an hour later a violent storm could completely alter the bacterial contamination level of the spring by washing in surface water. Also the test results take some time to come through as the sample is processed. They are therefore always historic rather than current.
The nature of the springs needs to be more clearly understood. Surface springs typically have test results that fluctuate, usually depending on weather conditions but also due to other events such as human activity. We need to understand just how serious the risks are in drinking the spring water. For hundreds of years Malvern spring water has been drunk extensively and so what is the risk assessment? The perfect source is one that is managed with modern technology as is the case with water bottling. But is modern technology the answer to avoiding any risk whatsoever with all our major springs? And who is going to pay for purification equipment installation and maintenance? The Malvern Hills are famous for their springs and wells, let's ensure that the reputation is not contaminated by an overzealous 'health and safety' approach to water purity and a web site that unintentionally promotes worldwide a negative aspect of our springs but is of limited value in advising when a spring is drinkable.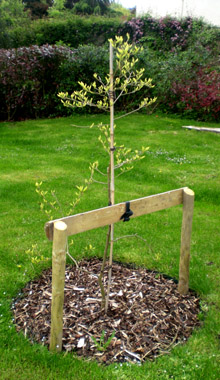 We were delighted to see that the Mulberry trees in Priory Park are now released from their confining pots of compost. They are certainly celebrating their new found freedom by bursting out in leaves. This all bodes well for the formal unveiling, planned when they are further established in their final home, so far from Malvern, Australia where they were born as grandchildren of the original Shaw tree in Malvern, U.K.
Coca-Cola back into bottled water
We lost the Malvern brand of bottled spring water from Colwall some years ago but Coca-Cola, who once bottled the Malvern Hills elixir, are determined to keep a strong presence in the UK bottled water market with Glaceau Smartwater from Northumberland. This new product is being bottled at its Coca-Cola Enterprises (CCE) factory in Morpeth, which is currently home to Schweppes Abbey Well water. Glaceau Smartwater has already been launched in the United States. The production of the electrolyte-enhanced water in Morpeth will see the UK become the first European market to introduce it. It will use spring water from an underground aquifer, also the source of Schweppes Abbey Well. This will then be vapour distilled before electrolytes are added. The company, which also owns Fanta, Sprite and Dr Pepper, will spend

£

3bn promoting the launch in August.
Well Decorating Founder's Award 2014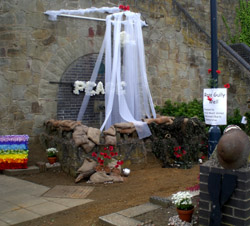 The winner of this year's Founder's award was the Holy Trinity well-decorating team. For the fourth successive year they turned Back Lane (Rose Gully) Spouts into an eye-catching, early May spectacle. The theme this year was 'Peace' and Cora, who founded Malvern's modern well-decorating event in 1993, particularly liked the contrast between the chaos and dismal colours of the war aspect of the design, and the uplifting white and rainbow colours of peace. Some poppies, standing in broken sandbags, may have symbolised blood on broken bodies on the one hand, but on the other hand it could have represented life springing out of death. The team used the water flow very well, suggesting movement and life continuing even after such death and destruction.
See the St Werstan Award page of our web site to see Cora presenting the award to the Holy Trinity team comprising Catherine Stevenson, Jane Banwell, Nigel Banwell and Allister Stevenson. The award is sponsored by Coca-Cola Enterprises and administered by the Friends of Malvern Springs and Wells.
Owls Hole Pump and Engine off to a new home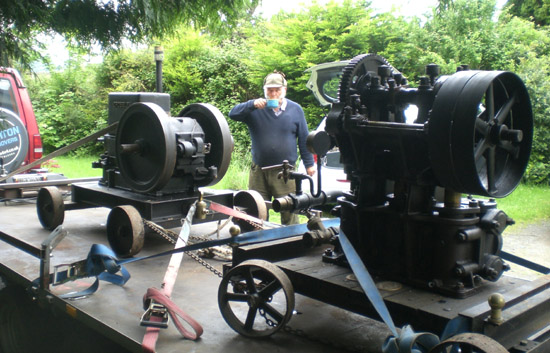 In the last Newsletter we announced that we wanted to find a new custodian for the Owls Hole Pump and Engine. These Malvern treasures have been in storage for a decade but previously have appeared at various events and venues including the Worcester County Museum. Here they were in running order following recovery and restoration in the 1990s by Cora, Bruce and the late Peter Ward of Colwall.
Now the pump and engine are off to a new home, as a result of the appeal in the last Newsletter. Amongst those who came forward offering their support was John Clifford. John is a well-known local enthusiast for all things historical and mechanical especially engines and tractors. He has a substantial and impressive collection of amazing machinery at Welland and everything is in tip top order. He regularly gets involved in local steam rallies and similar events and is pleased to become the new custodian of our springs and wells treasured artefacts. John arrived at Coraís on 3rd June with his massive trailer and aided by Oliver Weaver, before long had the pump and engine winched on board. In spite of being in storage for so long, the mechanisms were free and appeared in excellent order and a quick flick of the starting handle plus some petrol and paraffin may well have resulted in the machinery firing up. This was not to be as John was anxious to ensure that all was in order before 'going live'. In the picture the last job was to finish the delicious cup of coffee made by Cora before setting off to Welland, where, John informs us, he could not resist tinkering with the magneto of the engine and soon got it running!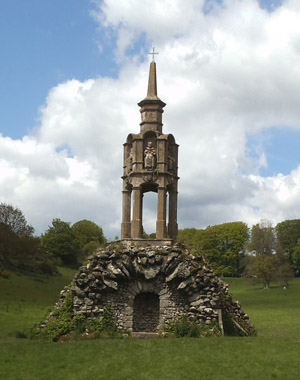 We are hoping that the Three Counties Autumn Show will see the pump and engine in action again and so watch this space for further details in due course.
From Source to Sea - Springs and Wells elsewhere
In May one of our Great British Grotto Graders who is also a Malvern Springs and Wells Friend visited Stourhead to have a look at its enchanting landscaped gardens. The printed guide of the grounds showed St Peter's Pump, way over yonder on the greensward, a long way from the gardens themselves. After 20 minutes energetic walking our Friend reached this remarkable edifice which can be seen in the picture right.
St Peter's pump dates from the 15th century, and was once part of Bristol's water system. It was removed in 1766 and rebuilt on the Stourhead estate, at the top of a valley. It marks the source of the River Stour. There used to be six springs emerging here, but now there is only one. The stream wanders through Wiltshire and Dorset for 96 km. and our Friend decided to see what this little piddle at Stourhead looked like at Christchurch, where it flows into the sea. Beautiful.
Stourhead is a National Trust property in Wiltshire. To get there set your sat nag to BA12 6QF.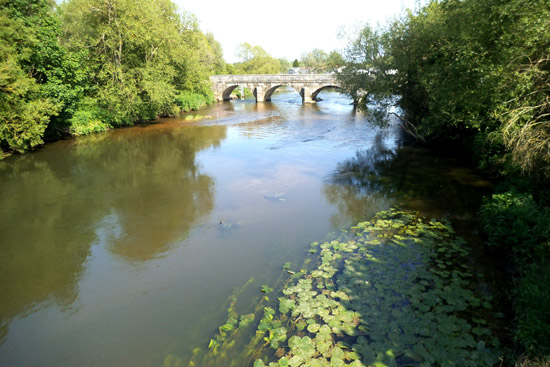 Picture above - The Stour at Christchurch - somewhat larger than where it emerges from the Stourhead pump.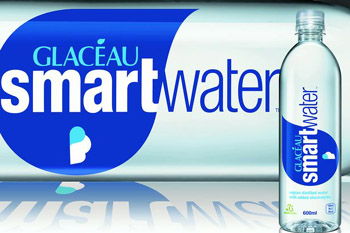 Stop Press -

the new Smartwater label right (see page 3 article above).
Email:
springs@thespas.co.uk (click here to send an email)
Website:
Click Here
SUPPLEMENTARY INFORMATION
The home page can be accessed by clicking website above.
Contact Information:


Newsletter Archive which can also be accessed from our WEB SITE INDEX.

Friendship

- There is no charge made for joining Friends of Malvern Springs and Wells. Just let us have your email address and we will send our newsletters, which are usually two monthly. Please be aware that some email addresses block large circulation emails. Do feel free to participate in our activities by contacting us below.

Best wishes, Cora & Bruce
Bruce Osborne, Tower House, Tadworth, Surrey. KT20 5QY
Tel. 01737 213169 email
bruce@thespas.co.uk
Cora Weaver, 4 Hall Green, Malvern, Worcs. WR14 3QX
Tel. 01684 561215 email
cora@malvernspa.com
1) TOPOGRAPHICAL LOCATION:
Malvern Hills - arguably Britain's original National Park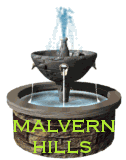 3) INFORMATION CATEGORY:
History & Heritage
Friends Newsletter