Droitwich Salt Canal Celebration
Droitwich has since time immemorial been famous for its salt springs. This has led to it becoming a major salt industry centre as well as a world famous spa town. In August 2013 a celebration Droitwich Canal cruise was organised in conjunction with the Pamela May Trust and was attended by numerous Friends of Malvern Springs and Wells. The Barge Canal from the River Severn to Droitwich town was opened in 1771 to ease the passage of salt down the River Salwarpe. James Brindley was the engineer who modernised the ancient Salwarpe navigation, used since Roman times. The Junction Canal from Droitwich to the Worcester Birmingham Canal was a later addition, making a through route that opened in 1854. Both derelict waterways were formally closed in 1939 and by the 1970s were overgrown, filled and partially built over.
In 1972 a group of enthusiasts got together and formed a Trust to restore the waterway. Nearly forty years later the canal was opened in 2011. Had it not been for the initial scheme prepared by the Trust to restore navigation the route would have disappeared under subsequent developments. The cruise was to celebrate the reopening and Bruce's participation as a founder Director of the Droitwich Canals Trust in the 1970s. It was also a chance for Bruce to cruise the canal for the first time and celebrate his 70th birthday.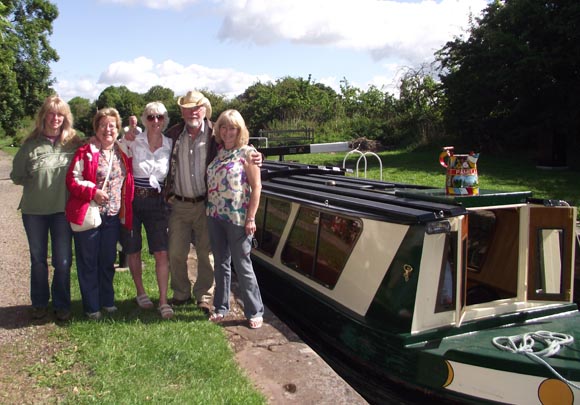 In the picture: While the men are sorting out the Lock at Ladywood Bruce has a quick flirt with some of the ladies on board. Left to right - Lucy Dell of Teme Valley Times, Denise Preston of Malvern Civic Society, Cora Weaver, Bruce Osborne and Gwyneth Poole, all Friends of Malvern Springs and Wells.
Malvern Water at Buckingham Palace
West Worcestershire MP Harriett Baldwin has ensured the presence of the world-famous Malvern water at Buckingham Palace after presenting four bottles to the Queen recently. It is recorded that both the Queen and to the Duke of Edinburgh remember it fondly. Now bottled at Holywell, the water has been a favourite of royalty for many decades and it is pleasing to note that the tradition is being perpetuated.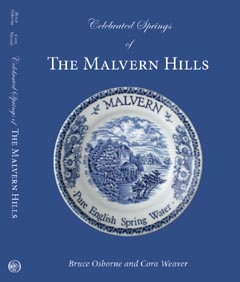 Christmas Gift Special
Celebrated Springs of the Malvern Hills is the prefect Christmas present for Malvern Hills explorers. Now there is a chance to purchase a copy at the special Xmas discount price of
£
20.00, saving
£
5 on the normal retail price. To take advantage of this offer send a cheque payable to 'B E Osborne' to Bruce at the address at the end of this newsletter together with the name and address that you would like us to post the book to (UK only).
For more information on this magnificent book go to Cora's Malvern Bookshop by clicking on the green panel top left