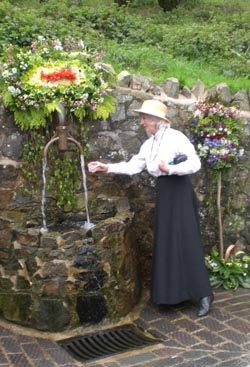 Friends Newsletter No. 22
June 2008
David Armitage and his wobbly bifurcating spout
No not a serious medical condition, just the AONB Officer's idea for making it easier to fill up at Hayslad. Paid for as part of the Heritage Lottery funding, in the last newsletter we reported it possibly stolen. Now David solves the mystery as follows: '

On the missing Hayslad Bifurcating spout; I took it off because it had become wobbly. We are unsure as to why this happened and suspect that it may have been the differential expansion and contraction of metals that loosened the bolts. The blacksmith is currently working on a solution to this. We have already had a number of complaints about its departure, which I suppose is a form of compliment!'
We can now report that it is back in situ and in the picture Cora tries it out during the recent well dressing weekend.
Rosebank Gardens, St Werstan's Labyrinth and flying birds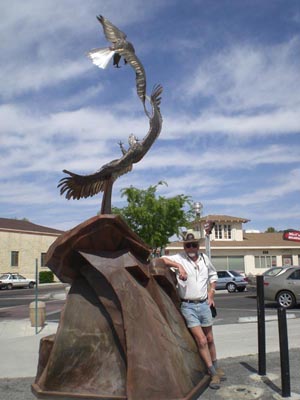 Our proposal for St Werstan's labyrinth in Rosebank Gardens is still held up in Planning at the moment. The planning decision was hoped for in May. We will keep you posted but we are concerned that the continued delays will jeopardise the project with our sponsors. Cora attended the planning meeting on 21 May when we hoped for a decision. Unfortunately the decision was deferred pending confirmation of access and maintenance.
As you are probably aware there are several schemes for enhancing Rosebank Gardens, including our own St Werstan Labyrinth proposal as a permanent tribute to St Werstan, founder of Malvern and patron saint of Malvern Springs and Wells. One other scheme is a sculpture of flying birds being promoted by others including Malvern Civic Society. During a recent trip to Nevada we were intrigued to see that Boulder City, just outside Las Vegas has a similar such sculpture. Called 'Where Freedom Prevails', this animated structure is the work of Thomas Donalson and stands proudly on the street corner at the entrance of the Old Town. To give an idea of size, the picture shows Bruce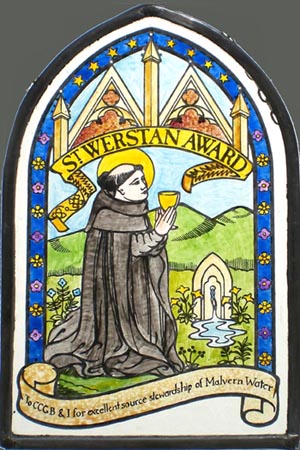 standing next to the Nevada birds. Cora has some more pictures if anyone wishes to see the sculpture in greater detail. One feature of the USA version is that it oscillates giving different views of the birds each time you look.
Hot News
- we gather that Malvern's new hotel spa in Townsend Way will use our local water for its therapies. Facilities will include hydrotherapy pools of Malvern waters. We hope to give more details in our next newsletter, so watch this space.
In praise of Malvern Water -
The One that Didn't Bottle Out
Did you see our letter in the Malvern Gazette recently? If not we reproduce it here. We feel that Malvern owes much to Coca Cola Enterprises and we have therefore decided to make available one of the St Werstan windows in recognition of their stewardship of the operation at Colwall. Our letter was as follows:
'There have been many dozens of bottlers of Malvern water over the years but only one has survived. Without Coca Cola's support and infrastructure we would not have a vintage factory, immaculately maintained and employing about two dozen local people, projecting the Malvern image world wide to the benefit of the community at large.
Not only that, Coca Cola are also extremely supportive of local initiatives. For several years they have supported the St Werstan Award scheme for the preservation and conservation of our springs and wells heritage. Now they are lending their support to the enhancement of Rosebank Gardens with the Labyrinth proposal being pursued in conjunction with Malvern Hills District Council. We are also aware that they discreetly assist other local projects to the benefit of the community.
In recognition of Coca Cola's stewardship of Malvern water the Friends of Malvern Springs and Wells are now implementing a gesture of recognition and appreciation. Details will be announced shortly and will appear in the new Friends of Malvern Springs and Wells newsletter.'
We plan to make the presentation to the head of Coca Cola Enterprises in July. You never know - the St Werstan window may well become a major attraction in Atlanta, USA where Coca Cola hail from.
In the Park Saturday 3 May 2008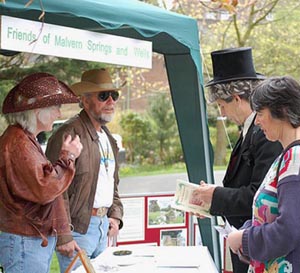 Welcome to all the new Friends who signed up during the recent day in Priory Park where we had our stand. This is a regular May Day weekend event and gives us an opportunity to meet up and have a chat. Bob Lillis took the picture and kindly let us use it in this Newsletter. The cowboy hats are in celebration of Malvern, Arkansas, featured on the Tshirts that we wore and the subject of editorial in our newsletter no.14 in 2006.
Shoot Out at the Glenwood Spring - the mystery deepens
Once more we have been investigating the provenance of Malvern's many water sources and this time we have unearthed an amazing possible connection with the Glenwood Spring, also known as Ballard's Spring. In Aquae Malvernensis we detail the provenance of the Glenwood Spring as number 25, lying on the western side of the Hills near Glenwood House. When Schweppes first built their bottling plant at Colwall in 1892 they contracted with the owners, the Ballard family, to use this source for bottling and the name Glenwood was used as a brand name. There is little evidence of the name being used much before this date locally.
It is perhaps no coincidence at the time that there was a new water cure centre in Colorado, USA called the Glenwood Springs. Once revered by the local Native Americans the waters were reputed to have great healing qualities. Early settlers saw the potential for Glenwood Springs to become a highly regarded spa destination and developed the hot thermal waters into a world class hydropathic resort. The arrival of the railroads in 1887 brought the first trainloads of tourists to enjoy what remains to this day a popular spa resort. One particular early patron was to have a dramatic effect on establishing the name Glenwood as legendary.

Coinciding with the coming of the railroad to Glenwood Springs, the famous Doc Holliday came to the resort. Doc had arrived in May of that year, looking to the hot springs as a cure for consumption. And it was here that this compatriot of Wyatt Earp died on the 8th November 1887 with his boots off. A famed gunfighter and gambler Holliday was participant in the shoot out between the 'Cowboys' and the Earp brothers in Tombstone, Arizona just six years previous.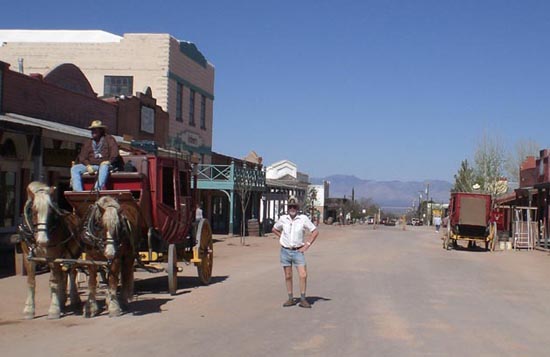 What you will ask is the connection with Malvern? Was there a plan to develop a spa resort on the Western side of the Malvern Hills by the Ballard family capitalising on the rapid rise to fame and notoriety of the Glenwood Springs resort in the USA? Alternatively did Schweppes decide to capitalise on the name by adopting it as a brand name? Or was there a personal connection between the two Glenwoods? Our investigations continue as part of the research for our forthcoming book on the 130 springs and wells of the Malvern Hills. If you can throw any further light on the above do let us know, all contributions will be suitably acknowledged.
To find out more about Doc Holliday read Bell B B (2000 4th ed) The Illustrated Life and Times of Wyatt Earp, Tri Star - Boze Pubs. Phoenix.
In the picture Bruce on a study tour to Tombstone Arizona 2008 - still a wild place.
Buxton trip update on the Spa Development
Last year we took a party by coach to Buxton to see the Danubius developments there. The following summary from Jon Ogden, project coordinator, identifies a number of key points that indicate the potential for Buxton. If only we could have similar for Malvern.
The project will add 130 bedrooms to the town's bed stock and will revive spa culture for health, wellbeing and aesthetics. The development will also include conference and reception facilities (including the elegant eighteenth century ballroom), 8 boutique shops and the restoration of the Pump Room as a cafe and place to 'take the waters' once more. The development is not unique. Buxton is one of two thermal spas the other being in Bath where Danubius is also developing a spa hotel. Like Malvern both are celebrated heritage English spa towns. What is unique is the Crescent itself, a fine example of eighteenth century architecture with a specific purpose - to serve visitors to Buxton spa. English Heritage and the Heritage Lottery Fund are major contributors to the project. The Crescent is one of the finest eighteenth century town centre buildings in the UK. This unique building will incorporate a Tourist Information Centre and Interpretation Centre to explain its history and the growth of Buxton as a spa. The Crescent itself will be operated as a 5 star property. to provide a unique experience for its guests retaining its character and heritage throughout. The Natural Baths will be restored to their original use as a natural thermal mineral water spa. The Old Hall, reputedly the oldest hotel in England, will be elevated to 4 star status with a complete refurbishment. The George, currently split into apartments, will become a 3 star hotel with its own bar and brasserie.
Danubius hope the Crescent and Spa will be completed during 2011 - but are dependent upon concluding agreements with the local authorities, now that agreement has been reached between High Peak Borough Council and Nestle Waters - who bottle Buxton Mineral Water. The project is a joint venture between CP Holdings Ltd and the Trevor Osborne Property Group and will be operated by Danubius Hotels, who are Europe's largest health spa hotel operator.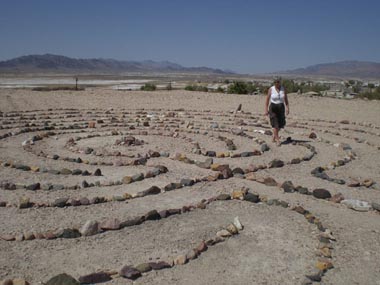 Tecopa Hot Springs and Labyrinth
At an elevation of 1400 feet Tecopa Hot Springs is an oasis in a desert in California. Located near the southeastern entrance to Death Valley, the various facilities in this small resort are a welcome break for drivers on their way to somewhere else. When we drove up to Death Valley therefore it was the ideal excuse to go and have a dip in the natural waters. Not only the weather but also the water is hot as we found out. If only we could have something comparable in the Malvern Hills to delight both residents and visitors. Imagine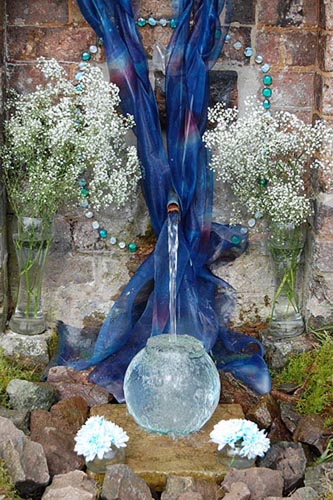 our surprise however when having bathed we then went on to discover the labyrinth. Made from rocks strewn across the desert, it was an excellent opportunity to chill out after 20 minutes in the hot tub. Our thoughts inevitably turned to the St Werstan labyrinth that is rapidly becoming a reality for residents and visitors to the Malvern Hills, thanks to the generosity of our sponsors and the assistance of local groups and the Council. In the picture Cora explores the labyrinth at Tecopa. It is about twice the diameter of that proposed for Rosebank Gardens to celebrate St Werstan, patron saint of Malvern springs and wells. Perhaps the next stage in our endeavours for Malvern is to provide bathing facilities using our natural waters adjacent to the proposed labyrinth site - impossible you might think - watch this space!
MALVERN SPRINGS AND WELLS LEGENDARY ANNUAL COACH TOUR
The annual springs and wells afternoon coach tour took place on Sunday 4th May 2008, coinciding with the Bank Holiday weekend and Well Dressing celebrations. Cora and Bruce conducted the tour as usual dressed in Victorian period costume. Leaving Belle Vue Terrace at 2pm, a lively party headed off to the wilds of the Malvern Hills. This year the tour included a visit to Stone Bottle Fountain as well as much new information about the springs and wells resulting from recent research. Amongst the celebrities on board were Friends Caroline and Merrick, who recently restored the water at the Court Road Spout. More people took the "magic journey" this year than since the tours were initiated in the early 1990s.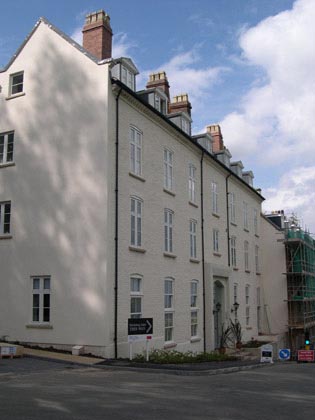 This year the 2 deck seventy seater coach testified to the popularity of the tours - spaces are limited and so make sure that you are on board for a lively afternoon exploring our Springs and Wells next year.
Wells House - Wells House in Holywell Road has survived! First opened 250 years ago as lodgings for those taking the water at Holy Well, Wells House served as Dr Ayerst's hydropathic and homeopathic clinic in the 1850s and '60's, was a school from 1870 - 1992, and then was gutted and left to rot. Now one of Europe's oldest surviving spa buildings has a new life.
Barnards Green Fountain -
The end panel of the fountain which, after 107 years has now been replaced reads: 'In grateful memory of the faithful services of the horses of South Africa 1900 and 1901'. The fountain was delightfully decorated in May by Poolbrook W.I.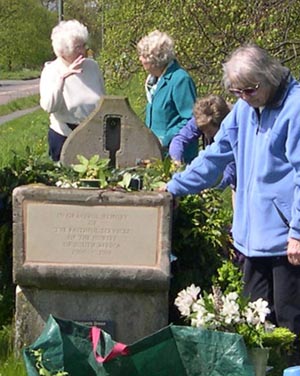 Who are Friends
?
Friends promote research, conservation and celebration of the Springs, Spouts, Fountains and Holy Wells of the Malvern Hills and of Great Malvern as a Spa Town.
If you would like any back numbers of our Newsletters send a large SAE to Bruce with details of which ones you require. There is no charge and they are now collector's items!

Due to the ever increasing numbers of Friends (now in their hundreds), we have to make a small charge for occasional Newsletters of 5 pounds for 4
. This only applies to renewals and new Friends.
Email:
springs@thespas.co.uk (click here to send an email)
Website:
Click Here
SUPPLEMENTARY INFORMATION
The home page can be accessed by clicking website above.
Contact Information:


Newsletter Archive which can also be accessed from our WEB SITE INDEX.

Friendship

- There is no charge made for joining Friends of Malvern Springs and Wells. Just let us have your email address and we will send our newsletters, which are usually two monthly. Please be aware that some email addresses block large circulation emails. Do feel free to participate in our activities by contacting us below.

Best wishes, Cora & Bruce
Bruce Osborne, Tower House, Tadworth, Surrey. KT20 5QY
Tel. 01737 213169 email
bruce@thespas.co.uk
Cora Weaver, 4 Hall Green, Malvern, Worcs. WR14 3QX
Tel. 01684 561215 email
cora@malvernspa.com
1) TOPOGRAPHICAL LOCATION:
Malvern Hills - arguably Britain's original National Park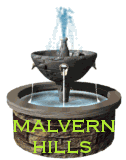 3) INFORMATION CATEGORY:
Springs and Wells General Interest
History & Heritage
Friends Newsletter