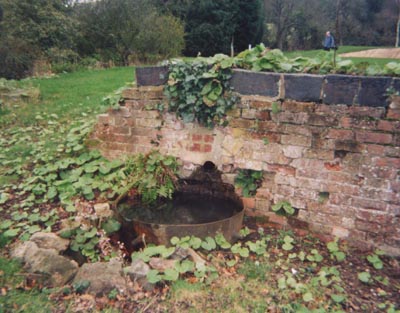 Friends Newsletter No. 7
March 2005
Golf Club Spout
In an earlier newsletter we reported that the Golf Club Spout was dry with its feeder channel from the spring, some distance away choked with silt. The Well Warden and members of the Golf Club have now gone into action and we are pleased to note that it is back in water. If you want to see it, it lies on the western perimeter of the Worcestershire Golf Club car park. When the new clubhouse was built and the car park finished, slightly changed levels meant that the iron basin was barely visible, now it has been landscaped and all is well again. If only all efforts to maintain and restore springs and spouts were as speedy as this!
Springs and Wells at the Malvern Civic Society
The February meeting was opened by the Chairman John Handley, who welcomed the well-attended audience including members, visitors and Malvern Well Wardens.
The meeting then turned to its main event, a talk given by Cora Weaver and Bruce Osborne entitled 'Discovering Malvern's Springs and Wells'. This joint talk by the co-authors and experts in Malvern's water heritage took us on an informative and lively journey, accompanied by an interesting selection of slides with both recent and historic photographs.
In their research into Malvern's water heritage, Cora and Bruce have now been able to count 105 celebrated sites.

They told us about the background and history of some of the more interesting ones and how those sites have been used over the centuries.

This journey took us right from the Iron Age fortresses to the Benedictine monks' use of our water to the present day use by locals and visitors to our hills.

The healing properties of the water were first known and written about centuries ago: in 1817, for example, Cora told how a crippled man from Leicester had come to take the Malvern waters in 1613.

Bath, Buxton and Harrogate had earlier examples from the 16th century, but Malvern pre-dates Epsom, Tunbridge, Leamington Spa and Cheltenham, we were informed.

The benefits of Malvern waters covered a variety of illnesses and ailments, and Cora linked the cure of some of these to our local wells, telling us anecdotes about wells such as the Eye Well, Walm's Well, St Ann's Well and Holy Well.
Habits changed through the years, with people encouraged at one time to take exercise at the same time as taking the waters, a custom which later developed to people taking healing treatments mainly in residences such as those established by Doctors Wilson and Gully in the 1840s.
Bruce then took us through the history of bottling water, focusing on some of the well-known local individuals or firms who have made a living from this over the last 150 years. There were about a dozen or so well known ones from the Malvern area like Burrows, Schweppes and Cuff's; and we now have one main one, Coca Cola Enterprises. The recent controversy about Coca Cola wanting to top up their water supply was noted, along with an invitation to Civic Society members to sign up for a trip on 16 February to visit Coca Cola and discuss these issues.
We learned that it was in 1851 at the Great Exhibition that water was put on public display for the first time. The importance of and the ability to make the mineralisation of waters artificial was understood after 1800, and this had led to the soft drinks industry emerging. Bruce explained what it is about Malvern water that makes people want to drink our pure, good quality water. Three main considerations are at the heart of water analysis as analysed by experts: bacteriological, chemical and now, in the 21st century, the energy fields, with good water having harmonised energy fields. Malvern water is so special because it comes off the hills clean, starting as good quality water; it is low in mineral content, with no man-made contaminants and is a natural, spring water, so has no problems of disturbed energy fields.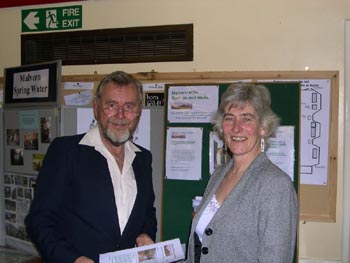 Cora went into the locations and varied tastes of the water from the Malvern Hills as well as where and how to collect it for drinking purposes.
The talk concluded with Bruce highlighting the popularity of waters, shown by the reintroduction of well-decorating over the last 10 years, coach tours that had taken place to visit the local springs, wells, spouts and fountains and a springs & wells newsletter that is available. Bruce invited people to tell him anything they know about the 105th local site, a spring by the Golf Club called the Aqueduct. He also showed us a photograph of the latest water feature, a stone bottle fountain where the water bubbles out of the top, situated at the Coca Cola factory at Colwall.
And finally, on an international note, Bruce told us about an area of hills that can be considered a sister community of Malvern in Australia. Daylesford & District in Victoria has hills and 70 springs, although its water is naturally carbonated water. The other main difference is that the area has kangaroos hopping around!
The next meeting will take place on 18 March where the subject of the talk to be given by Peter Meehan is the development and use of cast iron in architecture.
Picture - Cora and Bruce
Denise Preston Malvern Civic Society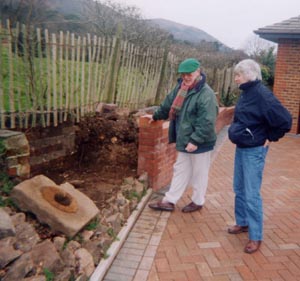 Aqueduct
The latest discovery of an unsuspected water feature comes from a local Friend of Springs and Wells. While exploring the remains of a watercourse in his garden he unearthed a heavy stone slab with an iron inset that looks distinctly like a pump base. His house backs on to the line of the disused Upton branch of the railway and a substantial stream flows beneath his land. Desk research quickly established that the site is marked as 'aqueduct' on old maps. Normal associations with aqueduct are some form of elevated channel but more likely it refers to the culvert beneath the old railway line. What is a puzzle however is the provenance of the pump base. Investigations are continuing and we welcome any suggestions.
Friends of Malvern Springs and Wells
Following the severance of the MSA incorporation by the Civic Society, there have been several disparate groups, all with an interest in Malvern's Springs and Wells. This includes the Well Wardens who perform a vital task by keeping a watch on the various sites. In order to provide a common identity we propose to adopt the general designation of Friends of Malvern Springs and Wells as an umbrella name. The Well Wardens will continue to function as previously within this general designation. If you receive a copy of this News Letter direct from us then you are already on our list as a Friend and we will be keeping you informed and involved with future developments. If you have lost interest or no longer wish to be included please let us know. If you know someone who would like to be a Friend, similarly let us know, there is no charge for this informal participation. Thank you for all your support, especially those who made it to the Civic Society lecture recently where there was a full house.
Recent water quality problems at Earl Beauchamps Spout on the Cowley Road have resulted in the Well Warden Noel Triggs getting involved with attempts to ameliorate the problems.

We can report that the Warden has been liasing with MHDC over this issue, which requires further negotiation with the various interested parties including the owners to resolve. We would remind all Wardens that any remedial work must be carried out in conjunction with the owners or persons responsible for the spring.
Malvern Civic Society investigate Water Bottling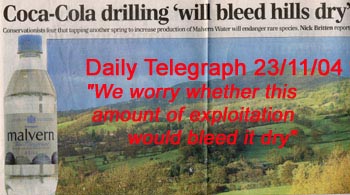 Recent controversy in the media about the possibility of using water from Walms Well for the Malvern Water bottled at Colwall resulted in a lot of inaccurate and misleading opinion being circulated. As a result Coca Cola Enterprises, who run the Colwall plant withdrew their planning application. In order to gain a proper perspective on the situation the Malvern Civic Society visited the Colwall bottling works by special invitation in February.
The evening meeting started with a presentation on the history of bottled Malvern Water with evidence indicating that as early as the 16th century, recorded bottling had taken place. Schweppes had started at Holy Well in 1851 and this had evolved over time to the present business. There once had been many bottlers of Malvern Water but now there was only one.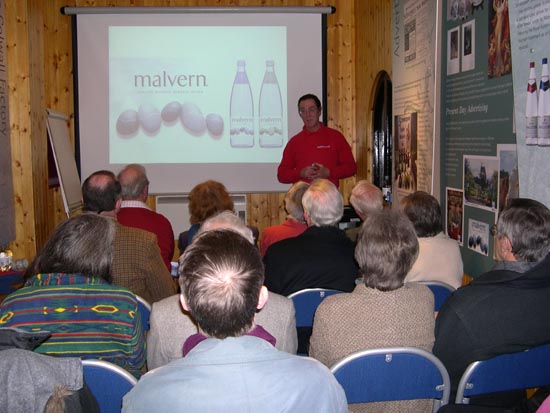 There then followed an interesting discussion on the problems that the works faced in maintaining their production. It became apparent that this historic bottling works was only a small player in the massive bottled water market and that Malvern is fortunate in having a multinational company to help it remain viable, where others in the past have fallen by the wayside. The Colwall plant employs approximately two dozen local people who, with a strong team spirit, seek to ensure that the business remains economically sound. Following the discussion there then followed a most interesting tour of the factory that involved donning all the necessary health and safety garb.
In a statement from Coca Cola Enterprises it was indicated that revised plans were under consideration for resubmitting a planning application to top up their fluctuating spring water supplies and thanks were expressed for the continued involvement, which was much appreciated. Let us hope that someone somewhere in the Corporate Affairs dept. of Coca Cola Enterprises does not consider the whole problem too much trouble and puts a red line through Malvern Water, thus ending a long tradition of bottling in the Malvern Hills.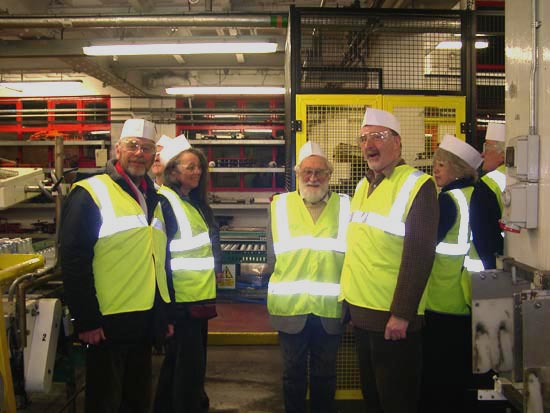 pictures: John Tyson outlines the history of bottling Malvern Water; Malvern Civic Society members tour the plant in appropriate dress.
'Vitalised Water - so good for health
Is what gave Malvern its secret wealth'
As science evolves are we now more able to explain why the water cure was so effective in 19th century Malvern? Spas have traditionally sought water with special qualities for therapies or drinking. This can include a variety of natural waters, such as thermal springs or naturally carbonated source waters or waters with special properties. A new research area is the concept of Vitalised Water. Using state of the art technology, a method has been developed in Austria that enables the energy fields within the water to be harmonised with nature, making it more beneficial for

drinking and bathing. Pollution and contamination leave a "memory" in the water in spite of the original problems being chemically or biologically removed. New technology promotes the re-harmonisation or revitalisation of the energy fields. The new more stable water structure leads to some surprising changes. Key benefits include: improved heat transfer, better self-cleansing and enhanced therapeutic applications where it advances the waters application for life processes. Are we on the brink of a major breakthrough in understanding how water works? We will be investigating further and will keep you informed. To find out more go to www.thespas.co.ukand click on Water for Health.
Diary Dates
1st May 2005 - Annual Coach Tour of the Springs and Wells. Wardens, Civic Society members and Friends of Springs and Wells can pre-book a place on this popular trip around the hills. Conducted by Cora and Bruce this is an opportunity for a lively afternoon of fun looking at the famous springs and wells many of which, it is anticipated will be decorated for the annual Well Decorating. Modern day Malvern Well Decorating started on 1993 recapturing a tradition that goes back to the 1860s. The coach leaves Belle Vue Terrace at 2.30pm and tickets will be 4 pounds per person on the day. To book in advance, at a special price of 3 pounds 50 pence per person, please send a cheque payable to Cora Weaver to her at the address at the end of this newsletter. Places are limited so book early.
18th Sept. 2005 - Owls Hole Pump Garden Party. Time to relax with friends of like interest on Sunday 18th September. The Owls Hole Pump and Engine will be working at 4 Hall Green from about 4pm to early evening and you are invited to drop in for a chat and a snack. More details nearer the time.
Email:
springs@thespas.co.uk (click here to send an email)
Website:
Click Here
SUPPLEMENTARY INFORMATION
The home page can be accessed by clicking website above.
Contact Information:


Newsletter Archive which can also be accessed from our WEB SITE INDEX.

Friendship

- There is no charge made for joining Friends of Malvern Springs and Wells. Just let us have your email address and we will send our newsletters, which are usually two monthly. Please be aware that some email addresses block large circulation emails. Do feel free to participate in our activities by contacting us below.

Best wishes, Cora & Bruce
Bruce Osborne, Tower House, Tadworth, Surrey. KT20 5QY
Tel. 01737 213169 email
bruce@thespas.co.uk
Cora Weaver, 4 Hall Green, Malvern, Worcs. WR14 3QX
Tel. 01684 561215 email
cora@malvernspa.com
1) TOPOGRAPHICAL LOCATION:
Malvern Hills - arguably Britain's original National Park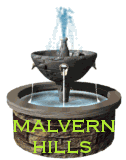 3) INFORMATION CATEGORY:
Springs and Wells General Interest
History & Heritage
Friends Newsletter