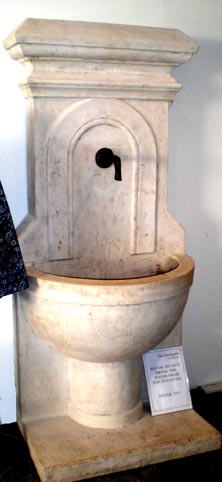 Courtyard Fountain
NGR 77463 45983 (Bottling Works Spring)
Site Number: 121:1
By Bruce Osborne and Cora Weaver (C) 2012
Area 1. Malvern Town Centre Springs and Wells
Malvern Hills, England
This fountain was installed in 2012 in the Courtyard on Belle Vue Terrace where this Italianate water feature adds a charming backdrop to the tea rooms that now attract passing residents and visitors.

It is the result of the work of Adrian Ward who has been responsible for remodelling the premises. Although the fountain is not drinkable, it is providing another function, that of wishing well. The considerable number of coins dropped into the basin testifies to the popularity of this practice, a custom that dates back many hundreds of years. To find the fountain take the passage towards the hills off Belle Vue Terrrace, pass the Bottling Works Spring on your right with the tea room tables and enter the Courtyard area. The fountain is just inside on your left.

At the same time you could browse the other interesting retail businesses that go to make up the

complex.
Unfortunately by 2016 the Courtyard had closed for business and by 2017 the fountain had been removed. Malvern has lost another springs and wells site - albeit short lived.
Illustration:
Malvern's latest fountain.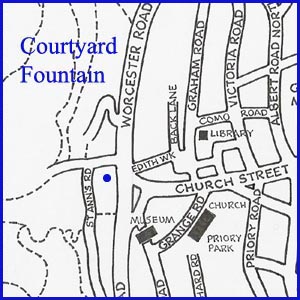 The map alongside is a small section of our more comprehensive map of the area. For the complete map together with a description and history of this site see "Celebrated Springs of the Malvern Hills" (2012)
.
Click on Website below or the top banner to go to the DISCOVERY TRAIL INDEX of springs and wells.
Website:
Click Here
SUPPLEMENTARY INFORMATION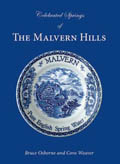 Celebrated Springs of
THE MALVERN HILLS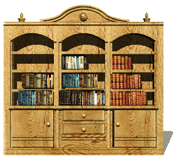 A definitive work that is the culmination of 20 years researching the springs and wells of the Malvern Hills, published by Phillimore. This is the ideal explorers guide enabling the reader to discover the location and often the astounding and long forgotten history of over 130 celebrated springs and wells sites around the Malvern Hills. The book is hard back with dust cover, large quarto size with lavish illustrations and extended text. Celebrated Springs contains about 200 illustrations and well researched text over a similar number of pages, together with seven area maps to guide the explorer to the locations around the Malvern Hills. It also includes details on the long history of bottling water in the Malvern Hills.
Written by Bruce Osborne and Cora Weaver, this book is available on-line for £15.00 (delivered UK) - click Malvern Bookshop on the green panel top left. Alternatively send a cheque payable to Cora Weaver with your name and address to 4 Hall Green, Malvern, Worcs. WR14 3QX.
1) TOPOGRAPHICAL LOCATION:
Malvern Hills - arguably Britain's original National Park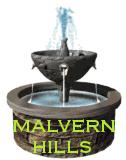 2) LANDSCAPE:
Built Up Location
3) INFORMATION CATEGORY:
Food & Drinks
Retail Gift or Souvenir Shop
A Spring, Spout, Fountain or Holy Well Site
4) MALVERN SPRING OR WELL SITE DETAILS:
1 SPLASH - Lost - Nothing Much To See

5) GENERAL VISITOR INFORMATION:
Access On Foot
On Private Property