MALVERN WORLDWIDE ON FACEBOOK

FRIENDS OF MALVERN SPRINGS AND WELLS AND MALVERNS WORLDWIDE
Based in GREAT MALVERN
Worcestershire
Great Britain
The preparation of the special May Coronavirus newsletter 97 for Malverns Worldwide has resulted from Friends from Malverns across the globe exchanging their Coronavirus experiences. It has demonstrated the value of being able to communicate with others with similar situations. Lock down and deaths are the main news story of Coronavirus but there are also good stories and experiences which it is invaluable to share with others. It brings us all together in a common cause.
A question that we have raised is how can we use these experiences to further our Malverns Worldwide friendships? We all have stories to tell each other about our Malverns and our life in them. We all love to hear about each other's amusing or adventurous experiences, especially if in pictorial form as well as written. And you never know when someone is going to contribute to your ideas and plans from another part of the world.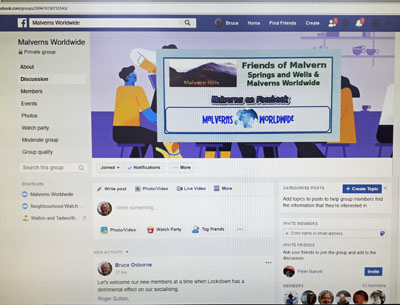 Taking this on-board on 1st May 2020 we have set up on Facebook a Malverns Worldwide group. It is open to malvernologists who have an active interest with a Malvern. Join the group and then you can post your thoughts, experiences and plans for others to contribute to when they read your posting. In this way malvernologists can hopefully interact with each other the world over.
All you have to do is register yourself with Facebook and accept our invitation to join the group. When authenticated you can then add to what is posted. Sounds easy so let's see how it works out. It is going to take a while to build the numbers up to ensure the site is sufficiently active. Your contributions are welcomed.
To register on Facebook, click the panel below.

To receive an invitation to join the Malverns Worldwide group, drop me an email expressing your interest and I will arrange for an invitation to be sent to your email address. My email address is: bruce@thespas.co.uk
Good browsing.
Bruce
Website:
Click Here
SUPPLEMENTARY INFORMATION

1) TOPOGRAPHICAL LOCATION:
Malverns Worldwide
3) INFORMATION CATEGORY:
Springs and Wells General Interest
History & Heritage